Dear friends of CHI,
The world has changed a lot these past several months. And even though it is easy to think of life in clearly defined terms of "before COVID-19" and "after COVID-19," I find myself considering how what came before positioned us to deal with this moment.
CHI has been busier than ever as we continue the work of providing clear-eyed, evidence-based analysis of Colorado's thorniest health policy challenges. By focusing on our mission of improving the health of all Coloradans through independent research, analysis, consulting, and insight, we have continued to do broad and impactful work while also responding to new demands brought about by COVID-19.
CHI was well-positioned to weather the storm and support the Colorado health community because of the groundwork we have been laying for years. So, for a moment, I want to reflect on 2019. Both through our public-service work and through our work with mission-aligned clients, we have advanced health for all Coloradans. We continued our focus not only on health but on important social factors like housing and child care that directly affect people's abilities to lead healthy lives.
Join me in looking back for a moment. I hope taking an opportunity to reflect will remind you how much we can accomplish when we work for the common good. I hope it fills you with gratitude for the many, many people who work to advance health in Colorado. And I hope it reminds you that we are all in this together and will continue to rise to the challenge of advancing health for all Coloradans.
Onward,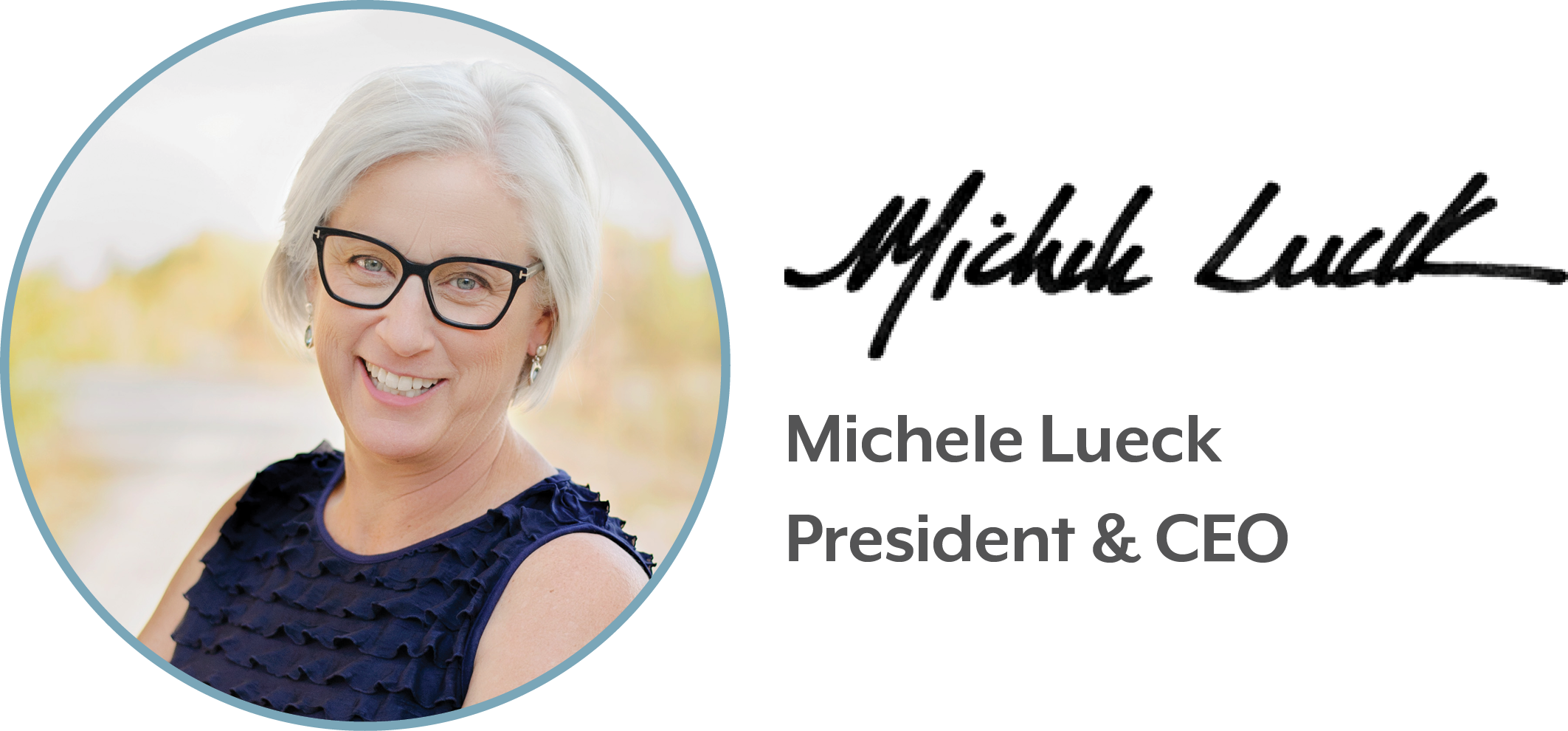 2019 Highlights
The following projects represent a cross-section of CHI's work in 2019. While by no means exhaustive, this list highlights the importance and impact of our research, analysis, and insight. These projects helped guide the efforts of policymakers, secured valuable funding for important programs and initiatives, and provided communities with the context they needed to advance health equity.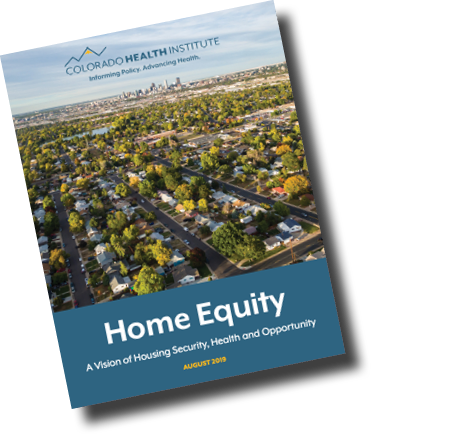 A Vision of Housing Security, Health and Opportunity: CHI partnered with the Health Equity Advocacy Cohort, a group of Colorado organizations focused on promoting health equity, to develop this comprehensive report that examines the connection between housing and health in Colorado; highlights those Coloradans who are most likely to face housing instability and the roots of those inequities; and outlines a set of creative policy approaches Colorado can take to address disparities and advance the conversation about housing and health equity. Project Funders: The Colorado Trust; Project Partners: Health Equity Advocacy Cohort
---
Road to Wellness: A Strategic Framework to Improve Behavioral Health in Denver: Community leaders and experts in behavioral health across Denver, facilitated by CHI, developed this unique framework for improving behavioral health for all the city's residents. CHI's report outlines steps toward creating systems and communities where all people can be healthy, including recommended activities and examples of existing projects that are already working toward this goal. Project Funders: City and County of Denver
---
2019 Colorado Health Access Survey: Progress in Peril: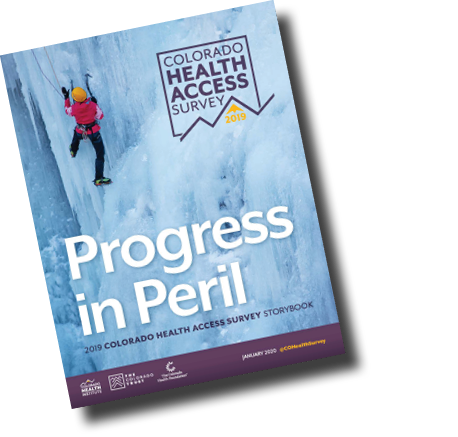 The sixth version of the state's premier survey on health access found that progress on insurance coverage and access to care has stalled and is in danger of reversing — particularly for children in Hispanic/Latinx families. The 2019 survey also introduced new questions on housing stability, food security, and unfair treatment in the medical system. Main project funders: The Colorado Trust and The Colorado Health Foundation
---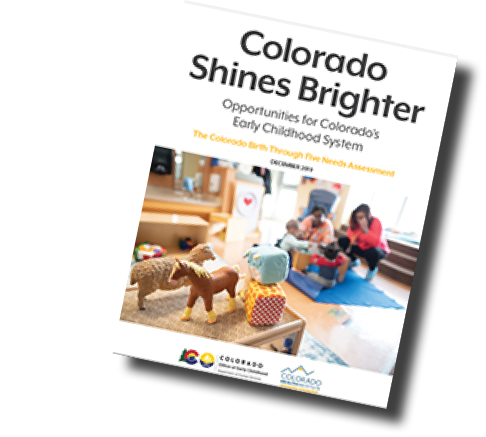 Colorado Shines Brighter: CHI built a first-of-its-kind child care model to assess how Colorado's youngest children are being cared for today and how the system would have to change to meet parents' preferred choices for care. The research informed a statewide birth-through-five strategic plan and helped the state secure a three-year, $33.5 million grant from the federal Administration for Children and Families and the U.S. Department of Education. CHI surveyed 3,400 Colorado parents and conducted 19 focus groups around the state in the course of developing the child care model. Project funder: Colorado Department of Human Services, Office of Early Childhood
---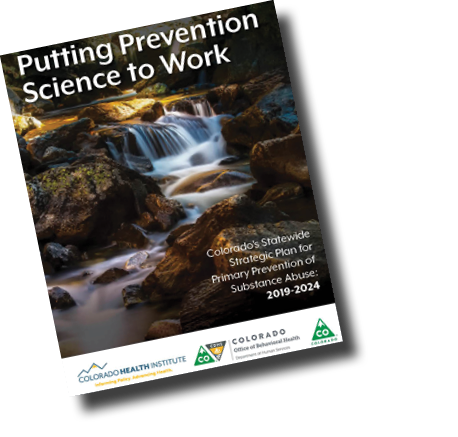 Putting Prevention Science to Work: CHI partnered with the Office of Behavioral Health to develop Colorado's first-ever statewide strategic plan for the primary prevention of substance use. Building on a comprehensive needs assessment released in 2018, CHI engaged communities around the state in identifying strategies for preventing substance use problems before they begin. The plan focuses on advancing prevention through evidence-based programs and strategies; strengthening the prevention workforce; aligning state agency funders of prevention; and addressing inequities in substance abuse and access to prevention services. Project funder: Colorado Department of Human Services, Office of Behavioral Health
---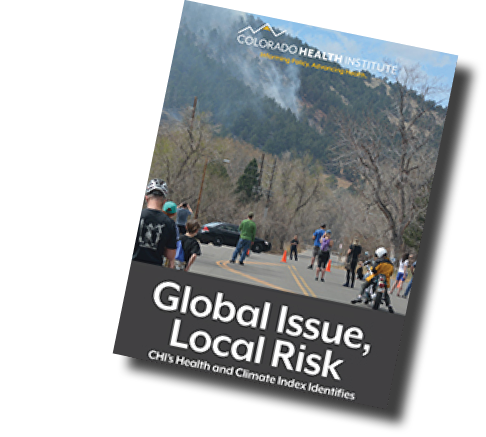 Global Issue, Local Risk: The connections between climate change and human health are becoming increasingly clear, but it's still hard to find the data to apply our knowledge locally. CHI's climate and health index fills this void by assessing Colorado counties and regions on their residents' exposure to health-related climate risks. It's a tool that can help state and local leaders plan for a warmer future that is arriving all too quickly. Project funder: CHI core grant underwriters
---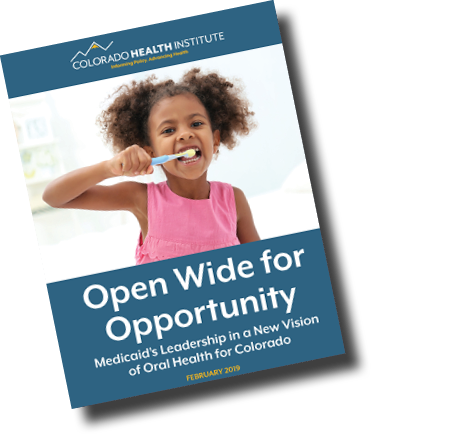 Open Wide for Opportunity: A series of significant changes to Colorado's Medicaid program created the opportunity for the state to improve access to evidence-based oral health care for the state's residents. This report examines the need, the opportunity, and four strategies the state's Medicaid department can take to ensure that more Coloradans have access to dental services when they need them. Project funder: Caring for Colorado Foundation and Delta Dental of Colorado Foundation
---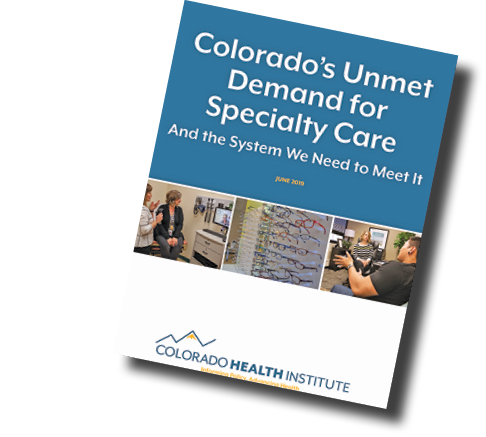 Colorado's Unmet Demand for Specialty Care: CHI highlighted a significant gap in access to care in this report, which found that Medicaid enrollees and Coloradans without insurance use specialty care significantly less than those with commercial insurance. This report highlights the challenge and potential approaches to building more equitable access to vital care. Project Supporters: Telligen Community Initiative; Kaiser Permanente Colorado
---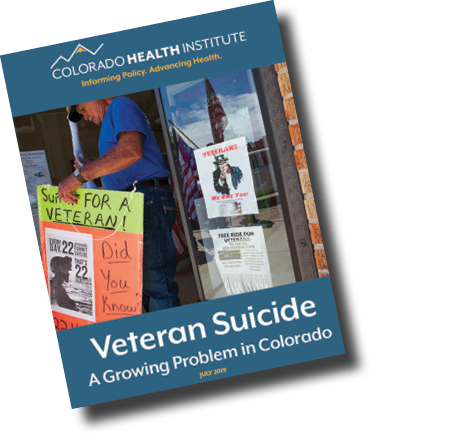 Veteran Suicide: A Growing Problem in Colorado: Colorado's veterans are disproportionately likely to die by suicide. This report uses data from the Colorado Health Access Survey and other sources to examine the challenges facing veterans and highlights an innovative model aimed at connecting veterans to resources that could offer potentially life-saving support. Project funder: Colorado State Innovation Model
---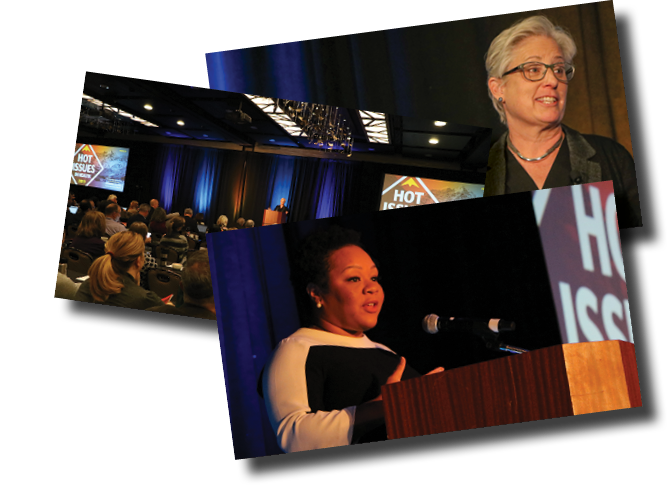 Hot Issues in Health: CHI's 2019 Hot Issues in Health conference convened policymakers, practitioners, and advocates from across the state's health sector. Along with thought-provoking speakers and hard-hitting panels, the conference provided an opportunity for people with different perspectives to share their insights and learn from one another. Speakers included PBS NewsHour correspondent Yamiche Alcindor, who shared national political insight, and Denver comedian Adam Cayton-Holland, who reflected on loss and the need for behavioral health services. CHI team members also presented on key research from the year. Conference funders: Rose Community Foundation, SCL Health, COPIC, Delta Dental of Colorado, Colorado Health Foundation, Piton Foundation, UnitedHealthcare, Colorado Access, DaVita, and Cigna
Our Funders
Other Notable Work
CHORDS: CHI facilitates governance for the Colorado Health Observation Regional Data Service (CHORDS), a groundbreaking network of Front Range health care providers that uses electronic health record data to support public health evaluation and monitoring efforts. CHORDS data has been used to inform a growing number of innovative research projects, including a Denver Public Health report on depression in Denver and a CHI analysis of telehealth usage during the COVID-19 pandemic. Project funder: Colorado Health Foundation, data partners and users
MDPH: The Metro Denver Partnership for Health (MDPH) brings together the six local public health agencies serving the Denver metro area and other stakeholders whose mission is to improve public health regionally through collective action. CHI has served as a convener, facilitator, and strategic advisor for MDPH since 2014. MDPH's work in the years leading up to 2020 helped lay the groundwork for its coordinated response to the COVID-19 pandemic. Project funder: MDPH partners
Regional Health Connectors (RHCs): CHI developed and hosted this innovative new program, which placed 21 regional health connectors (RHCs) in regions across the state. RHCs work full-time to build and strengthen networks of primary care, public health, human services, and community organizations. A 2019 survey found that health organizations across the state strongly valued the work of the RHCs. Project funder: Colorado State Innovation Model (SIM)
Colorado Opioid Crisis Response Blueprint
Left Turn: 2019 Legislative Preview, Legislation in Review 2019
2019 Medicaid and Commercial Access to Care Index
A Familiar Place: Home and Aging in Colorado
Peak Health Alliance: Summit in Sight
Building Partnerships: The Regional Health Connectors' Impact on Colorado