Key Takeaways
Democrats enter the 2019 session with full control of state government offices.

Emboldened Democrats are expected to propose — and pass — health legislation that is more progressive than in past years.

Colorado's state budget is in good shape, but Democrats still won't have an easy time in funding their big-ticket ideas.
This year is likely to be another momentous one for health care, marked by uncertainty and instability at the federal level and major policy opportunities for Democrats in Colorado.
The party scored resounding victories in the midterm elections that give it nearly absolute power for the next two years. In addition to capturing all statewide offices, such as attorney general, secretary of state, and treasurer, Democrats retained control of the governor's mansion and state House, and they succeeded in retaking control of the state Senate, which they narrowly lost four years ago. These results give them full control of the Capitol.
Many incoming elected officials are more progressive — and in many cases, younger — than those they are replacing. Governor-elect Jared Polis exemplifies the change.
A leftward shift mixed with unanimous control means the window is open for policies such as a Medicaid buy-in program and stricter regulations on oil and gas. In many cases, the limited state budget could function as the main roadblock to enacting significant change.
Republicans, as well as some Democrats, are concerned that the party could overreach given its newfound power. Single-party control hasn't traditionally lasted long in Colorado, and ambitious policy decisions by Democrats will either set them up for a rebuke from voters or a longer stretch in power. Health and health care issues are at the heart of the policy options they will debate.
Among the major topics to watch: substance use and mental health, health care transparency, and solutions to high insurance prices. Discussions of health are always wide-ranging, and legislators will likely consider issues such as care for pregnant women, housing affordability, advance directives, and medical malpractice rules. Outside decisions and distractions will continue to impact state lawmakers' work, from changes ordered by the Trump administration to anger and frustration over sexual harassment in their own building.
Going into 2019, many political pundits have asked: What color is Colorado now? Our purple state looks increasingly blue, but at local levels it's colored by seas of red. Some analysts have cautioned against assigning any shade to the state's politics, saying Colorado is and will remain something increasingly rare in U.S. politics: a swing state. But the ball is in Democrats' court now.
Here's what health policy stakeholders need to know as Colorado kicks off the 2019 legislative session.
The Political Landscape
Colorado voters turned out in historic numbers to sweep Democrats into firm control of the state government in the November election.
Nearly 63 percent of eligible Colorado adults voted. Only Minnesota had higher turnout.
Nationally, the "blue wave" that gave Democrats control of the U.S. House of Representatives was more like a blue tsunami in Colorado. Democrats retook the state Senate and claimed every statewide office. That hasn't happened since the era of the New Deal in the 1930s.
Governor's Race
After a drawn-out, crowded, and expensive gubernatorial campaign, Democrat Jared Polis defeated Republican Walker Stapleton by more than 10 percentage points. Polis has represented Colorado's 2nd Congressional District since 2009. While the party in control of the governor's mansion remains the same, Polis is not another John Hickenlooper, the moderate Democrat who has led the state for eight years.  Polis is an outspoken advocate for universal health care, full-day kindergarten, and 100 percent renewable energy.
Ballot Measures
Progressive ballot initiatives did not fare as well. Voters soundly rejected Amendment 73, an income tax increase for schools; Proposition 110, a sales tax for transportation infrastructure; and Proposition 112, an increase in mandatory setback distances for oil and gas developments. That proposal fell under the weight of a multimillion-dollar campaign convincing Coloradans that the measure would result in massive job losses.
But the story was different at the local level. Tax increases for behavioral health services passed in 10 counties around the state — everywhere that such a proposal was on the ballot except for Pueblo. Among the successful measures is the Caring 4 Denver initiative, which will funnel an estimated $45 million in new revenue to mental health and substance use services in the state's largest city.
State Legislature
Democrats ended four years of split-party control in the legislature. The party widened its margin in the House, picking up five seats for a total of 41 Democrats and 24 Republicans in 2019, and it had a perfect record in battleground races for the Senate. That chamber will shift from a one-seat Republican majority to a three-seat Democratic majority (19 to 16) this session.
The party will control all House and Senate committees.  New committee assignments and structures — for example, the creation of an "Energy and Environment" committee in the House — send a message about Democrats' priorities. The following page contains more detail on the legislature's three health committees.
Women of the Legislature
Prior to the election, Colorado ranked fourth nationally for the highest proportion of women in its state legislature. After the election, it moves up to second place, behind Nevada, with 45 percent of the legislature's seats held by women. For the first time in state history and only the third time nationally, one chamber (the House) will be majority female, with 33 seats held by women and 32 by men. Just over one-third of Senate seats are held by women.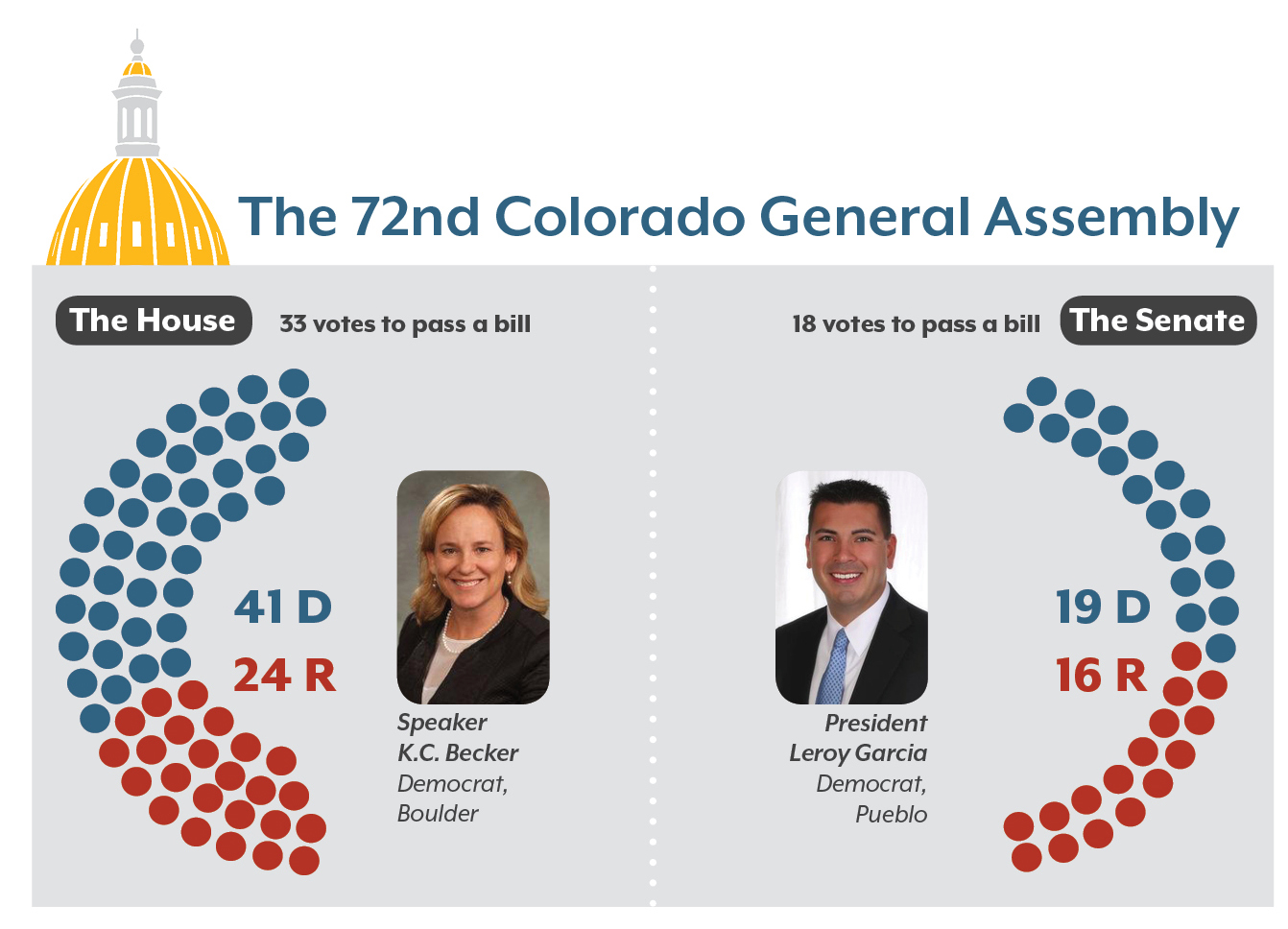 The Budget
Polis takes office at an opportune time. Colorado's economy continues to boom, generating jobs and tax revenue.
The General Fund is projected to have nearly $1.2 billion more in Fiscal Year 2019-20 than the current budget — a 9 percent increase. It's an enviable position for the new governor. His predecessor, Hickenlooper, took office during a deep recession and had to cut funding for schools and colleges.
But don't expect a spending bonanza. The legislature will need much of the new money to cover inflation and increasing pressures on schools, Medicaid, and social services brought about by Colorado's population boom.
With Democrats firmly in control of the Capitol, the budget may act as the strongest brake on their agenda, especially for big-ticket ideas.
For example, Polis has proposed full-day kindergarten. Right now, the legislature only pays for a partial day of kindergarten. Moving to full-day kindergarten would cost at least $300 million a year, according to analyses of past bills.
Kindergarten advocates will have to compete with other priorities. State funding for schools has lagged by $7 billion in the past decade, and state departments want to boost reimbursement for medical and social service providers.
Before going on a spending spree, legislators will have to consider what happens when the economic boom is over. Adding programs now could mean that something else will have to be cut during the next downturn.
The legislature's economists aren't predicting a recession in the next two years, but they note that the national economy has been expanding for nearly a decade — one of the longest expansions in U.S. history. That means Polis should expect to see a recession sometime during his tenure.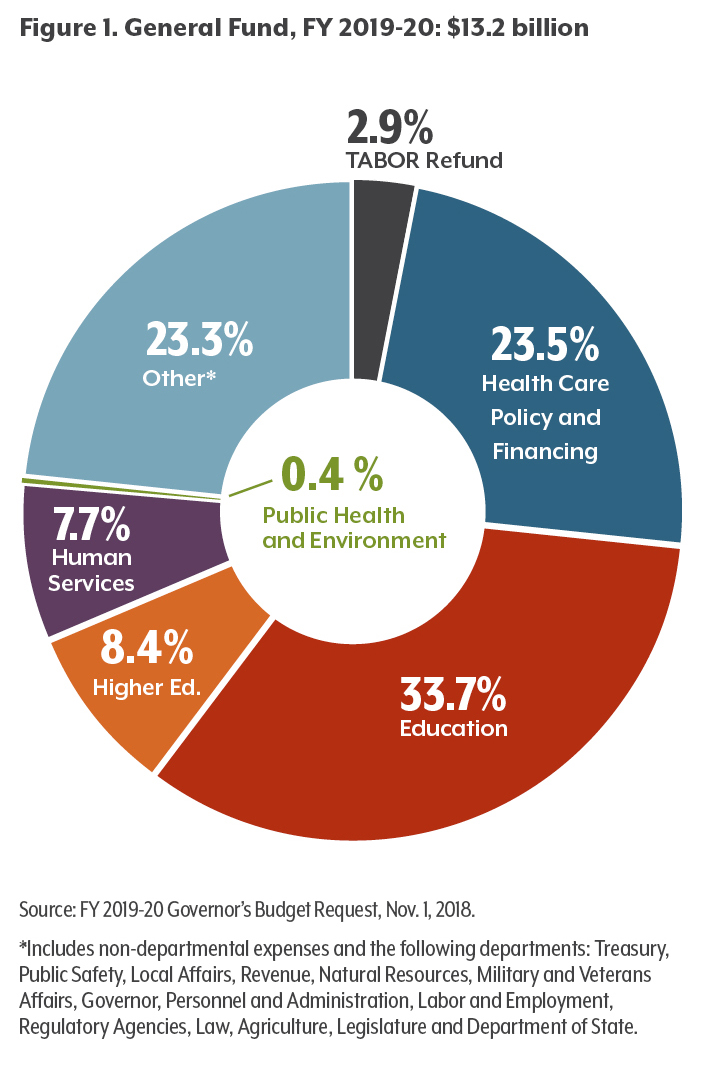 No Help from Voters
Colorado voters rejected two tax increases in the November election that could have transformed the state budget.
Amendment 73 sought to raise income taxes on people making more than $150,000 a year. It would have provided an additional $1.6 billion annually for schools — boosting current school funding of $4.5 billion by a third.
Proposition 110 would have raised sales taxes to provide $767 million a year to the state's underfunded transportation system.
Schools and roads still need funding, but voters have made clear they're not interested in raising taxes — even in a "blue wave" year.
Marijuana to the Rescue?
People in and outside Colorado sometimes mistakenly believe the state is flush with cash from taxes on legalized marijuana. In fact, the Marijuana Tax Cash Fund sits at a modest $118 million — enough to pay for marijuana law enforcement and some public health programs, but not enough to count for even 1 percent of the General Fund.
Economists project that marijuana tax revenue will grow by 6 percent in 2019-20.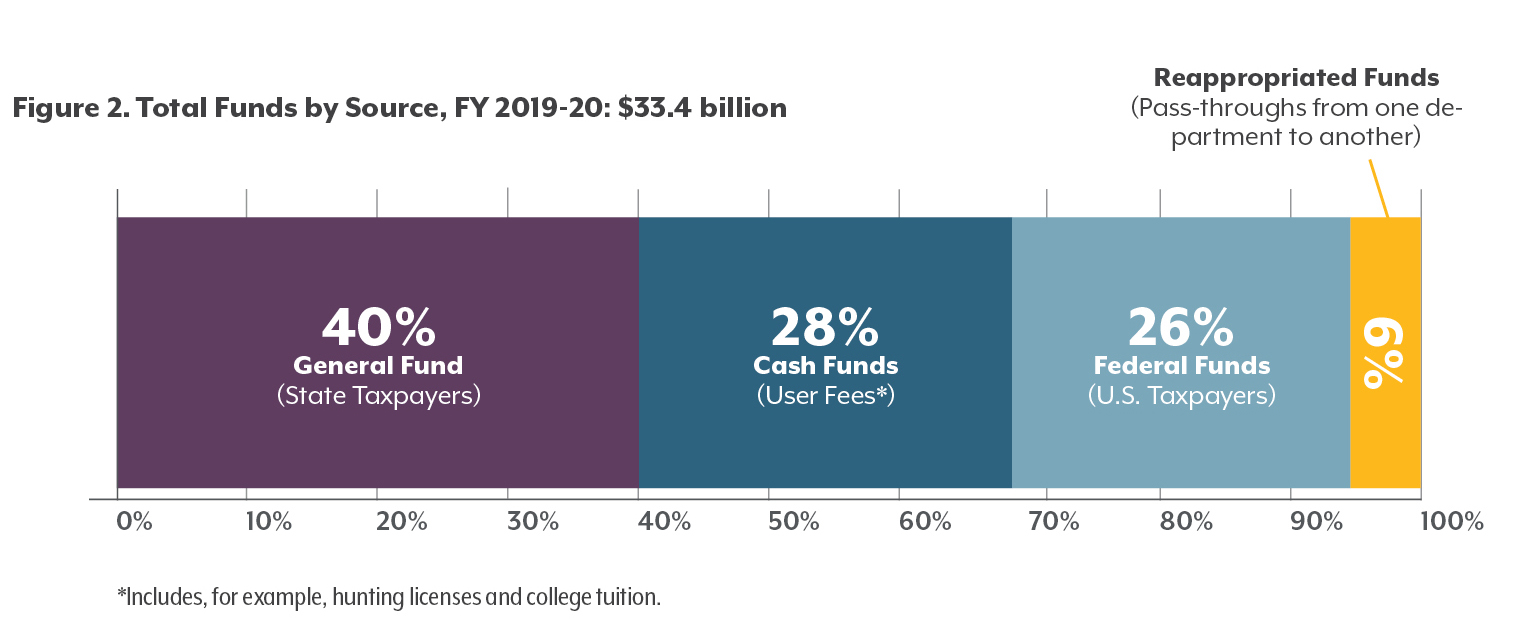 The Polis Administration
Jared Polis replaces two-term Governor John Hickenlooper. Although both are Democrats, their approaches to governing will not be the same, and the governor's office is likely to shift to the left.
Born in Boulder, Polis, 43, is a career entrepreneur who launched several internet-based businesses. He served on the Colorado State Board of Education and then was elected to represent Colorado in the U.S. House of Representatives. He served on the Education and Workforce, Natural Resources, and Rules committees.
The 100-Day Agenda
Polis has made health care a top priority. His 100-day agenda has big goals:
Consolidating Colorado's nine insurance rating regions to bring down rural prices;

Strengthening the role of the DOI as a consumer watchdog;

Implementing a reinsurance program;

Expanding access to mental health services;

Addressing prescription drug prices;

Tackling health care workforce shortages.
The Polis Health Team
Dianne Primavera, Lieutenant Governor: Polis underscored the focus he will place on health by choosing Primavera as his lieutenant governor. A Denver native, Primavera brings health policy experience from her four terms in the legislature, during which she passed bills to expand insurance coverage and protect patient medical information. Primavera has also served as CEO of Susan G. Komen Colorado and is a four-time cancer survivor.
Kim Bimestefer, Director of Health Care Policy and Financing: Polis chose Bimestefer to remain in the role she has held for the past year as head of the state's largest department. Bimestefer has sought to leverage Colorado's Medicaid program to address high health care prices, especially for prescription drugs and hospital care. Her appointment is a sign that Polis wants to take action on prices, even if influential groups like hospitals are not on board.
Michael Conway, Insurance Commissioner: Conway has served as interim commissioner for the past year. He has focused publicly on maintaining Colorado's high rate of insurance coverage while lowering costs. Under Conway, the DOI has worked on a reinsurance proposal and has helped Summit County to design a local coverage system to address its high insurance costs. Conway will take a lead role in carrying out any pro-consumer reforms Polis proposes for the DOI.
Conclusion
In a typical session, legislators consider about 700 bills — about 200 of which are usually related (directly or indirectly) to health. In other words, we've only scratched the surface with this legislative preview.
Expectations are high for the 2019 legislative session. A new governor is taking command and promises to pursue an active, progressive agenda on health policy. With Democrats fully in charge of the legislature, there's little standing in their way. For better or worse, this will likely be the year that Colorado Democrats get to enact bills they couldn't pass the past four years.
---
This is a condensed version of our full report. For a look at specific bills CHI expects to see, click on the link below to download our report in PDF format.