1971 was a big year for Gloria.

*

She and her husband, Ray, moved west from Georgia; their son was born; and the growing family bought its first house in Golden, Colorado.
Over the next 48 years, three children would grow up in this home. Its four walls would see birthdays, marital spats and makeups, new coats of paint as styles changed. They would hear Ray vow countless times to replace the broken bathroom tile that bothered him every morning. Ray died in 2013. He never fixed that tile.
As Gloria turns 80 this year, she's started to wonder whether life alone in this house is still the best fit for her. The extra rooms are starting to feel more like a burden than an asset. She has become more forgetful in the past few years, and while she thankfully has no major physical health issues, she knows that one fall down the split-level stairs could change that in an instant.
Perhaps she could use some help with basic activities at home. But professional help is expensive, and the only one of her three children who still lives nearby is busy with his own family and career. Maybe she could sell the house and buy a condo — a little less upkeep and fewer stairs to navigate. But prices in Golden have gone up since 1971, and her limited income makes a new mortgage daunting. She doesn't need a nursing home, so an assisted living community might be a good fit. But at $56,000 a year, who can afford it?
The dilemma facing Gloria may sound familiar to many older Coloradans and their families. New research by the Colorado Health Institute (CHI) on older adults and their housing needs show that this situation is not unusual. This report takes a closer look at the numbers behind stories such as Gloria's, and reveals what communities across the country are doing to address these concerns. It examines older adults' housing challenges thorough the lenses of affordability, accessibility, and health. It also profiles three promising community solutions in Colorado and elsewhere.
---
Explore the Community Toolkit
Make use of our new online toolkit that looks at housing challenges and solutions in every Colorado county.
---
The Importance of Home
More Coloradans than ever are feeling the pressure of an increasingly costly housing market.
Across the state, one in four people is housing cost-burdened, meaning they spend at least 30 percent of their income on rent or ownership. This can force households to make some difficult choices. It can limit the funds available for necessities such as food or health care. Living on tight margins can also create an unstable housing environment where a financial event such as job loss can cascade into home repossession or eviction.
Coloradans of all ages are struggling with these challenges, but older adults often experience the consequences most acutely. Nine in 10 Americans age 65 years or older want to continue living in their current home or community. But older adults are more likely to face higher health costs and fixed incomes, both of which contribute to less affordable and less stable housing situations. And these challenges will only become more pressing for Colorado — by 2050, the over-65 population is expected to nearly double.
Many older adults also rely on their homes as a setting for long-term care. But not all houses are suited to the needs of aging Coloradans. The presence of stairs, the width of hallways, and the positions of light switches are special considerations for many older adults whose mobility is declining. Homes that are less accessible increase the risk of falls or speed up the need for higher levels of care, such as assisted living or nursing care.

NextFifty Initiative is a Colorado-based private foundation dedicated to funding mission-driven initiatives that improve the lives of the older adult population and their caregivers. NextFifty seeks to fund game-changing efforts to improve and sustain quality of life for people in their second 50 years. NextFifty Initiative educates about proven initiatives and advocates for transformational change.
*Gloria is a fictional character based on real-life stories gathered by CHI analysts
This is an abbreviated version of the full report. Download the PDF to read the full version, which includes strategies to address affordability, accessibility, supportive housing services, as well as a list of references.
The consequences of not addressing these housing challenges go beyond health outcomes. When older adults can't afford to age in their communities, many come to rely on institutional care. Medicaid covers these services for those who are unable to afford them.
But if demographic and economic trends continue on their current trajectory, state costs for-long term services and supports (LTSS) for older adults will be as high as $1.5 billion in 2030, according to an analysis developed by CHI for the Strategic Action Planning Group on Aging. That far exceeds the $964 million that will be available under current budget constraints (see Figure 3). This increase in expenditures would substantially impact the state budget.
It's important to underscore the severity of housing challenges facing some older adults in Colorado — but it's perhaps more important to understand the trends underlying them. Below, we look at housing challenges for older adults through the lenses of affordability, accessibility, and health. We will then journey across Colorado to learn more about what communities are doing to address these challenges.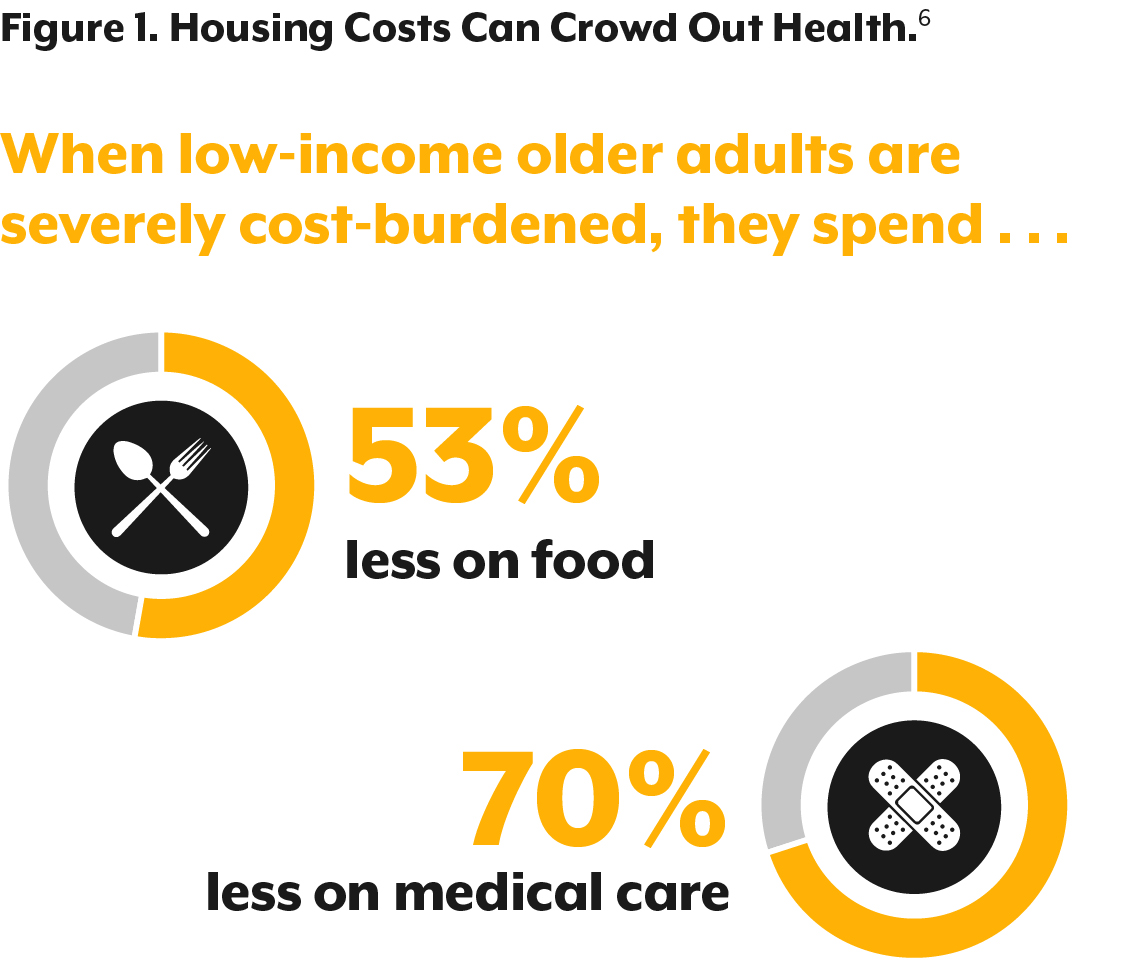 Housing Challenges Facing Colorado's Older Adults
Affordability
Affordability is a major housing challenge for many older adults. Across the state, just 15 percent of Coloradans over age 62 say affordable, quality housing is available in their community. In some mountain areas, such as Eagle, Grand, Jackson, Pitkin, and Summit counties, this figure is as low as 4 percent. 
This dearth of affordable housing creates a burden for both renters and owners. About 27 percent of older Coloradans are housing cost-burdened. Thirteen percent are severely burdened, meaning they spend at least half of their household income on housing expenses. Older adults in mountain communities, where affordable, quality housing is rare, and in Denver and Teller counties are the most likely to face high housing costs relative to household income.
Statewide, some older adults are particularly likely to have affordability challenges. Among those over age 85, for instance, nearly a third are cost-burdened.
There are also disparities by income. Low- and middle-income older adults are the most likely to be cost-burdened. Those with incomes at or below the federal poverty level (FPL) have housing cost-burden rates nearly seven times as high as those at 500 percent FPL or more.
These issues have only grown more pressing over time. Since 2010, median rent in Colorado has increased by 30 percent, and the cost of a new home has increased by nearly 50 percent. Over the same time, income among people ages 65 or older has grown by just 10 percent (see Figure 6).
If current trends continue, more than half a million older Coloradans are at risk of being housing cost-burdened by 2030. As Colorado's demographics change, this is a challenge communities in all parts of the state must work to address in order to support older adults.
Accessibility
Most older adults want to remain in their communities or homes for as long as possible, but that can be difficult if these spaces are not accessible to people with functional limitations or disabilities. Making homes more accessible for older adults can enable them to age in their communities.
However, in Colorado, as in most places in the United States, there is not only a shortage of affordable housing but of accessible housing.
Accessibility can be evaluated in two ways. First, is the home itself accessible? Can someone with a disability or a functional limitation safely live in the residence? Second, is the community accessible? Is it easy to access goods and services outside the home, and is transportation available when necessary? Since the answers to these questions depend on a person's unique needs, there is no gold standard for defining homes as "accessible" or "inaccessible." Still, these questions offer a helpful framework for evaluating gaps in communities looking to serve older adults.
Accessible Homes
Homes can be designed to be accessible for people of all ages, but accessibility is particularly important as we age. About one in three older Coloradans has a disability of some kind, and two in three people will develop a disability and need care at some point in their lifetime. Yet today, most homes are not built to accommodate people with disabilities or functional limitations, such as difficulty walking about the house or bathing.
Only one-third of homes in Colorado have an entrance without steps, known as zero-step entry. Less than 1 percent of U.S. homes are more broadly wheelchair accessible. The Americans with Disabilities Act, which regulates accessibility for many buildings, only applies to public entities and public spaces in private buildings.  While the Federal Fair Housing Act requires that private residences meet accessibility standards, these regulations apply only to buildings with at least four units. Most residences in Colorado are single-family homes. Homes that meet more rigorous accessibility standards typically do so because the owner has modified the structure, not because meeting these standards is required by law.
This means many homes in Colorado must be modified to make them more accessible. But access to home modification, which includes anything from wheelchair ramps to voice-activated technology, is limited for some older adults. While two in three adults age 52 and older have one or more assistive features in their homes, nearly one in four older adults could benefit from a home modification that they do not yet have. And the older a person gets, the more likely they are to need additional assistance — for example, home modifications are shown to be extremely effective at reducing the risk of falls.
Public programs, including Medicaid, can support home modification efforts. Colorado's Elderly, Blind, and Disabled waiver will pay for home modifications necessary to ensure Medicaid members' health and safety. For those who qualify for these services, the benefit is capped at $10,000 over five years.
But most Coloradans don't qualify for subsidized home modifications. For the majority who must pay out of pocket, costs can vary. About a third spend less than $100 on modifications, while others face hundreds or thousands of dollars in additional expenses. Much of this variation is due to the type of modification needed. Adding grab bars in a bathroom is relatively affordable, for instance, while installing a wheelchair ramp can be costly.
Data on the demand for home modifications in Colorado is limited, but it likely varies by region. For example, older adults in rural areas may be in greater need of home modifications because rural homes are more likely to be older and in need of updates. In Saguache and Otero counties, for example, the average home was built in the 1960s; on the Front Range, the average home is much newer. The need for more extensive home modifications can burden older residents and their families, posing a major barrier to living and aging safely at home.
Lafayette, Colorado is one example of a community where accessibility standards have been formalized. An ordinance requires that 25 percent of all new homes include stepless entry ways, wide interior doorways, and at least a half bathroom on the main level.
Accessible Communities
For Coloradans of all ages, location is central to the ability to access important amenities such as public transit, green spaces, stores, clinics, and healthy food.
But these built environment factors have a disproportionate impact on the older members of a community. Walkable neighborhoods are correlated with better health, fewer physical limitations, and lower rates of obesity. Older adults living in neighborhoods with community centers, public transit, and accessible public spaces such as sidewalks experience lower rates of cognitive decline than people who live in places that do not have this environment.
In Colorado, about 66 percent of older adults say they can get to the places they need to visit in their community, and 20 percent use public transit. But community accessibility has gotten worse in the past decade. In 2018, fewer older adults reported that their communities are navigable by transit, car, and foot than in 2010.
Densely populated communities are often more accessible. For example, just half of Coloradans living in rural areas are within 15 minutes of a hospital, compared with 87 percent of urban residents.
Supportive Housing Services
Even if affordability and accessibility issues are addressed, some older adults need additional support to remain in their homes and communities as they age. This can come in various forms — a ride to the pharmacy, help with setting up appointments or navigating the long-term care system, or a higher level of clinical support such as intensive case management for mental illness.
These supportive services aim to help older adults remain in the homes and communities they prefer, often delaying more intensive and costly levels of care. While research is limited, one New York study found that Medicare enrollees in an affordable housing development who received supportive services had significantly lower discharge rates, shorter hospital stays, and were less likely to need ambulatory care.
A study in Pittsburgh showed similar results. Participants who received supportive services had fewer hospital stays, fewer transfers to nursing facilities, and lower rates of inpatient care and emergency room use.
There is not a single, clear framework underlying the design of programs that provide these services to older adults. But supportive services vary in intensity and cost. Some older adults require permanent supportive housing, while others need indirect support such as transportation to a doctor's office (see Figure 9). 
Permanent Supportive Housing
Permanent supportive housing programs support people facing chronic housing challenges for reasons that go beyond income, such as mental illness, substance use, or chronic health conditions. These programs, which can be publicly or privately funded, provide subsidized housing with no limits on the length of the lease. Residents receive supportive services, though participation is not a condition of tenancy.
In Colorado, communities that are aging quickly and have high levels of homelessness may benefit the most from this model. While older adults are no more likely to participate in permanent supportive housing programs than adults of other ages, national data suggest that these programs will have to prepare for upcoming demographic shifts and adjust to meet the needs of an aging population. For instance, older adults who qualify for permanent supportive housing experience cognitive decline earlier in life and require additional supports to manage daily activities.
Service Coordination
A less intensive approach is service coordination, which helps people connect with resources available in their community.
For example, Metro West Housing Solutions, a housing authority in Lakewood, funds service coordinators at its properties to help residents with doctor appointments and other needs. The Grand Junction Housing Authority also has a service coordinator for older adults in each of its age-restricted subsidized properties. (In one of these properties, Rocky Mountain Health Plans, the Western Slope's Regional Accountable Entity, funds the position.) Additionally, at Eaton Senior Communities, an affordable independent living development for older adults in metro Denver, a service coordinator and director of wellness facilitates visits from nurses, doctors, and other providers of long-term services and supports. This arrangement brings a higher level of care to an independent living setting. It's especially useful because affordable assisted living beds are in short supply.
For older adults living in their own homes, housing supports may come in the form of in-home community-based services provided by home health aides or personal care aides.
Indirect Supports
The least intensive approach is housing that comes along with indirect supports. For example, Colorado's Medicaid program funds care coordination to help members connect with services, which can include housing. However, these coordinators are not trained housing specialists and may not have a deep understanding of local resources. Another example of indirect supports are housing developments that offer weekly transportation assistance to commonly-used community resources such as grocery stores.
Supportive services of any kind are hard to find in the few subsidized housing programs in Colorado or elsewhere. Older adults who do not live in subsidized housing, meanwhile, may struggle to afford housing and the supportive services that help them remain in their homes.
Efforts to expand supportive services for older adults will be increasingly important as Colorado's population ages and housing shortages emerge in many areas of the state.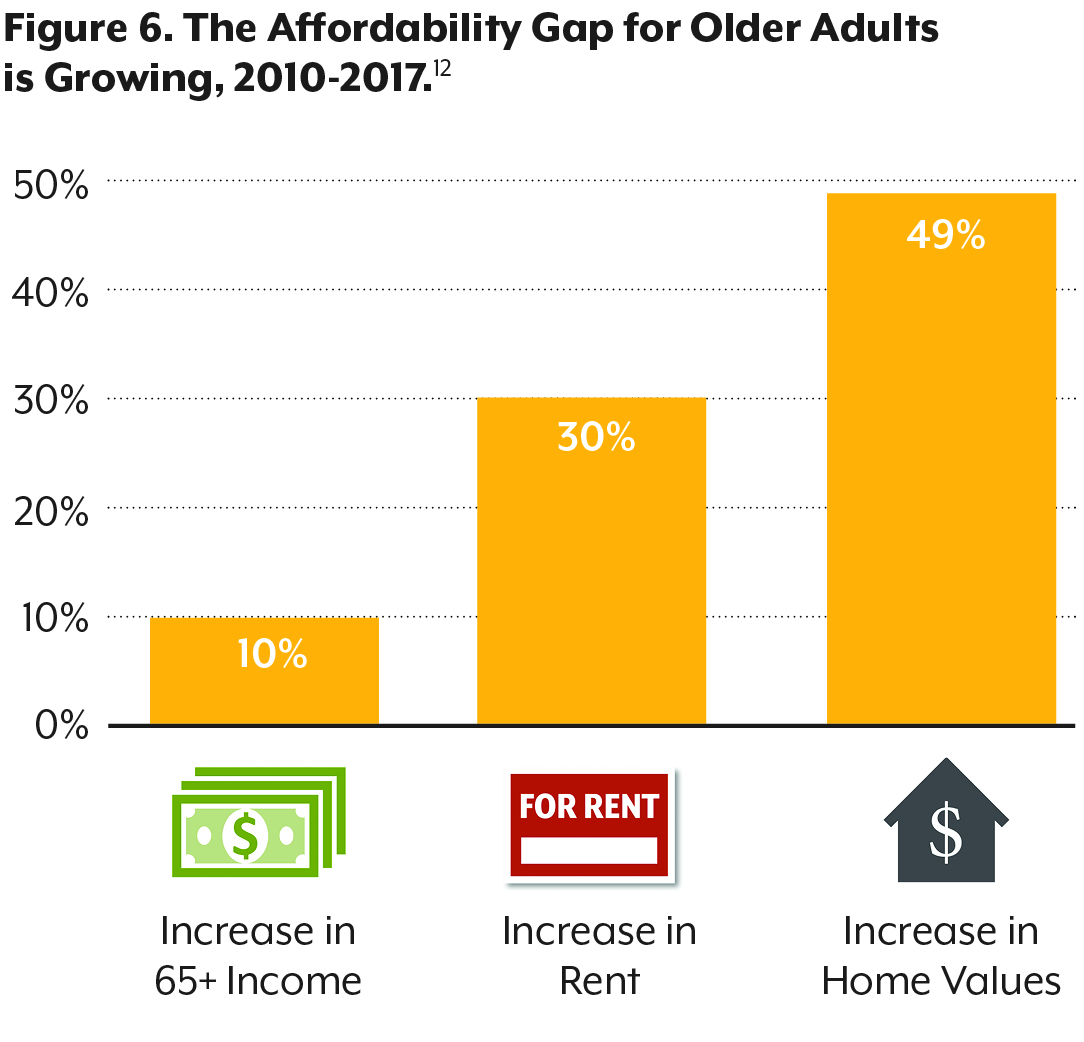 Conclusion
Housing challenges in Colorado can sometimes seem overwhelming. Issues of affordability, accessibility, and supports can be especially daunting for older adults — and over the past few years, many of these obstacles, such as affordability, only seem to have grown.
But communities from Larimer to Lamar have proven the situation is anything but hopeless. Policymakers, nonprofits, developers, and more have come together to identify innovative ways of addressing these problems, such as new funding strategies, educational campaigns, and forms of service delivery. CHI is grateful to the NextFifty Initiative for providing the opportunity to highlight some of this promising work, here and in the online toolkit. Helping Colorado's communities exchange insights and ideas will be key to promoting housing solutions for older adults.