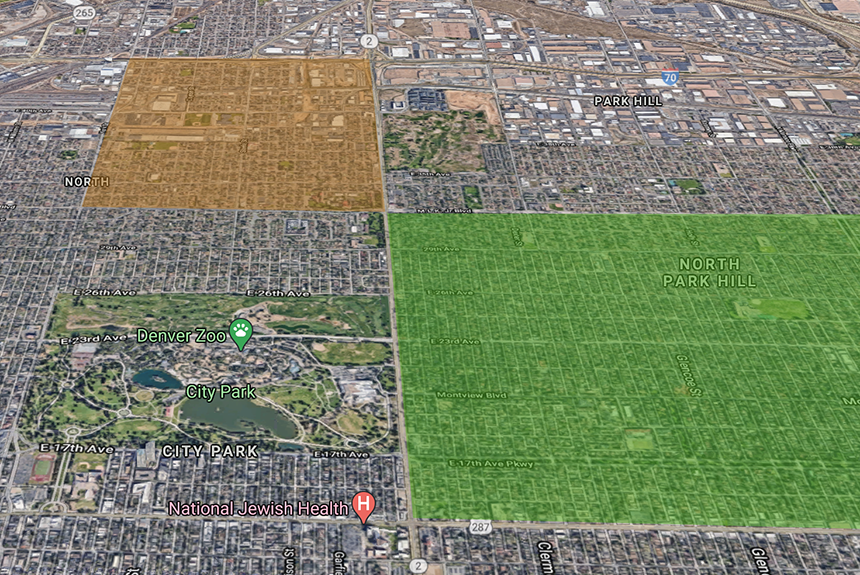 In Denver's well-to-do North Park Hill neighborhood, more than half the residents between 30 and 40 years old have received at least their first dose of the COVID-19 vaccine. But just across Colorado Boulevard in the Clayton neighborhood, less than half of people age 70 or older — a higher priority group — have started their vaccines. 
We know this thanks to new maps from the Metro Denver Partnership for Health (MDPH), with leadership from Denver Public Health. The maps are published on CHI's website.
These census and ZIP code maps show how vaccines are distributed across the metro region. Importantly, they can reveal where there are under-vaccinated neighborhoods and populations so health care providers and community leaders can work in tandem to distribute the vaccine to those most in need. The interactive maps are updated weekly based on data from the Colorado Immunization Information System.
Maps in Action
Health care partners can use these maps to identify and prioritize neighborhoods for outreach or assistance with registration and scheduling. And by overlaying other maps such as CHI's Social Distancing Index, we gain a better picture of the pandemic response and those most affected. For example, vaccine planners should analyze if lower vaccination rates correlate with poverty or census tracts that have higher percentages of people of color.
Dr. Judy Shlay, Associate Director of Denver Public Health, a department of Denver Health, is working to ensure equity is at the center of the COVID-19 response work. She told CHI, "There continues to be challenges in reaching communities that have high COVID rates and low vaccination uptake. … For us working in public health, we know which communities have been disproportionally affected by COVID, and they are the same communities which are not at the appropriate level of vaccine coverage."
For example, as of March 18, the vaccination maps show that only 46% of adults 70 years and older in Aurora's Montview Park had received their COVID-19 vaccine. Montview Park is west of the Anschutz Medical Campus and only a few blocks south of Central Park, where 100% of 70+ adults have received their vaccine. This gap is even more concerning in light of CHI's Social Distancing Index, which reveals that 61% of Montview Park residents are living with incomes at or below 200% of the federal poverty level, compared to 16% of Central Park residents.
These data can also help public health and health care systems understand where to set up long-term clinic sites, which can help build trust with the community. The state could prioritize supply to pharmacies in under-vaccinated neighborhoods with high case rates or overlap these data with COVID-19 vaccine provider maps to understand where vaccine deserts are. (See Figure 1.) One win is that 73% of adults 70 and older in Denver's Elyria-Swansea neighborhood are vaccinated as of March 18. Although not 100%, this information is powerful considering this neighborhood is considered a vaccine and food desert.
 Additional data to help identify priority communities for vaccination outreach include COVID-19 case, hospitalization, and mortality data combined with community demographics and health indicators. The Colorado School of Public Health's interactive dashboard outlines the impact of COVID-19 in Colorado at the county level, which can help identify communities that need extra support and resources.
Overall, the maps developed thus far provide important information to guide health care partners, public health, and community organizations to actualize equity in their distribution efforts. Expanding these maps will be necessary to get a better picture of the state's efforts in rural and frontier communities.
More than Just Data
While maps and data are critical to guiding success, data and science are not the only ingredients to ending the pandemic. Community voice must be elevated, and tools like community navigators and coordinators need to be deployed. As Dr. Shlay notes, "To bridge to communities that often are not connected to health care, engaging with community organizations that are trusted entities is critical. … For many who are not as connected to traditional approaches for receiving health-related services, we need to put in extra effort to ensure that our entire community is protected."
If our community had strong support networks upfront, we would not have had to build equity programs but instead could have capitalized on what already existed. But there is some good news from all these efforts: Data tools and community interventions put in now can and should be sustained to inform future public health interventions. And that adds some additional light to the end of this tunnel. 
---
Related Blogs and Research
---
---
CHI's work on rapid analysis of current policy challenges is made possible by The Denver Foundation.