The Metro Denver Partnership for Health is led by the six local public health agencies serving the seven-county Denver Metro area, including Adams, Arapahoe, Boulder, Broomfield, Denver, Douglas and Jefferson counties.
These public health agencies include Boulder County Public Health, Broomfield County Department of Health and Human Services, Denver Department of Public Health and Environment, Denver Public Health, Jefferson County Public Health, and Tri-County Health Department. 
The Partnership's work impacts nearly 3 million Coloradans — 60 percent of the state's population — who live in this region.
The Partnership collaborates with regional leaders in health care, human services, behavioral health, environment, philanthropy, education, business, local government and others to achieve its goals of promoting health and well-being across the region. Its mission is to improve population health regionally with collective action.
The Colorado Health Institute has worked with the Metro Denver Partnership for Health since 2014 as a convener, facilitator and strategic advisor.
A formal Roadmap outlines the Partnership's structure, goals and activities. The Partnership's collaborative efforts include cross-department work groups in the following areas.  (Bolded areas were identified in the Partnership Roadmap as priority efforts.)
Behavioral Health. Target stigma reduction and improved coordination between systems of care and prevention of behavioral health issues and to engage non-profit hospitals in addressing behavioral health.
Climate Change and Health. Increase awareness of the impact of climate change on health across the Metro Denver Region through capacity building, policy development, and communications and outreach.
Data Sharing. Use, share and analyze cross-jurisdictional data and to gain access to a local resource that uses electronic health records for public health surveillance (CHORDS). 
Early Childhood. Achieve equity, health and well-being by advancing family-friendly policies and paid caregiver leave within jurisdictions and throughout the region through shared communications, learning and strategic influencing.
Health Equity. Achieve health equity and environmental justice across the Metro Denver Region through capacity building, policy development and information sharing.
Healthy Eating Active Living (HEAL). Reduce consumption of sugar-sweetened beverages, identify data sources to inform efforts and engage non-profit hospitals in promoting HEAL.
Partnership Alignment. Engage health systems and human services partners to align existing efforts to address priority health issues regionally and identify opportunities for collaboration. 
Partnership members collaborate across their departments and jurisdictions on programs and grants in a range of other areas, in addition to broad areas of effort directed by work groups. Other issues include radon exposure prevention, HPV vaccine coverage, tuberculosis control and breastfeeding promotion.
Please contact Sara Schmitt for more information about the Partnership.
2019 Meeting Dates:
The Partnership's Steering Committee meets on the fourth Friday of each month from 2:00-4:00 p.m. The committee's meeting dates for 2019 are:
March 22
April 26
May 24
June 28
July 26
August 23
September 27
October 25
November 22
December 27 [will be rescheduled - likely 12/20]
Climate & Health Equity
On November 1, 2018, the Metro Denver Partnership for Health's Climate Change and Health Equity Workgroups, with support from the Strong, Prosperous and Resilient Communities Challenge (SPARCC), hosted a Health Equity and Climate Summit. The day-long event gathered public health professionals and partners to better understand local climate vulnerabilities and explore the role of public health in building regional resilience and health equity. Throughout the day, participants not only learned about the greatest climate risks in our area, but were also exposed to community efforts currently underway to build resilience and reduce greenhouse gases. By engaging in table-top conversations, attendees explored the ways in which we are already working on climate mitigation and adaptation and how we can build on that momentum. The day marked an on-going commitment to a regional and multi-faceted approach to promoting climate resilience in our community.
Click on the links to view speaker presentations:
Health Equity: A guidebook for public health practice
Members of the Metro Denver Partnership for Health's Health Equity Workgroup compiled this guidebook, drawing on resources members use in their work and trainings they have attended or provided. The exercises included in the guidebook were tested in local public health agencies, including Boulder County Public Health, Denver's Department of Public Health and Environment, Denver Public Health, Jefferson County Public Health, and Tri-County Health Department. The guidebook is a tool for public health practitioners in Colorado who are serious about walking their health equity talk but aren't quite sure how to get started. It aims to prepare its users to close gaps in health status that result from systemic, avoidable, and unjust policies and practices that create barriers to opportunity for certain people.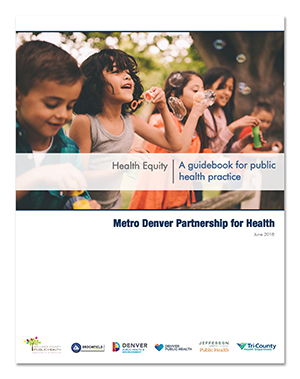 Roadmap
This Roadmap, updated in 2017, provides a way forward for the Partnership to identify and build opportunities for greater regional collaboration.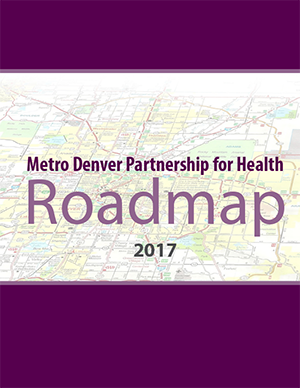 Poster
This poster communicates the structure, goals, and successes of the Metro Denver Partnership for Health in an easy-to-follow format.