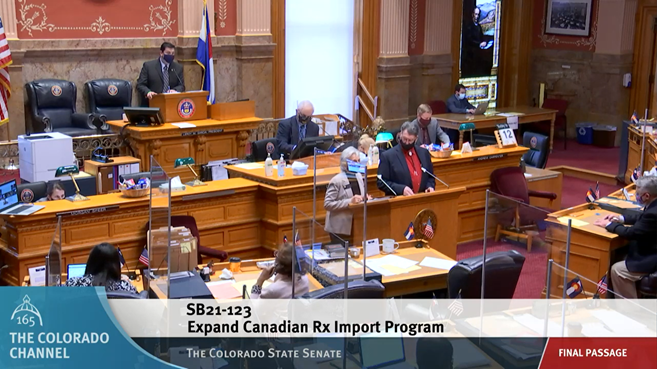 Some Colorado legislators have set their sights on addressing prescription drug costs during the 2021 session.
Pharmaceutical pricing has been a notoriously charged topic that has seen little prior movement at the state Capitol in recent years. This year might be different, but persistent hurdles remain, such as committed opposition and a lack of available data. In addition, pharmaceutical companies have earned praise for their role in developing COVID-19 vaccinations, which could make some legislators hesitant to pass bills opposed by the industry.
So far, pharmaceutical-focused bills under consideration aim to establish a prescription drug review board, allow Colorado to import drugs from other countries, and collect more data through the state's Prescription Drug Monitoring Program. While not all bills are bipartisan, opportunities for collaboration exist as elected officials from both sides of the aisle have said they want to lower the prices consumers pay. However, any bill attempting to regulate the pharmaceutical industry faces fierce opposition from groups that disagree with proposed changes or want to prevent government overreach.
CHI is tracking the progress of pharmaceutical legislation, including the following bills:
Senate Bill (SB) 175: Prescription Drug Affordability Review Board
This bill, led by Sens. Sonya Jaquez Lewis (D-Lafayette), a pharmacist, and Julie Gonzales (D-Denver) and backed by consumer groups, would establish a five-person Prescription Drug Affordability Board (PDAB) whose members would be selected by the governor. The PDAB would analyze the affordability of drugs in Colorado and have the ability to set price limits on the most expensive drugs and to investigate sudden increases in drug prices. Proponents say these changes are necessary to control skyrocketing prescription drug costs and help Coloradans afford necessary medications. Sponsored exclusively by Democrats, SB 175 faces intense opposition from industry groups, including the Colorado Bioscience Association and the Pharmaceutical Research and Manufacturers of America (PhRMA), who say the PDAB's price caps could cause downstream problems for the research and development necessary to bring new drugs, like vaccines, to market. Six states have passed legislation to create similar drug review boards.
SB 175 passed its first committee on a party-line vote on March 17. It now heads to the Senate Appropriations Committee.
SB 123: Expand Canadian Prescription Drug Import Program
SB 123 would build on a 2019 bill that established the Canadian Prescription Drug Importation Program within the Department of Health Care Policy and Financing (HCPF). This bill, which has bipartisan sponsorship, would allow HCPF to expand the program and import drugs from countries besides Canada, should those countries agree to participate. A recent report from HCPF found that importing 50 specific drugs could save privately insured Coloradans an average of 63% compared to what they are currently paying. The proposal also appeals to policymakers who want to harness market dynamics to drive down prices.
Opponents of the new bill have criticized the overall strategy, citing high costs that have already been incurred to stand up a program that has yet to import a single pill or drug into the state. U.S. federal requirements to import drugs are complex, as any drug would require approval on the American and Canadian markets, registration with the FDA and Health Canada, and strict supply chain reporting. Crucial to the program's success is other countries' willingness to come to the table and strike a deal. Florida, the first state to solicit bids from private Canadian firms to import drugs, saw no response on its $30 million contract last year. Federal demands and foreign deal-making could prevent SB 123 from passing or spell significant delays in implementation if it is signed into law.
This bill has passed the Senate with widespread support. Twenty-seven of the chamber's 35 legislators voted to give it the green light. SB 123 currently awaits its first hearing in the House.
House Bill (HB) 1012: Expand Prescription Drug Monitoring Program
HB 1012, sponsored by Reps. Janice Rich (R-Grand Junction) and Kyle Mullica (D-Northglenn) and Sens. Brittany Pettersen (D-Lakewood) and Don Coram (R-Montrose), seeks to expand the existing database of the Prescription Drug Monitoring Program (PDMP) to include all drugs. Colorado's PDMP, an online tool that helps medical professionals track prescriptions by patient and make informed decisions when dispensing medications, is currently limited to controlled substances like opioids.
Advocates for the bill say it would improve patient safety and streamline data. Opponents worry about what they see as a burden on pharmacies to upload additional information, the need for more resources to create additional infrastructure, and questions around which providers would have access to the tool. Colorado would not be the first state to make this change; Nebraska required all drugs to be reported in its PDMP in 2018.
The House Health and Insurance Committee passed HB 1012 on a vote of 11-1 on March 24. The bill now moves on to the Finance Committee.
Legislators must also approve the continuation of the PDMP through SB 98, which would extend the program through 2028. This bill is one of many sunset bills considered each session to renew state-run programs that otherwise would conclude. SB 98 received unanimous support from the Senate Health and Human Services Committee in its first hearing — a good sign for the extension of the PDMP.
HB 1237: Competitive Pharmacy Benefits Manager Marketplace
The newest bill on CHI's list focuses on Pharmacy Benefit Managers (PBMs). These groups contract with health insurers, drug manufacturers, and pharmacies to manage prescription drug benefits, establish rebates, and set reimbursement rates. HB 1237 aims to increase competition for the existing contract for state employees by establishing a bid system to help negotiate lower prices.
Bill sponsors and advocates hope the transparent bidding process will lower prices paid by the state and enable other health plans and employers to negotiate lower prices with their contracted PBMs. Initial estimates from proponents show HB 1237 would save the state nearly $9 million annually. New Jersey and Maryland have passed similar legislation in recent years.
Sponsored by Sens. Dominick Moreno (D-Commerce City) and Barbara Kirkmeyer (R-Gilcrest) and Reps. Susan Lontine (D-Denver) and Janice Rich (R-Grand Junction), the bipartisan proposal is awaiting a hearing date in the House Health and Insurance Committee.
Forthcoming Legislation
An anticipated bill would focus specifically on insulin. A successful 2019 bill, championed by Rep. Dylan Roberts (D-Avon), was the first of its kind in the nation to cap monthly out-of-pocket costs for insulin at $100. However, Roberts says health insurance companies found loopholes around the statute for patients with multiple prescriptions or plans not subject to the rule. The 2021 bill will likely try to close those gaps.
A Tough Pill to Swallow
These bills are coming at a time of mixed public perception of the pharmaceutical industry. According to a 2019 Gallup poll, the world's largest publicly traded pharmaceutical companies were viewed by Americans as the most poorly regarded industry. That same year, more than one in 10 Coloradans (10.8%) did not fill a prescription due to concerns with the cost, according to the Colorado Health Access Survey.
However, the efforts of companies like Pfizer, Moderna, and Johnson & Johnson to quickly develop effective COVID-19 vaccines are viewed by many as heroic and key to allowing us to move beyond the pandemic and back to normal life. Drug manufacturers will point out that their existing cost structures provided the resources to accomplish this feat. Expect others to push back — separating recent successes from longstanding issues or emphasizing the large role of federal funds in supporting COVID-19 research.
Policymakers in Colorado will need to tread carefully as they push to make prescription drugs more affordable in ways that are effective and politically feasible.
---
Related Blogs and Research
---