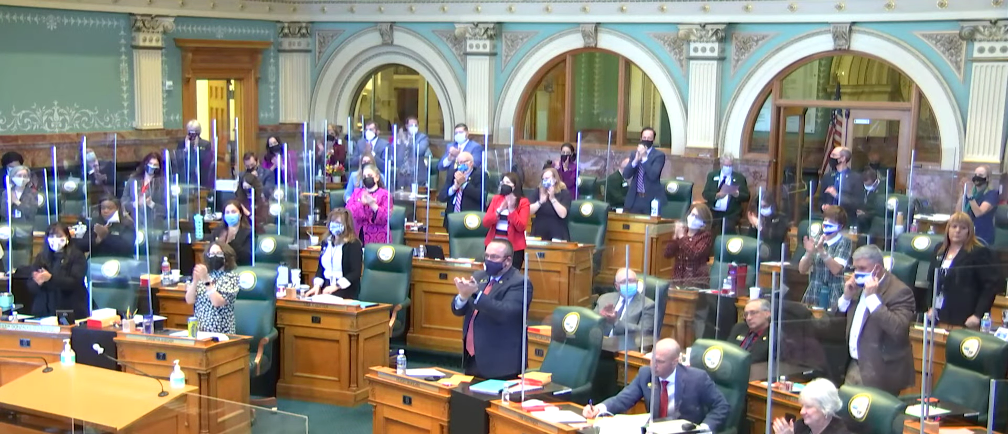 After a 32-day pandemic-inspired pause, Colorado's 73rd General Assembly is back to work. In less than a week, hundreds of proposals have been introduced.
The avalanche of bills landed in the House and Senate shortly after lawmakers returned to the Gold Dome on Feb. 16, signaling that the session has begun in earnest. On their first day back, legislators floated 200 bills, a number that grew to 240 by the week's end (seven bills had been considered before lawmakers adjourned in early January in an attempt to avoid the spread of COVID-19). A typical legislative session will hear between 500 and 600 bills, so it's possible we have seen less than half of all of the legislation for the year.
This year's health policy agenda will feature priorities that were delayed or postponed during the 2020 session due to COVID-19's wide-ranging impacts on the state, as well as new priorities from legislators — some of whom are in their first days at the Capitol. Gov. Jared Polis also set out an ambitious agenda despite difficulties posed by the pandemic.
Notable bills and themes have started to emerge, among them:
Bolstering Behavioral Health (House Bill (HB) 1068, HB 1085, and HB 1097): This trio of bills would expand Colorado's focus on behavioral health across the entire health system.
Supporting the Health Care and Public Health Workforce (HB 1005 and HB 1107): The COVID-19 pandemic revealed vulnerabilities in our health care workforce and problems with how public health professionals are protected.  
Expanding Preventive Care (Senate Bill (SB) 16 and SB 89): Before the pandemic, data showed that more Coloradans were accessing preventive visits than ever before. Policymakers are looking to continue this trend by expanding services available to patients.
Some highly anticipated bills have yet to make their debut, most notably a new public health insurance option (or "state option") proposal. Polis has long flagged this as a priority and committed to seeing it through during his recent State of the State address. Democratic legislators pushed for a public option last year but withdrew the proposal when hospitals and legislators turned their attention to the pandemic. Only limited details of the new proposal have been made public. For example, the new bill would tentatively give health insurers and providers the chance to meet lower price goals in 2023 and 2024 before a new state entity would be created to achieve savings and broader coverage. What's unknown are the price goals that the bill will ask the health care market to meet before the state option would go into effect.
Additionally, a bill sponsored by Sen. Sonya Jaquez Lewis (D-Lafayette), a pharmacist, and Sen. Julie Gonzales (D-Denver) would establish a five-person board focused on prescription drug pricing. The Prescription Drug Affordability Board, made up of pharmaceutical experts without ties to the industry, would set price limits on the most expensive medications and have the power to investigate sharp increases in drug prices. Increasing transparency on the prices consumers pay for prescription drugs was an early theme of the 2020 session that failed to gain traction following industry opposition and a collective focus on the pandemic.
Legislators can meet for 120 nonconsecutive days, thanks to a 2020 decision from the Colorado Supreme Court. That puts June 14 as the last possible day of the 2021 session, though there are whispers of an adjournment before Memorial Day. The CHI team will continue to track health-related legislation. Stay tuned for more analysis, briefing, and presentations throughout the session. 
---
Related Blogs and Research
---