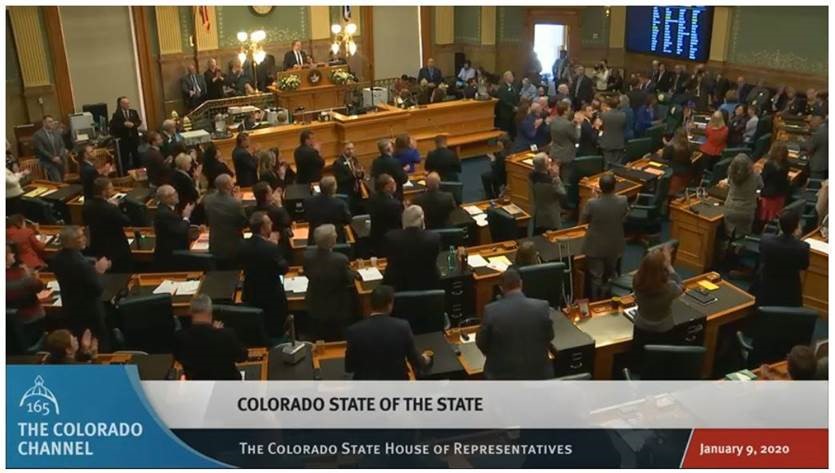 It's a new year and a new decade, but some things never change: It's January, so that means it's time for the march of longhorns through downtown Denver during the National Western Stock Show parade; the start of the legislative session; and the annual State of the State address.
It's been a busy few days for health policy, setting the stage for what's likely to be a consequential year. Just before the longhorns paraded through downtown, Gov. Jared Polis announced plans to champion prescription drug price transparency, support reinsurance, and move forward with the public option in his second State of the State speech. And the first bills of the session in both the House and Senate were both focused on health topics ⁠— tobacco and behavioral health ⁠— signaling that health issues will be center stage in 2020.
State of the State: A State of Trailblazers
In the State of the State Address, Polis touted the administration's "historic bipartisan legislation" last year, which aimed to control health care costs, improve transparency, and create a new reinsurance program that has provided average individual market premium reductions of 20 percent statewide. He pointed out that 95 percent of successful bills last session had some measure of bipartisan support. Polis also celebrated the launch of Peak Health Alliance (read CHI's report on Peak here), saying some of the best ideas in health policy come from communities, not just from those working in the Capitol.
But at the same time, "Americans still pay twice as much for health care as those living in other developed nations, and nearly one in five Coloradans foregoes health care because of cost," Polis said, citing a figure from the 2019 Colorado Health Access Survey.
Turning to 2020, Polis declared, "We know that health care costs won't magically go down on their own." He will support legislation to provide prescription drug pricing transparency, fund reinsurance, and move forward with a public option. Polis took on hospitals, saying that some hospital profits are being used to fund ads opposing legislation (specifically the public option) that is designed to save Coloradans money.
Colorado is going after the tobacco industry this session to reduce smoking and especially teen vaping, which is more common in Colorado than any other state. Behavioral health will also continue to be a priority. Polis said there are "desperately needed reforms" that deserve focus and collaboration in 2020. He also championed the importance of the outdoors and public lands.
"Our fates are interconnected, and we are better together," said Polis, later adding that "stagnation isn't in our DNA" as Coloradans.
The Session Begins
Many of these topics will be on the table during the 72nd General Assembly, which convened Wednesday morning.
Speaker of the House K.C. Becker (D) told legislators that driving down health care costs will be a priority for Democrats. Also top of mind for her: enacting Family and Medical Leave (FAMLI) and overseeing a repeal of the death penalty. Senate President Leroy Garcia (D) highlighted on Twitter his caucus' intent to "protect Colorado's natural beauty, improve health care, and restore the economic dignity of hard-working Coloradans" this session.
Republican leaders, including House Minority Leader Patrick Neville and Senate Minority Leader Chris Holbert, previewed education priorities and called for more funding for transportation. Senate Republicans are backing a package of education bills that they are branding #trustEDco. Earlier in the week, Neville called for more focus on health care compliance costs. Expect to see strong opposition to policies such as FAMLI and the public option this session.
While opening day was full of speeches and ceremony, it also saw a flood of new bills. Nearly 150 have already been introduced and are available to view on the legislature's website. The first bill introduced in each chamber is a health care bill, signifying just how important health policy will be for the next four months at the Capitol:
HB 1001

tackles nicotine and tobacco. It raises the age to both sell and purchase products from 18 to 21, increases retail compliance checks, and adds a variety of new licensing requirements for tobacco retailers. This is the first of several proposals we expect to see targeting cigarettes and e-cigarettes. The bill has bipartisan sponsorship: Reps. Kyle Mullica (D) and Colin Larson (R) from the House, and Sens. Jeff Bridges (D) and Kevin Priola (R) in the Senate.
SB 1

aims to expand behavioral health training among Colorado's K-12 educators. Coming from the interim School Safety Committee, the legislation would create a new training program housed at the Department of Education focused on youth mental health. It also features a bipartisan group of sponsors: Sen. Rhonda Fields (D), Rep. Susan Beckman (R), and Rep. Emily Sirota (D). Even though Democrats can pass bills this session without any support from Republicans, having bipartisan sponsorship helps a bill move through the legislature with less resistance and sets it up better for long-term success in a future that may not feature unified Democratic control.
Other bills already on CHI's tracking list address health care sharing ministries (HB 1008); treatment (SB 7), harm reduction (HB 1065), and recovery services (SB 28) for opioids and other substance use disorders; pharmacy benefit managers (HB 1078); collection of cost-sharing payments for health care services (SB 5); and hospital licensing requirements (SB 45).
Many of the bills likely to be most contentious have yet to be introduced, such as a proposal for next steps on the state's public option plan. Expect this to be among the biggest health care fights of the session.
Sen. Kerry Donovan (D), one of the prime sponsors of HB 19-1004, which authorized the public option study last year, told the Colorado Sun that "judging by the amount of out-of-state money we are already seeing trying to defeat this policy, I expect this to be one of the bigger battles of my legislative career." At a legislative preview hosted by the Denver Metro Chamber of Commerce on Tuesday, Rep. Neville said, "Quite frankly the public option scares the heck out of me…it's a giant leap toward single payer."
Feeling a bit overwhelmed? We are too ⁠— but we'll get through it together. For a helpful resource, check out CHI's 2020 legislative preview report, The Health Policy Hustle – released to coincide with the start of the session.
Image: Screenshot from The Colorado Channel
---
Want more information about health and health policy in Colorado? Subscribe to our newsletter or find CHI on Facebook and Twitter
---
Related Blogs and Research
Twitter
Gov. Polis and both chambers of Colorado's legislature signaled that health care will be a priority during the 2020 session.