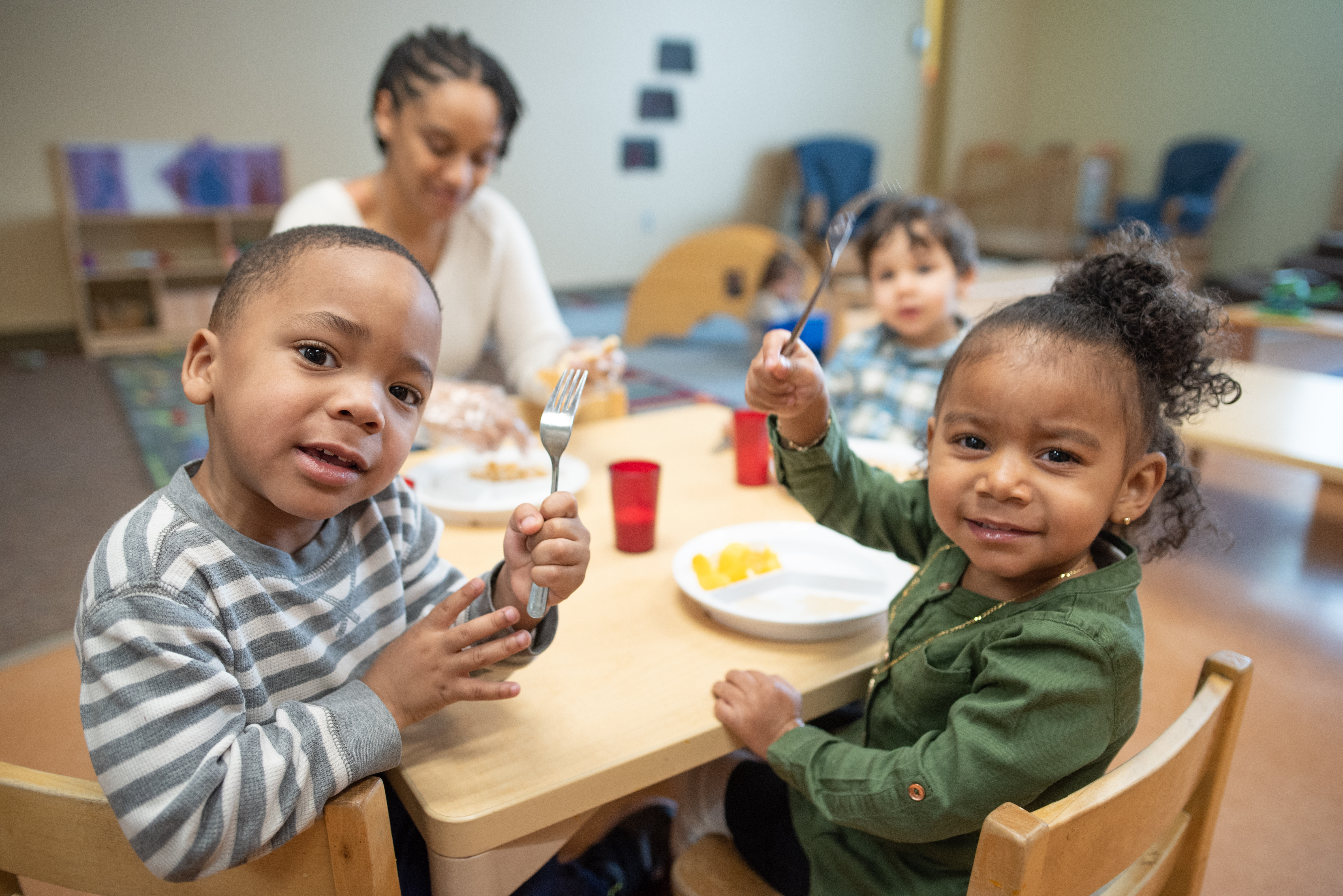 Whose work is essential during a pandemic? Health care providers', of course. Grocery clerks, truck drivers, factory workers, and some retail workers made the list when Colorado officials decided which industries should continue operating during the state's stay-at-home order.
But another type of work is necessary to allow many of those people to leave home in the first place: child care. Some 80,000 of the state's emergency workers have children under the age of 8, according to Gov. Jared Polis.
Days after the stay-at-home order took effect, Colorado's government created the Colorado Emergency Child Care Collaborative in partnership with Gary Community Investments, a Denver-based organization that supports low-income children and families through philanthropic and for-profit investments. The Collaborative is offering free child care to the state's essential workers through May 17. Families are connected directly with child care providers who applied to be part of the program. While tuition is now supported by the federal stimulus package, the collaborative launched and ran in its first weeks with support from the Buell Foundation and Centura Foundation and other local partners.
As of April 17, 489 child care providers — nearly one in 10 of the state's licensed providers — had signed up to provide care through the Emergency Child Care Collaborative. Three hundred more have expressed interest in providing care if it's needed. The program has connected more than 8,000 children in more than 5,000 families to child care, according to the Colorado Department of Human Services Office of Early Childhood. Child care providers are themselves considered essential workers and eligible to participate.
This brand-new program has successfully allowed thousands of people to work while knowing their children are safe and cared for.
But even as the pandemic has highlighted the important role child care plays in the economy and in the lives of so many Coloradans, it has also exacerbated persistent stresses and challenges in a system advocates and providers say is vulnerable. In a letter to the state's policymakers on April 6, a group of early childhood providers and advocates applauded the state's response so far — while also calling for longer-term changes to support the organizations and people who care for children.
As the state begins to loosen restrictions and more people return to work, CHI is paying attention to a few key questions about Colorado's child care system:
How can Colorado provide child care for those who need it as more people return to work?
In a needs assessment released earlier this year, CHI found a significant gap between the need for child care for children 5 and younger and the capacity of licensed providers: Only a third of infants whose parents want licensed child care were receiving it, for instance. About 10 percent of parents who care for their children full time said they could go back to work if they could find affordable care.
During the stay-at-home order, the needs look different, in part because schools are closed. Of the more-than-8,000 children whose parents filed requests for care through the emergency collaborative, half were school-aged kids, according to the Office of Early Childhood. The state is partnering with organizations to find options for these older children. In Fort Collins, the Boys and Girls Club is now providing care for school-aged kids in small groups through the collaborative. The Office of Early Childhood is also working with providers to make sure they have qualified caregivers and staff to work with different age groups.
As stay-at-home restrictions change, the mix of families needing child care also will change. The state's school districts are closed for the year, and some summer camps will likely not operate as usual. Providing child care options that track with evolving social distancing orders will be a critical and challenging step.
And as more of the state returns to work, the shortage in child care options for the youngest children identified in CHI's needs assessment will also likely return. Which brings us to the next question:
What do child care providers need to survive the pandemic financially?
The COVID-19 pandemic is a stark reminder of just how precarious the situation of many child care providers is. A survey conducted by the National Association for the Education of Young Children (NAEYC) in mid-March found that in Colorado, 33 percent of child care providers said they would not survive closing for more than two weeks without significant public funding that would allow them to cover payroll, rent, and other fixed costs. Twenty-two percent would not survive a closure of any length. Nearly half reported that they have clients who can't pay fees or copays.
Some child care providers can get help through state, local, and federal response to the COVID-19 crisis. The Emergency Collaborative is paying participating providers a rate based on the cost of providing care to children in the smaller groups required by social distancing, for instance. And many counties have changed policies for the Child Care Assistance Program, a subsidy for people with low incomes, to allow providers to be paid for days when children are not attending day care. Advocates argue that these and other changes could be made permanent in order to provide more financial stability to providers.
Like other small businesses, some Colorado child care providers have applied for federal payroll support. Still, some will likely close permanently in the wake of the pandemic, exacerbating the existing shortage.
How will the pandemic's effects on child care affect women, people of color, rural communities, and people with low incomes?
The economic impacts described above will not be felt in all Colorado communities equally. Nationwide, 94 percent of early childhood education teachers are women; about 40 percent are women of color. (People of color in Colorado are also disproportionately likely to be diagnosed with COVID-19.) Many child care workers' incomes are already low enough to qualify for public programs, and many do not have health insurance. Often, child care workers are themselves parents who need child care. Rural communities where there are fewer care options and people with lower incomes will be disproportionately affected if child care facilities close permanently.
Child care in Colorado is already less affordable than almost anywhere else in the country. Many people struggled to afford care before the pandemic; as people look to return to work, affordable care will be important. Helping providers stay in business is an important place to start.
What can Colorado learn from other states? What can Colorado share with other states?
States have approached the question of how to provide child care during the pandemic differently. Sixteen states closed child care altogether with the exception of emergency providers, according to an analysis from the Hunt Institute, and Rhode Island closed all services.  Some have created new facilities to offer child care, and others have experimented with sending providers directly into emergency workers' homes.
States' approaches to supporting providers as businesses are shut down has also varied: Some have taken significant steps that Colorado has not yet pursued, including direct grant programs, replacing lost tuition for providers, introducing hazard pay for providers, or covering the health insurance premiums of child care providers who have tested positive for COVID-19.
Colorado is one of 33 states that has allowed child care facilities to remain open as "critical businesses." Some counties opted to take a more stringent approach: Gunnison County, for one, closed all facilities in response to high infection rates. Through the Collaborative, the state worked with existing providers to fill the child care needs of emergency workers rather than creating new facilities, which allows the state to support existing businesses.
As of April 17, however, the state's Office of Early Childhood estimates that between 70 and 75 percent of the state's 5,000 licensed child care facilities are temporarily closed. Facilities that are open have new restrictions to support health and safety. Just 10 children can share a space at once, and facilities are asked to abide by social distancing guidelines.
Facilities have gotten support from organizations ranging from the Federal Emergency Management Agency, which provided critical supplies like diapers, to the Colorado Mask Project, which is offering masks for providers. So far, there have been no confirmed outbreaks related to child care in the state.
Colorado took a bold step to support child care for thousands of essential workers in an emergency while focusing on the health and safety of children. In the shifting landscape of post-COVID-19 Colorado, the need for child care across the state will likely change by the month or even by the week. Colorado's policy response to this changing environment will shape the child care system — and the well-being of Colorado's children — for years to come.
---
More Blogs and Research
---