Pandemic or Not, Polis Dreams Big
February 17, 2021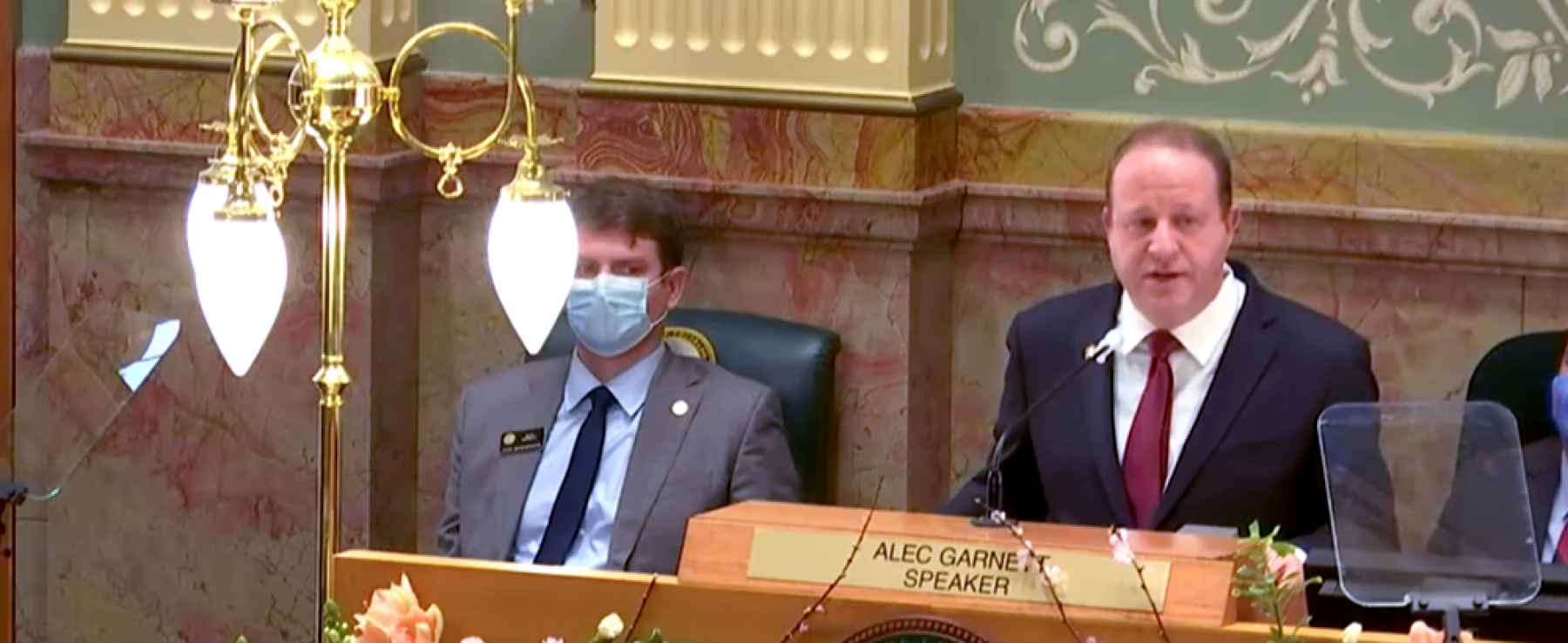 Gov. Jared Polis laid out an agenda for Colorado in his annual State of the State address that would be ambitious even if the COVID-19 pandemic were over.
Polis proposed tax cuts, a public option for health insurance, and continued work toward universal preschool. State of the State speeches are meant to be aspirational, setting a vision for the next year — not sweating the policy details. But those details will matter more than ever to the governor's agenda, given the seismic changes brought by the pandemic, the recession, and the change of power in Washington, D.C.
The pandemic dominated the speech, which included a moment of silence for the 5,655 Coloradans — about the population of Salida — who have died as a result of COVID-19. The governor praised the resilience of Coloradans and urged vigilance during the coming months of the vaccination campaign. He thanked health care providers, truck drivers, and other frontline workers. And he thanked legislators for passing a stimulus bill in a December special session to fund infrastructure projects and send checks to Coloradans who had lost the most during the pandemic.
He also praised hospitals for their "incredible service" during the past year.
"Colorado's hospitals have truly been our partners in this pandemic, and I want to thank them on behalf of the state for that spirit of collaboration and partnership," Polis said.
But minutes later, he did not shy away from restating his support for a public option for health coverage. Hospitals fought hard against the idea last year because it would cut the prices they could charge for patient care, and sponsors put the plan on hold when COVID-19 arrived. Hospitals saw their finances get battered and their public image soar during the pandemic. We will learn how much that matters to the public option debate in the next three months.
Here are a few other ways forces outside the state Capitol could affect Polis' agenda.
Public option, again. U.S. Sen. Michael Bennet, D-Colo., plans to release a federal public option proposal next week, a reprise of his Medicare X plan. If it becomes law, how would it interact with a new state public option and existing programs such as reinsurance? Would a state plan even be necessary? These questions can't be answered until more details are available on both plans.
Tax cuts. Polis proposed eliminating the business personal property tax for small businesses — a long-standing goal of Republican legislators. It's never been done because counties would stand to lose tens of millions of dollars. Polis also called for a $600-per-child state tax credit and a doubling of Colorado's earned income tax credit. The pandemic continues to play havoc with state finances, and Polis did not explain how he would pay for these new tax benefits — other than a reference to getting rid of unspecified tax loopholes.
Preschool. Colorado voters passed new taxes on tobacco last November to fund universal preschool — a goal of the governor's since he took office. But the pandemic hit child care providers hard when they had to close during the Stay at Home order. Colorado had a provider shortage even before the pandemic, and rebuilding their ranks may be a necessary first step before dreams of preschool for all can be realized.
Polis has led the state through a year like no other, and his 2021 State of the State made clear he's still committed to his pre-pandemic goals. But the pandemic isn't over, and the way Colorado handles the next several months will have a lot to say about whether Polis' goals can be achieved. Polis is also in the second half of his gubernatorial term, which means a reelection campaign isn't far away. This can bring added pressure to a governor's attempts of accomplish big things, which is certainly in Polis' mind as we prepare for a busy legislative session.
---
Related Blogs and Research