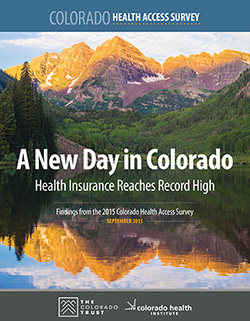 The Colorado Health Institute has delved deeply into the findings from the 2015 Colorado Health Access Survey since it was first released in September 2015. This page gathers together that research, including the primary report, interactive maps, a series of Survey Snapshots and ZIP Code-level analyses.
In-depth CHAS data, including data for all 21 Health Statistics Regions for all four survey years, is available here.
---
2015 CHAS Research and Reports
Click the images above to view the interactive map, scroll down for interactive graphics and click here for data on all 21 Health Statistics Regions. 
What is the CHAS?
The Colorado Health Access Survey – the CHAS – is the premier source of information on health insurance coverage, access to health care and use of health care services in Colorado. More than 10,000 households in the state have been interviewed every other year since 2009, allowing comparisons across a time marked by sweeping changes in health policy.