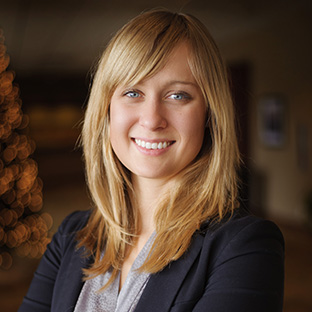 Favorite Quote
"The universe is not required to be in perfect harmony with human ambition."
Carl Sagan
Emily Johnson
Director of Policy Analysis
Emily Johnson joined the Colorado Health Institute in May 2015 as a senior policy and statistical analyst. She is now director of policy analysis. At CHI, she conducts financial modeling and other forms of quantitative analysis on health policy proposals. She studies how both local and federal proposals could impact Colorado, its budget and its residents.
Before moving to Colorado, Emily worked as a data analyst in New York. In this role, she produced annual reports on state and national reproductive health trends, transitioned data collection from survey tools to direct pulls from electronic health records, and helped answer research questions from internal and external stakeholders.
Emily graduated from the University of Colorado in May 2015 with a Master of Science degree in health services research. Her academic work focused on associations between state regulations and non-profit hospital community benefit spending and behavior.
She holds a Bachelor of Arts degree in philosophy and religion from the University of Mary Washington in Fredericksburg, Virginia.