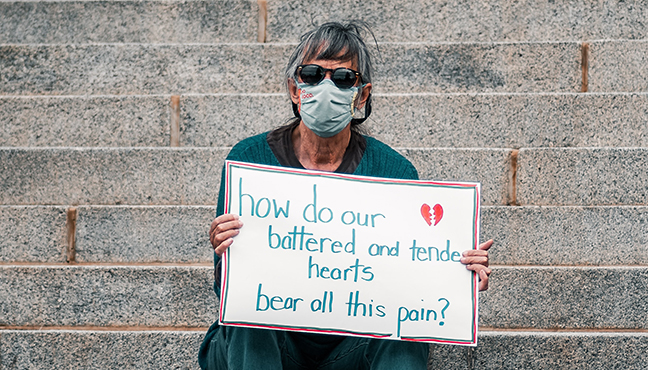 This Friday is Gun Violence Awareness Day. In the United States, gun violence is a public health issue. And in Colorado, many members of our community are grieving.
It's been ten weeks since 10 people were shot and killed at a King Soopers in Boulder, and just 24 days since a mass shooting in Colorado Springs left seven people, including the shooter, dead. It's been two years since the shooting at STEM School Highlands Ranch, four years since the shooting at a Thornton Walmart, six years since the shooting at a Planned Parenthood in Colorado Springs, nine years since the shooting at an Aurora movie theater… The list of unfathomable tragedies goes on.
And despite the devastating impacts mass shootings have had on Colorado communities, victims of mass shootings account for only a small proportion of gun deaths in the state.
In 2020, 918 Coloradans died from firearm injuries, according to the Colorado Department of Public Health & Environment — more than the number who died from motor vehicle accidents. Among gun deaths for which data were available, 26% were homicides, 73% were deaths by suicide, and less than 1% were accidents.
Colorado has the 18th highest firearm death rate in the country, according to the Centers for Disease Control and Prevention, with 14.2 deaths per 100,000 people in 2019.
How to prevent firearm deaths — and the appropriate role of government in pursuing that goal — remains a hotly debated topic across the United States, and Colorado is no exception.
Nearly a dozen gun-related bills have been up for consideration at the State Capitol this legislative session. As the state legislature heads into its final days of the session, here is a look at the gun-related bills that have passed, failed, and remain on the table.
Gun Policy Under the Gold Dome
Legislators from both sides of the aisle have introduced a wide array of firearm-related bills this session. Some measures seek to relax existing gun policies; others aim to strengthen them.
Efforts to Enact Less Strict Gun Policies
On one side of the debate, a handful of Republican lawmakers have introduced measures to relax the state's existing gun control policies. Five such bills were introduced early in the session, each with a single Republican prime sponsor. All five measures failed in committee, with legislators voting along party lines.
HB 1038: Concealed Handguns on School Grounds
Would have allowed Coloradans with a concealed carry permit to carry a concealed handgun onto school grounds.
Status: Failed in Committee
HB 1070: Repeal Ammunition Magazine Prohibition
Would have reversed a prohibition on selling, transferring, or owning certain large-capacity ammunition magazines.
Status: Failed in Committee
HB 1082: Gun Transfer Background Check Permit Exemption
Would have required Coloradans to undergo a background check before receiving a concealed carry permit and would have subsequently allowed them to use their concealed carry permit in lieu of a background check when buying a new gun.
Status: Failed in Committee
HB 1098: Civil Liability for Extreme Risk Protection Orders
Would have expanded legal rights to someone who was A) denied a firearm because they were deemed to pose a significant risk to themselves or others and B) was subsequently injured because they were unable to defend themselves with a firearm.
Status: Failed in Committee
HB 1185: Repeal Government Firearms Regulations and Training Class Regulation
Would have repealed the governor's authority to suspend or limit the sale of firearms during an emergency and would have allowed handgun training classes to be held virtually or outside of traditional classrooms.
Status: Failed in Committee
Efforts to Enact Stricter Gun Policies
On the other side of the aisle, Democrats have introduced six bills to strengthen Colorado's gun control policies.
Three bills were introduced early in the session — two of which have already been signed into law. Colorado gun owners are now required to store firearms out of reach of children and must report a lost or stolen firearm in a timely way.
A package of three additional bills was introduced following the mass shooting in Boulder, including measures to expand background check requirements, establish an Office of Gun Violence Prevention, and allow local governments to enact their own gun control measures.
Each bill has four Democratic sponsors — two from each chamber — signaling strong party support.
HB 1106: Safe Storage of Firearms
Requires firearms to be stored safely when a gun owner knows that the firearm is accessible to a child or someone who is not allowed to own a gun.
Status: Signed into Law
SB 78: Lost or Stolen Firearms
Requires gun owners to report the loss or theft of their firearm within five days of discovering it is gone.
Status: Signed into Law
HB 1255: Protection Order Issued Against Domestic Abuser
Would require people charged with domestic violence to report the number of guns they own and where guns are located within a week of being issued a restraining order. Would strengthen compliance with a 2013 law that requires people charged with domestic violence to give up their firearms.
Status: Passed House and Senate
HB 1299: Office of Gun Violence Prevention
Would establish a new Office of Gun Violence Prevention under the Colorado Department of Public Health & Environment, which would spearhead efforts to reduce gun violence, including public awareness campaigns and a grant program.
Status: Passed House and Senate
HB 1298: Expand Firearm Transfer Background Check Requirements
Would add certain misdemeanor convictions, such as bias-motivated crimes or sexual assault, to the list of crimes that prohibit someone from buying a gun. Would require firearms dealers to wait for approval from the Colorado Bureau of Investigation (CBI) before selling a gun. (Right now, sales can proceed if a background check takes longer than three days.) Would also give the CBI more time to respond when someone appeals the results of their background check.
Status: Under Consideration
SB 256: Local Regulation of Firearms
Would allow local governments to pass local gun control laws, which is currently prohibited by state law.
Status: Under Consideration
Addressing Gun Deaths Amidst the Political Divide
Gun policy remains a highly partisan issue in the United States. According to the Pew Research Center, 27% of Republicans are in favor of less strict gun laws, compared with 4% of Democrats. Meanwhile, 81% of Democrats favor stricter gun laws, four times the rate of Republicans (20%).
But despite partisan divides, there is widespread political support to do something about gun deaths in America. Three in four Americans (72%) see gun violence as a "very big problem" or a "moderately big problem" in the U.S. today, according to Pew. Just over half of Americans (53%) favor stricter gun laws; 32% support the current level of gun laws; and 14% favor less strict gun laws.
Many measures, including several suicide prevention bills, have strong bipartisan support at the Capitol this year. But with Colorado Democrats controlling the House, Senate, and governor's mansion, the majority party may not need Republican legislators' blessing to enact new gun control policies this spring.   
Thus far, legislators have defeated measures to relax existing gun control policies and have passed four measures to strengthen Colorado's gun safety laws. There are two outstanding firearm bills on the table and just a few days left in the legislative session.
Regardless of what makes it onto the books before legislators break for the summer, Colorado will still have work to do. Some 918 Coloradans died by firearm last year — that's 918 lives too many.
---
Related Blogs and Research
---
---
CHI's work on rapid analysis of current policy challenges is made possible by The Denver Foundation.