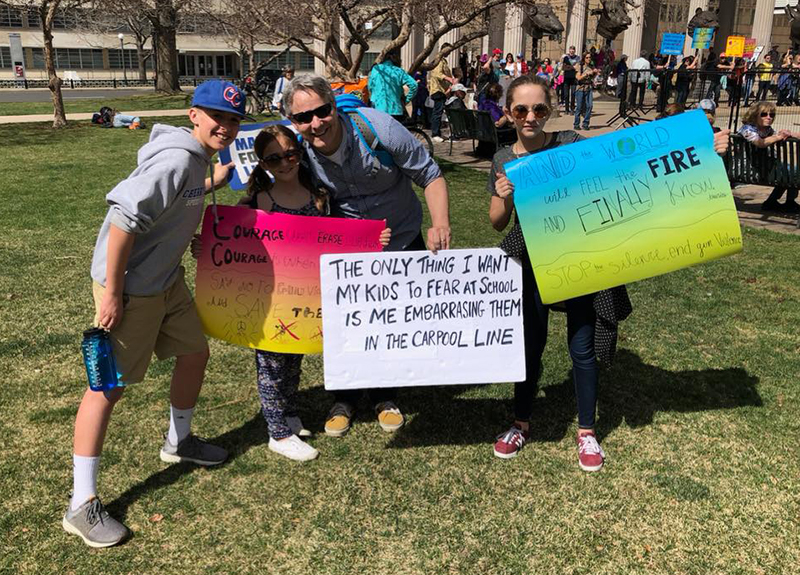 Yesterday, one teenager was killed and several more were injured in a shooting at STEM School Highlands Ranch in Douglas County. While there are important policy questions to consider involving school shootings, there are also raw emotions involved that we shouldn't ignore or forget. In this blog post, CHI's Brian Clark, our creative director and father of three school-age children, shares his thoughts and feelings after yesterday's violent events.
---
"I am not sure I am feeling super safe today. What if it happens again? It's scary."
— My youngest daughter, a 5th grader in Douglas County Public Schools, in an email to my wife this morning
I need to write something.
I need to write something after yet another afternoon spent repeatedly refreshing the Twitter feed of a local sheriff's department. Another afternoon spent watching coverage of children lined up outside a school with their hands above their heads. Another afternoon spent waiting for a text from my own children telling me they were safe. 
Another afternoon spent dreading a breaking news update about some other parent who did not get that same text. 
Another afternoon like those that have taken place at Columbine and Arapahoe and Platte Canyon and Marjory Stoneman Douglas and Sandy Hook and countless other schools. Yesterday was not the first afternoon of its kind, and I fear it will not be the last.
I have three kids in two school districts. Combined, they've had no fewer than a dozen lockdowns or lockouts or secure perimeters throughout the year. Less than a month ago, they, along with most other kids in the Denver metro area, got a day off from school. Not because of snow, but because of a credible threat from an armed person whose whereabouts were unknown.
I get automated phone calls during all those types of events. Sometimes I'm in a meeting, sometimes I'm at my desk, sometimes I don't get them right away because I don't have my phone with me. But my heart sinks every time I see that school district number pop up on my screen. I dread listening to the message and can only resume breathing normally once it's clear the situation is under control.
A little more than a year ago, my kids and I participated in Denver's March for Our Lives, a nationwide event organized by survivors of the Parkland, Fla., tragedy. I carried a sign that read, "The only thing I want my kids to fear at school is me embarrassing them in the carpool line." For my own mental health, I needed to try and inject some humor because the reality of the situation was way too painful.
That reality is that my kids do fear more at school than my bad jokes in the carpool line. I fear more than that. I imagine most parents and teachers and principals and custodians and cafeteria workers and librarians and nearby business owners and first responders fear more than that. School shootings affect the mental health of entire communities, even for those who don't have direct ties to the schools.
So I need to write something. I need to write something that inspires a call to action. I need to write something that unites diverse groups of passionate people who have strong, entrenched beliefs. I need to write something that brings an immediate halt to these senseless acts of violence. I need to write something that saves lives.
But I can't. I don't know what to write. I don't know what to do. I don't have any answers. I don't have any ideas. The only thing I have right now is heartache.
Yesterday morning I yelled at my two high schoolers because they were running late. They were dropping me off at the light rail on their way to school, so that meant I was going to be late. We rode all the way to the station in silence because I was angry. I muttered a half-hearted goodbye as I stormed off to catch the train.
But at the end of the day we all came home, and all was forgiven. I got to hug them and ask them about their days and tell them I love them and set the stage for a more pleasant commute the next morning.
Yesterday morning a STEM School Highlands Ranch student with his entire life ahead of him also got up and went to school. Maybe he was running late. Maybe his dad yelled at him. 
He didn't get to come home. I don't know what else to write.
---
Want more information about health and health policy in Colorado? Subscribe to our newsletter or find CHI on Facebook and Twitter
---
Twitter
A father's fears: CHI Creative Director Brian Clark reflects on another school shooting.