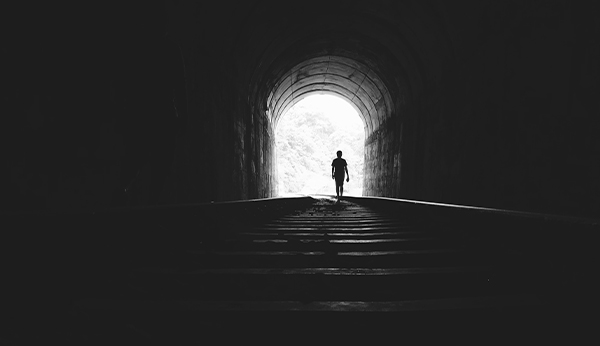 The general public learned that Pfizer had developed a vaccine for COVID-19 — one that may have more than 95% efficacy — just two weeks ago. Days later we learned about a second promising vaccine candidate from a company called Moderna.
This might be the best public health news since the beginning of the pandemic in March. An effective vaccine would be a key to reducing the spread of the virus and allowing society to return to — if not the way things were — a new normal.
But it was easy to forget that news this week as the number of COVID-19 cases in Colorado and across the country has continued to skyrocket, and as the state announced that 15 counties, including the Front Range's most densely populated areas, are entering a new level of restriction.
The light at the end of the tunnel has finally appeared — but we are very much still in the tunnel. And it is dark, indeed.
So how do we make it through?
New, clear guidelines from policymakers — including reduced capacity for gyms and restaurants and a strong suggestion that people interact only with members their immediate households — are an important step. We've seen evidence, for instance, that a statewide mask mandate increased mask-wearing in Colorado.
But restrictions aren't enough. It's time to rally again.
In the spring, the cry was to "flatten the curve." While the virus has not gone away since it arrived in March, earlier rises in cases were suppressed through a mix of policy restrictions and behavior change by Coloradans. See the graph below:
---
---
Now, in the middle of the biggest spike so far, that clear message has been drowned out by disillusionment, fatigue, and anxiety.
So we are proposing three familiar - but still relevant - rallying cries to carry us through:
1. Flatten the Curve – Again.
Stay with your household. Wear a mask. Avoid unnecessary social encounters and stay physically distant from people from outside your household when you do need to interact. If you are an employer, take steps to make sure those who work for you are in the safest possible conditions. These steps HAVE made a difference in the past — and they will again, if individuals and communities commit to them.
More COVID-19 transmission has been happening at the sort of small gatherings that a state shut-down order would not realistically prevent. As the holidays approach, encouraging Coloradans to recommit to flattening the curve is more than a nice idea — it could save lives.
2. Support Health Care Workers.
While signs celebrating health care workers were a common sight in many areas earlier this year, outward expressions of appreciation have become rarer. At the same time, health care workers have increasingly been speaking out about staff shortages and concerning levels of burnout and fatigue — issues that were already too common in the health care field — as we move through the pandemic's eighth month.
In some Denver neighborhoods, the nightly "howl" to support health care workers has returned. Gestures like these can help remind us of the critical work that's happening behind the scenes, in the state's hospitals and doctor's offices.
But the clearest way to support health care workers — and to ensure the health care system will be there if you or a loved one is in need — is to take steps to reduce your likelihood of being exposed to COVID-19. Health care workers are downstream of all our social decisions. A group of hospitals is running an ad campaign with a simple request that hearkens back to our first rallying cry: Wear. A. Mask.
3. Take Extraordinary Action.
The shutdowns and restrictions that are so important to public health are untenable without support for the many people whose livelihoods depend on the businesses that have been deemed most risky. The burden of the pandemic-induced economic recession has been felt particularly by lower-income workers and people of color — who have also been more likely to contract COVID-19. This is context that we simply can't ignore as we search for ways to stop this fall's spike in cases. It is a time for empathetic, nuanced policymaking.
Colorado's legislature is wrapping up its unprecedented year with a special session aimed at passing a stimulus to help support people through the winter. Gov. Jared Polis called this special session an "extraordinary action" for an extraordinary year. A bipartisan stimulus from the state's policymakers would make public health orders more manageable for Colorado's businesses and workers — and might set an example for federal policymakers, who have not taken such extraordinary action in months. 
Reality-Based Policymaking
Managing the pandemic is an exercise in balancing the simple messaging that encourages people to stay at home with the complex lived experiences of different Coloradans. Opening schools requires attention to the complexities of staffing while managing quarantines; shutting down restaurants and concert venues requires addressing the financial realities of owners and employees; stemming outbreaks in nursing homes requires acknowledging the truth that many nursing home employees work at multiple facilities. Steps like offering paid sick time for employees who need to quarantine, or, at the state level, a potential stimulus package, can help address these complex realities and support the health of all Coloradans.
As Thanksgiving approaches, if you are a white-collar worker who's working from home — as we are at CHI — you might take a moment to give thanks for the health care workers, retail and grocery workers, first responders, those who deliver packages and food, child care providers and educators, and many others who have been working in person to provide services we still rely on.  
November — with its short days — is one of the darkest times of year. And the spike in COVID cases is a reason for serious concern. But there is light at the end of the tunnel – and plenty to rally around to get us through. Let's take extraordinary action. Let's support our health care workers. Let's flatten the curve — again.
---
Related Blogs and Research
---