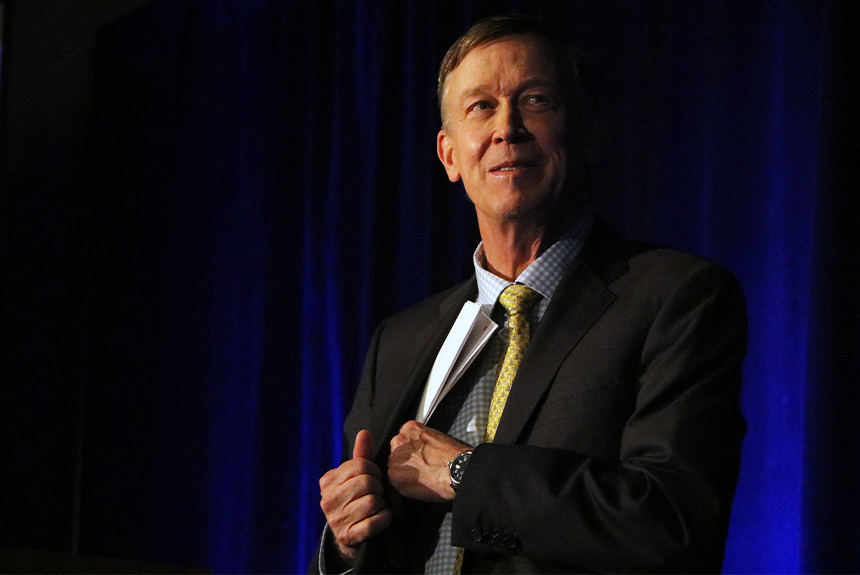 Did you know that Democrats have never nominated a presidential candidate — or even a vice-presidential candidate — from west of the Central time zone? As FiveThirtyEight points out, Colorado's former governor is hoping to reverse that nearly 200-year-old trend by capturing the Democratic nomination for president in 2020.
John Hickenlooper announced early Monday that he was jumping into the crowded field, which already includes higher-profile candidates like Bernie Sanders, Kamala Harris, Cory Booker, and Amy Klobuchar. A celebration and campaign kick-off take place today in Civic Center Park.
Hickenlooper served as Denver's mayor and Colorado's governor for a combined 16 years. But can he win over Democrats in the other 49 states?
A big part of his legacy, and something that will likely feature heavily in his remarks on the campaign trail, is a series of health care decisions he made while at the helm of Colorado. He presided over the implementation of the Affordable Care Act (ACA) in the state, including a sweeping Medicaid expansion; chose a health insurance executive, Donna Lynne, to serve as his lieutenant governor during his last years in office; and supported initiatives like a $100 million effort to make Colorado the best state in the U.S. for biking.
Here is our look back on Hick's health policy resume as he prepares to convince voters the country could use a little more "giddy up" mentality.
A Centrist with Powerful Partnerships
Hickenlooper has long touted his ability to find middle ground, and he saw plenty of compromises — and failed bills — materialize during his eight years as governor. He preferred a hands-off style when working with the legislature, although in 2017 his administration backed a slate of bills championed by Lynne, his lieutenant governor. Generally averse to ruffling feathers, he rarely had to veto bills as governor because most of the controversial measures failed in a split legislature before reaching his desk.
He did veto a few notable health bills in more recent years, including proposals addressing 72-hour mental health holds (SB 16-169) and allowing medical marijuana use for people with autism (HB 18-1263).
Hickenlooper's choice of Lynne as lieutenant governor in 2016 sent a message about his commitment to health, as she had extensive experience in health care and policy after serving as an executive at Kaiser Permanente. Lynne was active in designing and supporting a legislative package aimed at cost control and other health reforms, though her efforts stalled in the Republican-controlled Senate. (Lynne has since moved on to a new post: chief operating officer of Columbia University Medical Center.)
In 2017, Hickenlooper worked with Ohio Gov. John Kasich, a Republican, to outline a list of bipartisan ideas for Congress about how to stabilize the individual insurance market. The effort received national press and even included an op-ed in Time magazine, but nothing has come of it. Some pundits speculated the two governors would run for the White House on a "unity ticket." Given his bipartisan orientation, Hickenlooper's greatest challenge may be to convince the left wing of his party that he is progressive enough.
Notable Health Accomplishments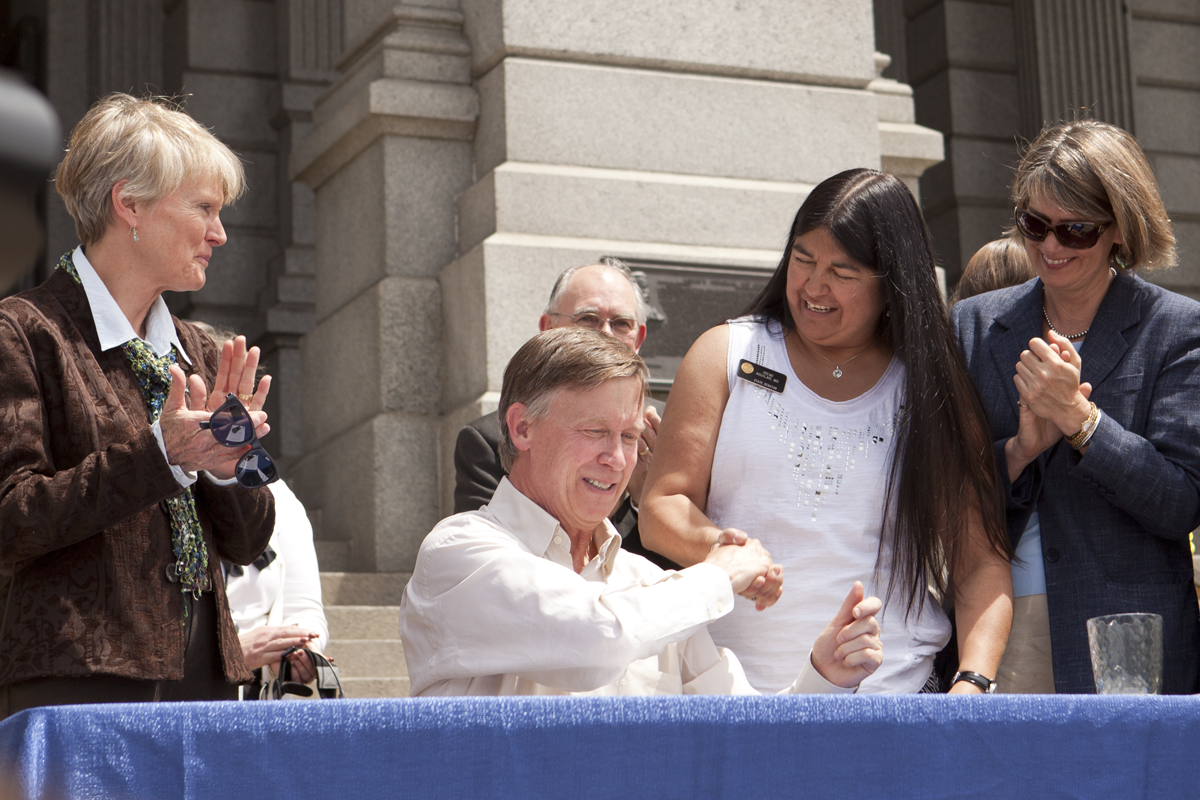 Hickenlooper took office in January 2011, less than a year after the ACA had passed Congress and before most of its largest reforms had been implemented.
The new law provided a buffet of options, as our CEO Michele Lueck likes to say, and Colorado — under Hickenlooper's direction — took "one of each." The state chose to expand Medicaid eligibility, which now covers a quarter of Colorado residents. Along with 12 other states, it opted to set up its own health insurance exchange, Connect for Health Colorado, rather than default to the federal healthcare.gov. It created an insurance co-op, the Colorado HealthOP, which shut its doors in fall 2015. And it applied for and won a $65 million State Innovation Model (SIM) grant, which it used to speed the integration of behavioral health and primary care.
Hickenlooper oversaw other notable health care decisions, too. Colorado has repeatedly expanded the list of benefits available to Medicaid enrollees, most recently adding residential and inpatient substance use treatment in 2018. In 2013, voters approved recreational marijuana sales through Amendment 64; Hickenlooper was opposed, but he went on to oversee the implementation of a system that has served as a model for the country.
Also in 2013, state legislators passed a package of gun control laws, something Hickenlooper has already touted in his new campaign for president. But months later, two Democratic legislators who voted for the bill package were recalled by voters in a special election. He hasn't highlighted this fallout, which was seen as a warning for moderate lawmakers here and in other purple states.
Hickenlooper was successful in championing changes to the Hospital Provider Fee, which draws federal matching funds and supports hospitals and the Medicaid expansion population. He has also pushed for better mental health crisis treatment in his interactions with the legislature — although work on that issue is far from over.
Health Policy Legacy
So how should we characterize Hickenlooper's health policy legacy? And how might he use it to set himself apart from a crowded Democratic primary field?
Without a doubt, Hickenlooper oversaw a transformative period in health care in Colorado. He has worked to be viewed as a pragmatic problem solver who rises above ideological debate. He aimed for bipartisan backing for his health policies as governor, and sometimes got it — often by the slimmest of margins. (For example, only one Republican legislator voted for Medicaid expansion.) On other policies, like the gun control package in 2013 and his administration's failed attempts to push cost control legislation in 2017, Republican support was nowhere to be seen.
Hickenlooper didn't like that at the time, but progressive voters might like it now. Expect him to point to his achievements in the face of Republican opposition in the primary to convince voters that he can represent the left wing of his party, whose appetite for compromise is low. But if he manages to emerge as the Democratic nominee for president in summer 2020, Hick will probably walk back toward the middle — where he's more comfortable, in health policy and in the rest of his politics.
---
Want more information about health and health policy in Colorado? Subscribe to our newsletter or find CHI on Facebook and Twitter
---
Related Blogs and Research
Twitter
Hickenlooper is running for president. What is his health policy legacy?