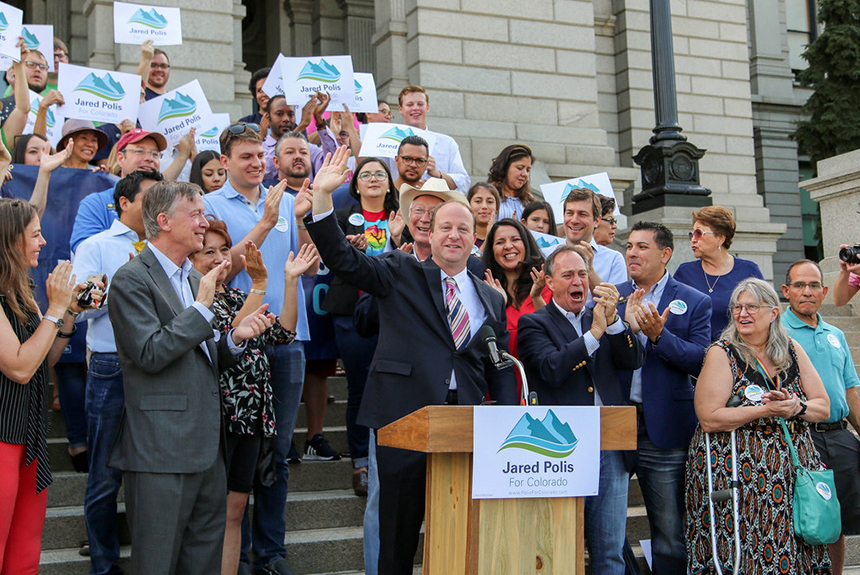 Governor-elect Jared Polis at a rally with fellow Democrats in June. Photo: Polis campaign
---
Jared Polis made history last night, becoming Colorado's first openly liberal governor.
Jokes aside, Polis is making headlines for becoming the country's first openly gay governor. But that's far from the biggest change in store for Colorado — and those shifts are going to take an effort to get used to.
Health policy, especially, is ripe for big changes.
Democrats are accustomed to winning the governor's race, and Polis extended a winning streak that dates to the 1970s, broken only by Republican Bill Owens in the early 2000s. But Colorado voters have usually balanced their governor's power by electing Republicans in the legislature and other offices.
Not so this time.
After four years in the minority, Democrats secured a 19-16 seat hold on the state Senate, and they expanded their House majority. They also won all statewide races for office that are currently held by Republicans — secretary of state, treasurer, and attorney general. While the blue wave wasn't as large as predicted in many other areas of the country, Colorado was overtaken by it.
The changes are not only quantitative but qualitative. Polis is a different kind of Democrat than his two predecessors, John Hickenlooper and Bill Ritter.
Hickenlooper built a reputation as a centrist, which was aided by the fact that Senate Democrats were in the minority for six of his eight years in office. That meant he rarely had to deal with partisan legislation or veto many bills. The bills that came to his desk were bipartisan and often modest in scope.
Polis, on the other hand, has built a solidly progressive record in Congress. He's a longtime supporter of Medicare for All, one of the top goals of progressive Democrats nationally.
It's no secret what Democrats want to do with their new power. Polis has published a detailed agenda, and Democrats in the legislature merely have to dust off the dozens of bills that Republicans have killed in Senate committees over the past four years.
Polis chose a health policy expert, former Rep. Dianne Primavera, as his lieutenant governor. This signals that he intends to be busy with health legislation. Here's a sample of what we expect:
Reinsurance. This bipartisan idea aims to lower insurance prices for the people who pay the most.
Active regulation of insurance. Polis has said he wants the Division of Insurance to act more like a consumer watchdog over insurance prices.
Drug prices. Democrats tried and failed to crack down on high prescription prices last session. They'll be back next year.
Substance use. Expect to see a number of bills on prevention, treatment, recovery, and harm reduction — including allowing supervised injection sites.
But Democrats don't have free rein. While legislative obstacles are gone (at least for two years), they still face other constraints.
For one, they don't have unlimited money. The state budget is in relatively good shape, but there will be heavy demands on it — especially since voters rejected tax increases for transportation and schools.
Then, there's the Taxpayer's Bill of Rights. Colorado stands alone as the only state that requires voter approval of all tax increases. And Colorado voters proved again Tuesday that they don't like raising their own taxes.
Finally, there's the federal government. The Trump administration has allowed states extensive power to shape their own health care systems through federal waivers. But that was when Republican governors ruled most states. We'll see if that practice stays the same with Democrats in charge in more state governments.
However, none of that takes away from the fact that Colorado Democrats have more political power now than at any time since the Roosevelt administration and the New Deal.
The legislature goes into session January 4. You can expect to see the new majority hit the ground running.   
---
A final note: It's going to be a barnburner of a year in health policy. Get ready for the session at our Hot Issues in Health conference December 6 and 7. Only a few tickets remain. Register here.