Colorado State Budget Has Dollars to Spare
April 22, 2021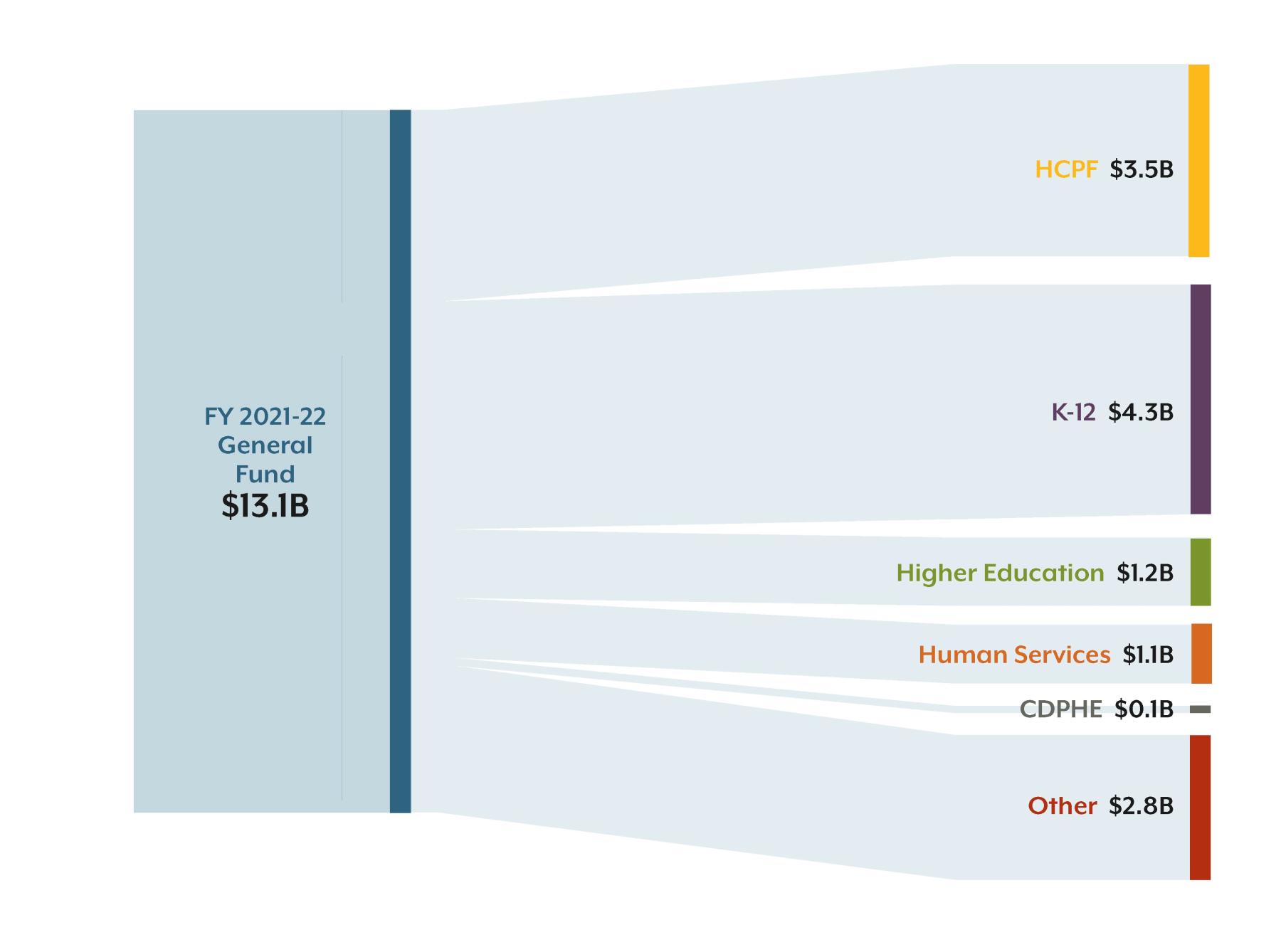 If the sound of last year's state budget debate was a cacophony of cuts, the latest spending plan sings of surplus.
Legislators have just passed a record $34.1 billion state budget for fiscal year 2021-22 — almost $4 billion larger than for the current year. The General Fund, the part of the budget controlled by the legislature, will total over $13.0 billion, up from $12.7 billion last year.
Two reasons explain this dramatic reversal. One is a state economy that bounced back from the effects of the COVID-19 pandemic much faster than expected. Legislators cut more last year than they needed to, leaving a surplus for this year. The second is new relief money coming to Colorado from the federal government.
These federal dollars are historic. The American Rescue Plan Act, which totals $1.9 trillion, will bring $27.0 billion to Colorado's economy. This includes direct relief in the form of stimulus checks and unemployment benefits. It also includes $3.9 billion for the General Assembly to spend as it sees fit by the end of the 2024 calendar year. These dollars are not being allocated in this state budget bill; that will come later, though separate legislation and possibly during a special session after legislators have wrapped up the rest of their work. But knowing that this additional help is on the way gives legislators more room to allocate state dollars now. Gov. Jared Polis is currently on a listening tour to gather Coloradans' thoughts on how to use the money.
The tenor of budget-setting discussions could not be more different than they were in 2020. Last year, the Joint Budget Committee (JBC) had the arduous task of quickly nixing $3.4 billion in spending in response to the newly raging pandemic. Funding for K-12 education, social services, and health care took the brunt of the cuts. While the pandemic is still very much a reality, this spring policymakers have the challenge of deciding what to do with the massive increase in dollars to spend.
The JBC includes space in the budget each year for bills that require new funding — known as "set-aside" funds. These bills must pass through both House and Senate Appropriations, the committees that review spending bills. Policymakers will have a total of $50 million to bankroll bills this year, compared to $40 million in 2019 and no money last year. The comparatively large amount of current set-aside funds further proves that Colorado's economy has boomeranged back to pre-pandemic levels.
Balancing and passing the budget, which is required by state law, is a collaborative process in Colorado. After introducing this year's Long Bill (the colloquial name for the budget, which formally is Senate Bill 205) on April 5, the Senate and House each had one week to review and propose changes. The budget quickly passed both chambers, clearing the Senate with a vote of 32-1 on April 9 and then passing the House 41-23 last week. The Senate passed the budget with 14 amendments, followed by the House with 18. The Long Bill is now back with the JBC to decide which amendments will be incorporated.
Here are a few highlights from the budget:
Health-Related Funding
$708 million toward reducing Medicaid premiums and increasing funding for long-term services and supports.

$180 million for a 2.5% increase in reimbursement for Medicaid providers, excluding Federally Qualified Health Centers and nursing homes

.

$21 million for public health enhancements within the Colorado Department of Public Health and Environment.

$6 million to support data sharing from community partners and provide data analytics for strategies to address health care disparities faced by Medicaid patients.

$910,000 for behavioral health services for children in crisis.
A State Funding Infusion
$800 million for a state-backed stimulus package. A bundle of 22 separate bills will accompany the Long Bill to allocate where the money goes. So far, companion bills have focused on supporting education, the environment, small businesses, and housing and human services.
A Focus on Equity and Social Supports
$16 million to provide continual supervision and support for 650 more adults with intellectual and developmental disabilities.

$5 million for a health equity grant program through CDPHE.
K-12 and Higher Education Support
$480 million toward Colorado's structural K-12 funding shortfall. The state's allocation will be combined with $1.1 billion from the American Rescue Plan to bolster support for public education for the next two fiscal years.

$473 million to restore cuts to college funding that were made last year.

$100 million toward the State Education Fund, which goes toward per-pupil funding, improving student safety, performance incentives for teachers, and other programs within K-12 schools.
A Real Rainy-Day Fund
$1.8 billion for the Colorado Reserve Fund, which the state saves in case of an economic downturn. For comparison, the state barely had the enough in the budget to transfer the minimum required $300 million into state reserves last year. This year's massive investment, representing over 13% of the General Fund, will result in the largest reserve Colorado has seen in decades. Legislators hope to grow the fund to $1.9 billion over the next two fiscal years.
It is often said that budgets are moral documents, and the decisions legislators make about funding signal their values and — by extension — the state's priorities. Even in such a strong economic situation, this is no easy task. The deluge of dollars does not guarantee a simple path forward, as extra funds are a temporary surplus that the state cannot count on in future years. This means legislators must work to restore cuts where they can and intentionally prioritize new spending while being careful not to overpromise for budget cycles to come.
For now, however, policymakers should enjoy the opportunity to invest in improving lives across the state.
---
Related Blogs and Research