After years of rapid growth, enrollment in Colorado's Medicaid program has fallen unexpectedly.
The state's Medicaid experts had forecast a 4.1 percent growth in enrollment for fiscal year (FY) 2017-18, which ends June 30. However, they're now expecting a drop of 0.8 percent. And in the 2018-19 fiscal year, they predict a slow growth rate of 1.1 percent — less than the previous prediction of 3.0 percent.
The percentages may be small, but they add up to thousands of people leaving a program that covers nearly a quarter of the state's population.
Colorado is currently projecting that 1,335,347 people will be enrolled in Medicaid in FY 2017-18. That's down nearly 11,000 from the 1,346,174 who were enrolled in 2016-17.
The Department of Health Care Policy and Financing (HCPF) attributed most of the change to the state's improving economy.
The number of Coloradans in Medicaid had been increasing steadily for years, largely due to expansions in eligibility both before and after the Affordable Care Act passed. In fact, enrollment has more than doubled since 2010.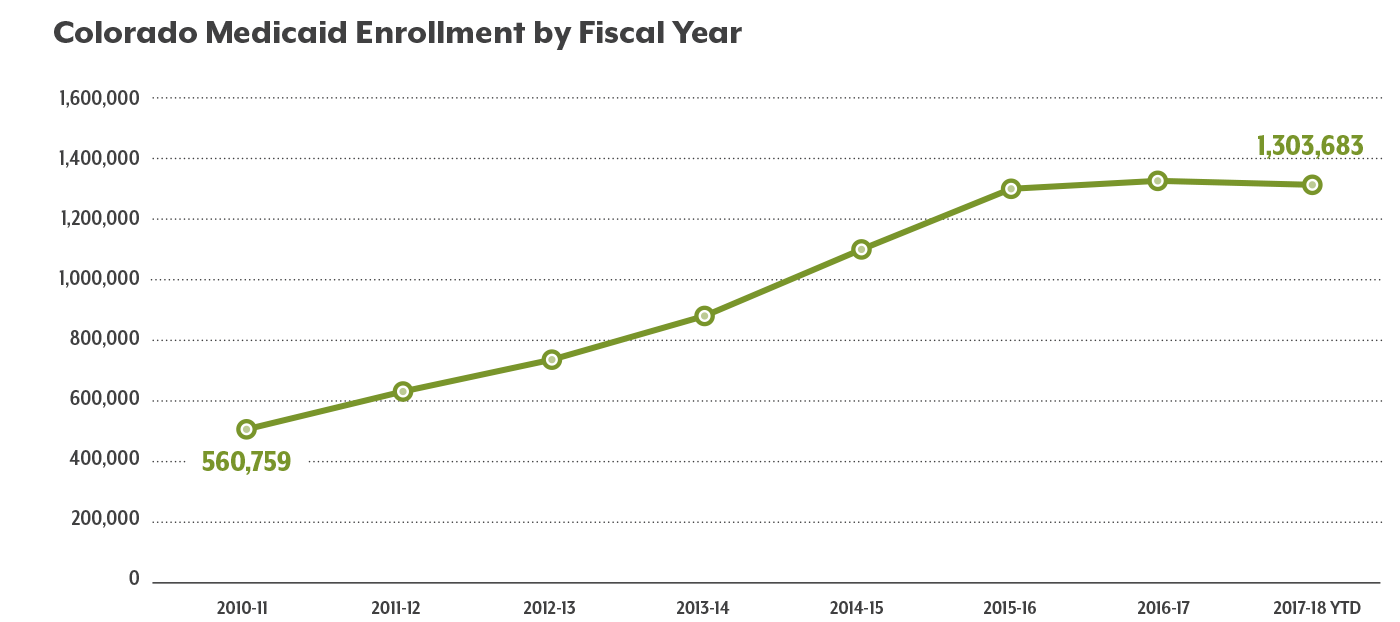 Month-by-Month Changes
HCPF reports that 1,303,683 people were enrolled in Health First Colorado, the state's Medicaid program, in January 2018. That's down from a peak of 1,366,880 in May 2017, and down from enrollment at the start of 2017.
While a change of 65,000 enrollees (the difference between the May peak and January 2018) is relatively small compared to overall Medicaid enrollment, the drop marks a notable reversal of the program's consistent growth in recent years.
Zooming in on 2017, we can see that the biggest drop happened between September and October 2017, when more than 40,000 people fell off the rolls. That drop was tied to an update in how Medicaid verified the income and eligibility of Coloradans.

A closer look at the numbers suggests that parents and caretakers with incomes close to the federal poverty line and children are driving the change: The state is now projecting that 443,986 children will be enrolled in the 2017-18 Fiscal Year, down from 469,297 the previous year. And just about 77,000 parents or caretakers whose income is between 69-133 percent of the federal poverty line (from about $14,000 to about $28,000 for a family of three in 2018) are projected to be enrolled in 2017-18, down from closer to 101,000 the previous year.
Medicaid and the Budget
As a result of the enrollment drop, HCPF will need less General Fund money than previously expected – $83.6 million in 2017-18 and $52 million in the upcoming fiscal year.
Henry Sobanet, the director of the state's office of State Planning and Budgeting, said in a letter to the legislature's Joint Budget Committee that the change in spending was due to lower enrollment and to lower-than-expected use of some health services, including expensive Hepatitis C drugs.
The extra money is just a drop in the bucket of the state's Medicaid program: In 2017, HCPF had a $9.4 billion budget, $2.9 billion of which came from the state's General Fund.
Still, it's worth paying attention to see if enrollment in Medicaid starts climbing again or whether the drop is the start of a new trend. Sobanet suggests that the drop is a fleeting event: He recommends treating the extra cash as one-time money that can't be counted on in future years. Instead of spending it on health programs, Sobanet suggests that $100 million of those funds be dedicated to transportation projects and that the rest go to other construction and maintenance needs. (The legislature is considering a major transportation bill.)
However, some legislators are likely to have different ideas, and the windfall is sure to set off a scramble at the Capitol.
Find Jackie Zubrzycki on Twitter: @cohealthinst @jzubrzycki
---
Want more information about health and health policy in Colorado? Subscribe to our newsletter or find CHI on Facebook and Twitter
---
Related blogs
Related research:
Twitter
Enrollment in Colorado's Medicaid program has fallen unexpectedly after years of rapid growth.