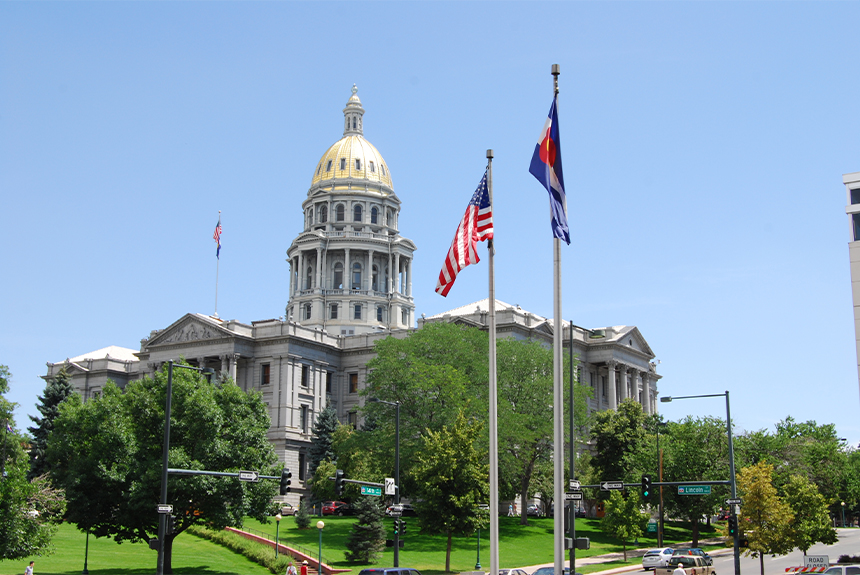 Colorado lawmakers are having challenging conversations about how to fund full-day kindergarten, transportation, family planning, and other priorities this week as they debate the state's proposed budget for the upcoming fiscal year, or Long Bill.
Senate Bill (SB) 207, introduced Monday, includes 22 agency budgets, capital construction requests, and various add-ons for FY19-20. It outlines the spending plan for a state budget that exceeds $30 billion. (The General Fund, which the legislature controls, accounts for about $12 billion.) The narrative document accompanying this year's Long Bill weighs in at a hefty 238 pages.
Each year, the budget is an exercise in managing taxpayer dollars and previous budgetary commitments while being responsive to new priorities for the state and party leaders. It's no easy feat, but at the end of the session, Colorado must end up with a balanced budget — it's a state law, and the only bill that legislators absolutely have to pass each session. (Fun fact: Colorado is also among the states that grant their governor line-item veto authority for the budget.)
This year, balancing the budget isn't too much of a challenge — the state's economy has been on a hot streak. But legislators are still treading carefully when committing new money to programs, given that an economic slowdown could be on the horizon. This reasoning has already played into lawmakers' decision to allocate part, but not all, of the funds requested in a bill that would implement full-day K in the state.
The budget bill alternates its chamber of origin and this year, it starts in the Senate. Senators are debating the bill and various proposed amendments today and should send the revised version to the House at the end of the week. Thus far, they have approved amendments to add funding for strategic planning work on aging, rural economic development grants, and most notably, another $106 million for transportation. The process will repeat in the House next week.
The six-member Joint Budget Committee (JBC), which writes the budget, is comprised of Sens. Dominick Moreno (D-Commerce City), Bob Rankin (R-Carbondale), and Rachel Zenzinger (D-Arvada) and Reps. Daneya Esgar (D-Pueblo), Chris Hansen (D-Denver), and Kim Ransom (R-Lone Tree). The 4-2 party split is a major change from the 3-3 balance of the past four years, and made it easier for Democratic legislators to get their priorities into the budget. Still, there's a finite amount of money available.
The budget they put together was informed by the newest revenue forecast, shared with legislators on March 15. It predicted the continuation of a strong state economy, but one that seems to be slowing slightly, leading economists to lower their previous revenue projections from December by about $200 million. The new federal tax law has also created additional uncertainty for analysts.
Legislators have an estimated $1.18 billion more to spend next year than this year, though inflationary increases will cut into that amount. They also have $23 million total in unspent marijuana tax revenues and $20 million in additional "set-aside" funds for each chamber to put toward items in the Long Bill or other bills that require new state funding — such as HB 1239 (Census outreach efforts) and SB 1 (expanded medication-assisted treatment pilot program).
What's in the proposed budget? Some highlights:
Sizeable increases in K-12 education funding, including $185 million toward Governor Polis's goal of full-day Kindergarten and $77 million to decrease the budget stabilization factor (otherwise known as the negative factor — essentially, the amount the state has underfunded schools). There's not enough money for full-day K to happen everywhere next year, so these funds would begin to phase it in.

An increase of $30 million in additional funding for transportation projects. Transportation is always a big topic at the Capitol, and after

two statewide ballot measures to increase funding for it failed last fall

, expect funding for roads to be a source of debate. Today's compromise in the Senate to add more than $100 million in additional commitments for transportation seems to have appeased some Republicans.

An increase of $105 million for higher education, with one of the goals being to keep tuition flat. Colorado has long been

near the bottom of the list of states for higher ed funding

. Combined with the K-12 funding increases, Sen. Moreno, the JBC Chair,

told the Colorado Sun

that the budget makes "an unprecedented investment in education."

$19 million to extend high-speed internet service to rural parts of Colorado. 

$10 million for implementation of the

Colorado Water Plan

.

A 3 percent salary increase for all state government employees.
Health-related funding increases of note:
$15 million to reduce wait times for court-ordered mental-health evaluations.

$5 million to add 42 inpatient beds and 47 full-time staff positions at the Mental Health Institute in Pueblo.

$3 million for the 16 Area Agencies on Aging (AAAs), which provide services to seniors such as home delivered meals, transportation assistance, and ombudsman services.

An extra $1 million for CDPHE's Colorado Family Planning Program (though advocates had hoped for more).

$800,000 and additional staff support for a new electronic health record system for local public health agencies.

Across-the-board community provider rate increase of 1 percent, and more for behavioral health, mental health, and substance use providers.
So what is the budget bill's outlook as March comes to a close? Partisan dynamics in both the Senate and House have ground the gears to a halt several times in the past week, and delay tactics used by Republicans — who say Democrats are trying to ram though major policy changes without adequate time for input and debate — could throw this year's budget off track too.
At the end of the day, however, even if other bills don't make it through, we'll end up with a balanced state budget. Legislators don't have a choice.
---
Want more information about health and health policy in Colorado? Subscribe to our newsletter or find CHI on Facebook and Twitter
---
Related Blogs and Research
Twitter
Colorado senators are up first this year to debate the state budget, or Long Bill. What's in it for health?