Blazing a Trail for Colorado: A Rural Health Strategy for Medicaid and Medicare
August 17, 2018
Earlier this year the Centers for Medicare & Medicaid Services (CMS) issued its first Rural Health Strategy, aimed at improving access to high quality, affordable health care across rural America. This new strategy could bring important changes for Coloradans who live in rural areas, especially for those on Medicare or Medicaid.
Over three quarters of a million people call rural Colorado home, and about 300,000 of those are enrolled in Medicare, Medicaid or both. Rural Colorado counties have higher rates of public insurance enrollment than their urban counterparts (38.7 percent compared to 33.5 percent). Rural Costilla County reported the state's highest rate of Medicaid enrollment in 2016, at 56.5 percent.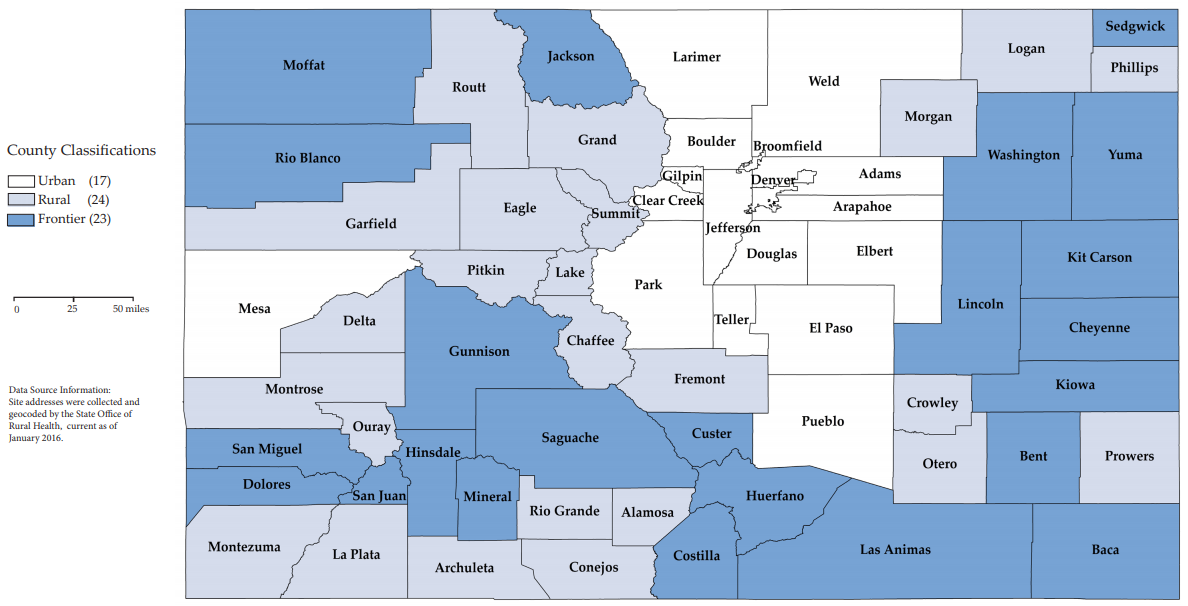 CMS, part of the U.S. Department of Health and Human Services, oversees major public health care programs, including Medicare, Medicaid and the Children's Health Insurance Program (CHIP). Colorado's Medicaid program, called Health First Colorado, and the Child Health Plan Plus (CHP+) program are overseen by the department of Health Care Policy and Financing (HCPF). 
While CMS' Rural Health Strategy is just a plan at this point, it could spell changes in the future for rural Coloradans on public insurance, insurers, and hospitals or clinics.
CMS' Rural Health Council has outlined five main objectives in the new Rural Health Strategy:
Apply a Rural Lens to CMS Programs and Policies: The agency plans to review how current policies and procedures affect rural communities and health insurance providers. The idea is to identify where policies can better meet the needs of at-risk populations while avoiding unintended consequences. 
Improve Access to Care Through Provider Engagement and Support: The agency is focusing on maximizing provider scope of practice, providing technical assistance to providers, and identifying new ways to address barriers to care such as lack of transportation.
Advance Telehealth and Telemedicine: The agency plans to improve reimbursement, relax licensure requirements between states and cut high administrative and financial burdens of implementing telemedicine, the electronic communication between patient and provider. Telehealth, a broader scope of remote health care services, is a successful way to improve access to care and meet the needs of rural areas.
Empower Patients in Rural Communities to Make Decisions About Their Health Care: The agency will explore different ways to engage rural populations, such as collaborating with rural communication networks to create easy-to-understand materials to help rural patients navigate the health care system and strengthen their relationships with providers.
Leverage Partnerships to Achieve the Goals of the CMS Rural Health Strategy: The agency plans to partner with local, regional, state and national stakeholders such as the Office of the National Coordinator for Health Information Technology, the Federal Office of Rural Health Policy and the Centers for Disease Control and Prevention. These partnerships are meant to foster collaboration, increase information sharing and promote joint action in implementing the Rural Health Strategy
Both the challenges and objectives resonate with what's been happening in rural Colorado.
Accessing care is a challenge in Colorado's rural counties. Eleven counties have no hospital, 22 counties do not have a licensed psychologist and over half of all rural counties do not have an active licensed addiction counselor. Disparities across the spectrum of care lead to poor health outcomes and higher rates of premature death. 
Communicating about complex health insurance and health issues can also be a challenge. About one of four rural households lack broadband access, and twelve percent of rural adults in Colorado lack basic literacy skills.
But Colorado has already begun taking steps to address these issues.
The Colorado Rural Health Center (CRHC) serves as the state office of rural health, working to ensure all rural Coloradans have access to comprehensive, affordable, high-quality health care. The CRHC monitors bills and proposed regulations for their impact on rural health care and either supports or opposes them. The CRHC produces an annual Legislative Report and a Snapshot of Rural Health in Colorado, a closer look at the overall health of rural Coloradans and how legislation affects their well-being.  
Colorado is also working to leverage partnerships to improve health. The State Innovation Model and the Regional Health Connectors are building partnerships to address local health challenges throughout the state.  The new Regional Accountable Entities, key players in the state's Medicaid reform effort, will integrate physical and behavioral health care across the state with a focus on local regions' needs.
And there have been some successes, especially when it comes to technology. While broadband is lacking for rural residents, approximately half of Critical Access Hospitals (those located in rural areas that have 25 or fewer beds and are over 35 miles from another hospital) have connected to a Health Information Exchange to share data about patients, and all rural hospitals have adopted electronic medical records systems.
Colorado is also the only state to reimburse for live video conferences with patients, remote patient monitoring, and the transmission of medical information like images, documents and videos.
Rural populations face unique challenges. These unique challenges demand unique solutions, something both CMS and our state are working to address. The question will be whether CMS' new strategy helps reduce barriers to care and improve health for rural Medicaid members.
---
Find Eli Boone on Twitter: @CHI_EliB
---
Want more information about health and health policy in Colorado? Subscribe to our newsletter or find CHI on Facebook and Twitter
---
Related Blogs and Research