Image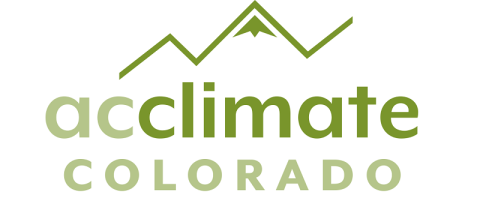 While climate change impacts all of us, it affects some communities more than others. Health risks from a changing climate are influenced by a person's age, health status, occupation, income, and physical environment. Children, older adults, people with lower incomes, Black, Indigenous, and Hispanic/Latino Coloradans, people with disabilities, people with chronic health conditions, pregnant people, and people who work outdoors are among those who are particularly at risk. Climate change is likely to exacerbate many existing inequities. 
Acclimate Colorado, an initiative of the Colorado Health Institute, is working to bolster the resilience of Colorado communities to the challenges of a warming climate. Launched in early 2022, Acclimate Colorado has already started to act on climate through: 
Assessing 
Our research work includes the Health and Climate Index, which examines strengths and risks in each of Colorado's 64 counties. 
Aligning 
We formed the Acclimate Action Team, a convening of leaders from many disciplines and backgrounds to plot Colorado's course for addressing the health effects of climate change with policy and programmatic solutions. 
Advancing 
We will bring this Health and Climate Policy Agenda to local and state leaders with concrete steps that governments, businesses, health care providers, and community organizations should take to protect their communities. 
These policies focus on preparing for and/or addressing physical and mental health impacts related to extreme heat, wildfires, flooding, drought, and poor air quality — areas identified by the Colorado Health Institute as key climate exposures in Colorado. Being prepared for these exposures can help reduce illness and support health in a changing climate. 
The Colorado Health Institute and the Acclimate Action Team developed these 26 goals and 34 strategies to advance climate justice and health equity, and reflect the needs and solutions identified by people and communities most affected by climate change. 
Guiding Principles 
The Acclimate Action Team and the Colorado Health Institute sought to uphold the following guiding principles when developing this policy agenda: 
Prioritize communities disproportionately harmed by climate change and/or currently or historically excluded in adaptation policies and activities. 
Develop adaptation strategies, policies, and activities that protect human health and are mindful of mitigation. 
Advance equity in climate resilience planning and implementation by breaking down barriers that prevent communities disproportionately harmed by climate change from thriving. 
Ensure policies are community-driven and elevate community voices. 
Practice language justice by ensuring health and community organizations are equipped to communicate with people from different language backgrounds. 
Guide to Colorado's Health and Climate Policy Agenda 
Adaptation to the changing climate is a global challenge. The work is complex, but it represents a critical opportunity to improve health outcomes for Coloradans most impacted by a changing climate. This policy agenda offers a place to start by identifying five key categories for developing and advancing solutions: 
Grow Colorado's climate adaptation planning and response capacity. 
Improve and invest in infrastructure to support health. 
Enhance workforce capacity for climate and health adaptation and response. 
Improve data and research to support informed and equitable planning and response efforts. 
Develop and share communications tools to educate Coloradans. 
Each of the five categories has goals and the strategies needed to achieve them. Some are simple and can be accomplished quickly. Others will take years. Either way, it is important to start work now to protect people from a climate that is only getting hotter and more extreme. Additionally, all goals and strategies highlighted in this agenda should be pursued and implemented using an equity lens to ensure that communities disproportionately impacted by climate change can benefit from current and/ or upcoming changes to policies, programs, and initiatives.