On the twenty-second day of each month, about 20 people gather near the town center of Brush, about 90 miles northeast of Denver.
They are veterans, business leaders, and other community members, and they hold signs that explain why they are there: "Did you know? 22 Veterans Every Day Commit Suicide." "22 is too many." "Veterans Crisis Line: 1-800-273-8255."
Sometimes, people drive by. Other times, they stop to talk about their own experiences or the experiences of friends or family members. Once, someone stopped to write down the hotline number. 
In Colorado alone, nearly 200 veterans die by suicide each year. Stacy Syphers, a veteran who lives in the Brush area with her family, has been working to change that as a Veteran Health Connector, or VHC, hosted by the Centennial Area Health Education Center in Greeley. Between December 2018 and June 2019, she led an effort to identify challenges, resources, and opportunities to help prevent suicides in a six-county region of northeast Colorado that is home to more than 4,500 veterans. 
Syphers, who grew up in rural Indiana, served in the U.S. Air Force between 1987 and 1994. Her service took her from Texas to Colorado to Germany. After she was discharged, she spent time in her hometown before moving to Aurora, where she started a nonprofit focused on children with cancer, and then to Brush, where she worked at the city's Chamber of Commerce. 
But when she heard about the opportunity to work on preventing veteran suicides, she knew she had to get involved. 
"The work is so much needed," she said. "People don't want to die and hurt everyone around them. They just want to stop the pain."
Veterans in rural areas face complex challenges, Syphers said. It can be difficult to transition back to civilian life for many reasons. Jobs that match your skill set may not be available. Your military experience can make you feel distant from family and friends. You may be struggling with chronic pain or trauma from your time in the service. 
But many veterans don't seek help. Some may not think they're eligible for veteran-focused services because they never saw combat. Others may avoid the medical services that are available, lacking confidence that they will help. There's a fear of the stigma that might come with admitting that you're struggling. Some veterans fear their guns will be taken away if they seek mental health care.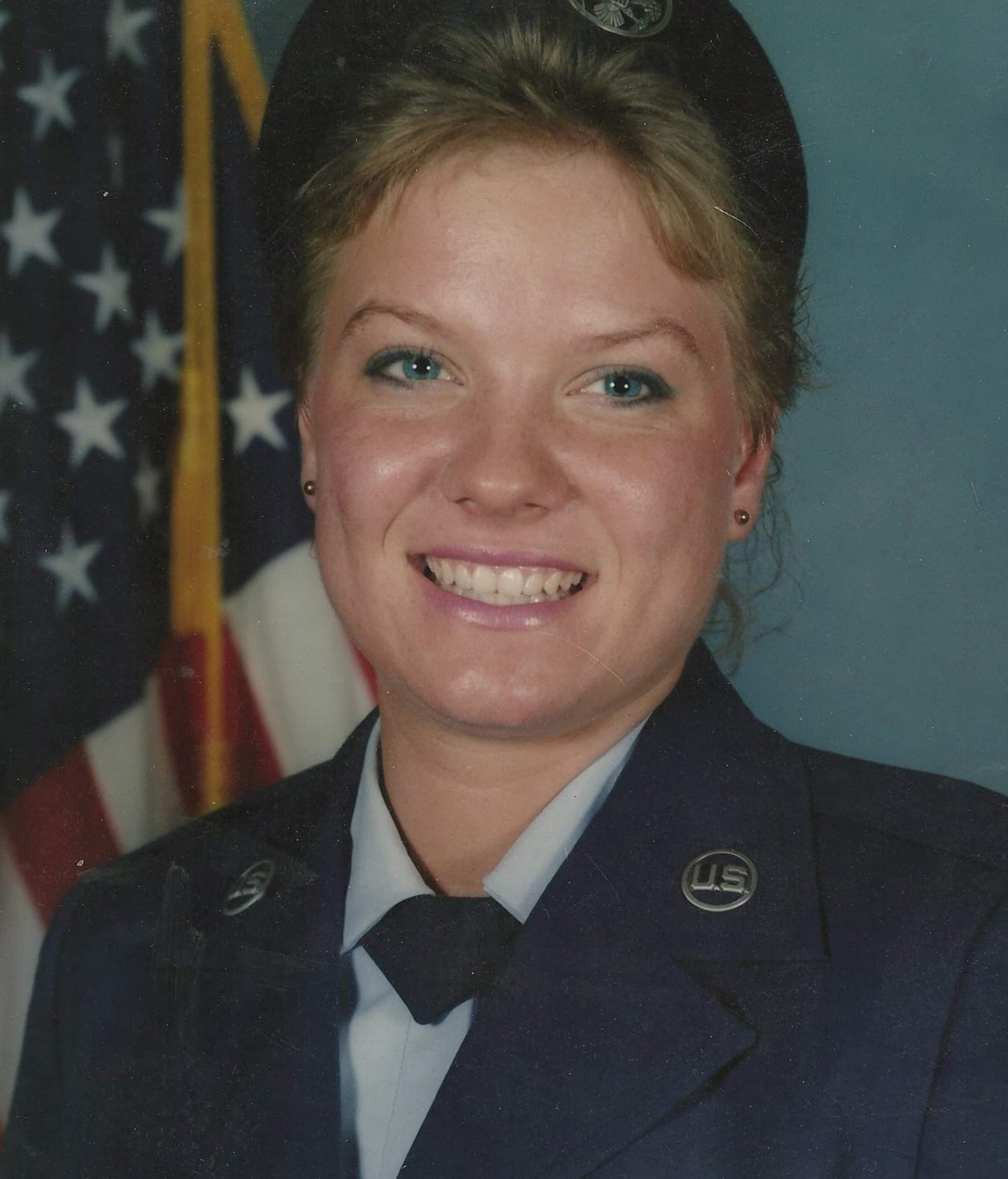 Syphers served in the U.S. Air Force.

In many rural areas, services are far away or harder to access. The veteran's hospital in Aurora is close to two hours away for some residents of northeast Colorado, and some veterans think it is slow and ineffective. 
Syphers said that as a veteran, she understands these dynamics. She has also had her own complex experiences: Finding a job after she left the service was difficult, as was connecting with friends. Syphers was sexually assaulted during her time in the service, and she has been diagnosed with complex post-traumatic stress disorder tied to that trauma. It took years after she left the military before she felt comfortable seeking help. Some of that time she spent self-medicating with alcohol.
"I went through so much pain," she said.
But she also has firsthand knowledge that things can get better with support. She eventually sought treatment and support through the veteran's hospital and elsewhere, and the coping strategies she learned have helped her work through challenging situations. She's been sober for more than 15 years. That's a story she can share with her fellow veterans.  
As a VHC, Syphers met with local groups and leaders to help educate them about veteran suicides and find ways for them to help. She worked with hospitals and medical providers to let them know that veterans in crisis can get services at the veterans' hospital. She helped community members identify challenges and resources in northeastern Colorado. And she connected directly with veterans, in formal meetings and at local VFWs and other community hubs, to help start the conversation about suicide and spread the word about resources that are available.
She said her experiences as a veteran helped build trust.
"You have to be real … I'm not walking in with a clipboard, a pen, and a tape recorder," she said. "I have nothing, maybe my business card, and I introduce myself as a veteran. And once I do that, everything is different." 

Funding for the VHC program ended at the end of June 2019. Syphers hopes there will be other opportunities for her, or someone else who is committed to the mission, to continue the work.
Syphers hopes more doctors' offices and community health organizations will reach out directly to veterans and let them know about services like telehealth that can make care more accessible. She hopes that more doctors and medical practitioners will learn about the physical and mental health challenges veterans face so they know when and how to intervene when someone is suicidal. She hopes more people in the community, veterans and nonveterans alike, will learn about the signs of suicidality and how to step in. And she hopes that awareness-raising events like 22-a-Day will become regular occurrences in this area, which is home to so many veterans.
"If we can get to these veterans while they're in a crisis, get their guns to a safe place without them thinking you're trying to take their guns away," she said, "lives will be saved."