Press Release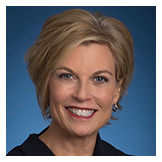 Christine Woolsey, a veteran health executive and strategist, has joined the Colorado Health Institute (CHI) as a Strategic Advisor. In her new role, she will help position CHI to advance its mission of improving health for all Coloradans by providing evidence-based analysis to communities, businesses, and policymakers.
Woolsey will lend her expertise in developing business and grant opportunities for CHI, coaching and mentoring staff to support CHI's goals, and cultivating client relationships to foster sustainable growth for the organization. Woolsey had been serving as Vice Chair of the CHI Board of Trustees; she stepped down from that role to join the CHI team.
Until late 2018, Woolsey was Senior Vice President, Chief Communications and Marketing Officer at SCL Health, a Broomfield, Colorado-based group of hospitals and clinics operating primarily in Colorado and Montana.
She led the system's $18-million marketing and communications group, which she built from scratch by restructuring 40 decentralized employees. Her group was responsible for all communications, government affairs, philanthropy, digital strategy, marketing and brand identity. During her tenure, Woolsey was instrumental in integrating two newly merged health systems, 13 hospitals and hundreds of clinicians, working directly with SCL Health's CEO to integrate operations, formulate shared strategic priorities and unify employees around a common culture and brand.
Prior to moving to Colorado, Woolsey served as Senior Vice President of Hill + Knowlton Strategies, a global public relations firm, where she led the group's Midwest Health Care Practice. Before she moved into the health care field, Woolsey worked for two decades as a business journalist, launching Crain's Chicago Business' award-winning ChicagoBusiness.com website and serving as the publication's broadcast correspondent.
Woolsey earned a Bachelor of Science degree in Journalism from the University of Illinois, Urbana-Champaign. She is an alum of the Denver Metro Chamber Leadership Foundation's Leadership Denver and Access Denver programs and has served on numerous local boards, including the Denver Metro Chamber of Commerce, Volunteers of America, and Community First Foundation.
"Chris brings new skills and assets to the CHI team. Her business savvy, deep Colorado connections and strategic communications expertise will help us grow and thrive as an organization and position CHI to contribute even more to the most important health decisions facing Colorado," said Michele Lueck, President and CEO.
"CHI has been and continues to be an invaluable asset in Colorado, providing unbiased research, analysis, and insights to inform local and state health policy decisions," Woolsey said. "I'm honored to join an organization and team so well-positioned to offer sound, evidence-based analysis at a time when Coloradans are demanding effective policies and programs that will lower costs and deliver real and lasting improvements to their health."
"I have worked closely with Chris on the CHI Board of Trustees to guide the organization's strategic direction, and I'm delighted that she can now share her expertise and innovative thinking on a day-to-day basis with CHI's talented staff," said Ruth Benton, Chair of the Board of Trustees.
About the Colorado Health Institute
We believe that better information leads to better-informed decisions — and a healthier Colorado. The Colorado Health Institute is nonprofit and nonpartisan. We are a trusted source of independent and objective health information, data and analysis for health care leaders.
---
Contact
Joe Hanel, Managing Director, Communications
hanelj@coloradohealthinstitute.org or 720-382-7093
Christine Woolsey, Strategic Advisor
woolseyc@coloradohealthinstitute.org or 720-382-7076