A speaker at CHI's recent webinar exploring artificial intelligence (AI) in health care opened his remarks with a quote from Microsoft founder Bill Gates, who noted that "We always overestimate the change that will occur in the next two years and underestimate the change that will occur in the next 10."
In less than two years, AI shifted from science fiction to everyday reality thanks to the widespread and lightning-fast adoption of ChatGPT and other large-language models that brought the predictive ability of AI into everyday use. In light of that seismic shift, contemplating what's in store over the next 10 years is mind-boggling.
We initially thought our AI webinar should update our community on how AI is being used in clinical work, public health, and other areas of health care. As we gathered our research, we realized we have so many more questions than answers. And we weren't entirely sure what our community was thinking about. What did they want to know? What excited them about AI? What worried them?
So we decided to do one of the things that CHI does best: We made space for a community conversation. And it turns out that the appetite for such a conversation was strong. Nearly 70 people showed up to learn and to share their experience, excitement, and concerns.
CHI Research Analyst Rachel Bowyer set the stage by providing an overview of what AI is, why the health care sector has so enthusiastically embraced it, and what risk its use entails. Her remarks carried a powerful reminder: At its core, AI is a human endeavor. It is made by humans and reflects our values, biases, and foibles. The best way to ensure it serves the community is to guarantee that community helps create it.
Image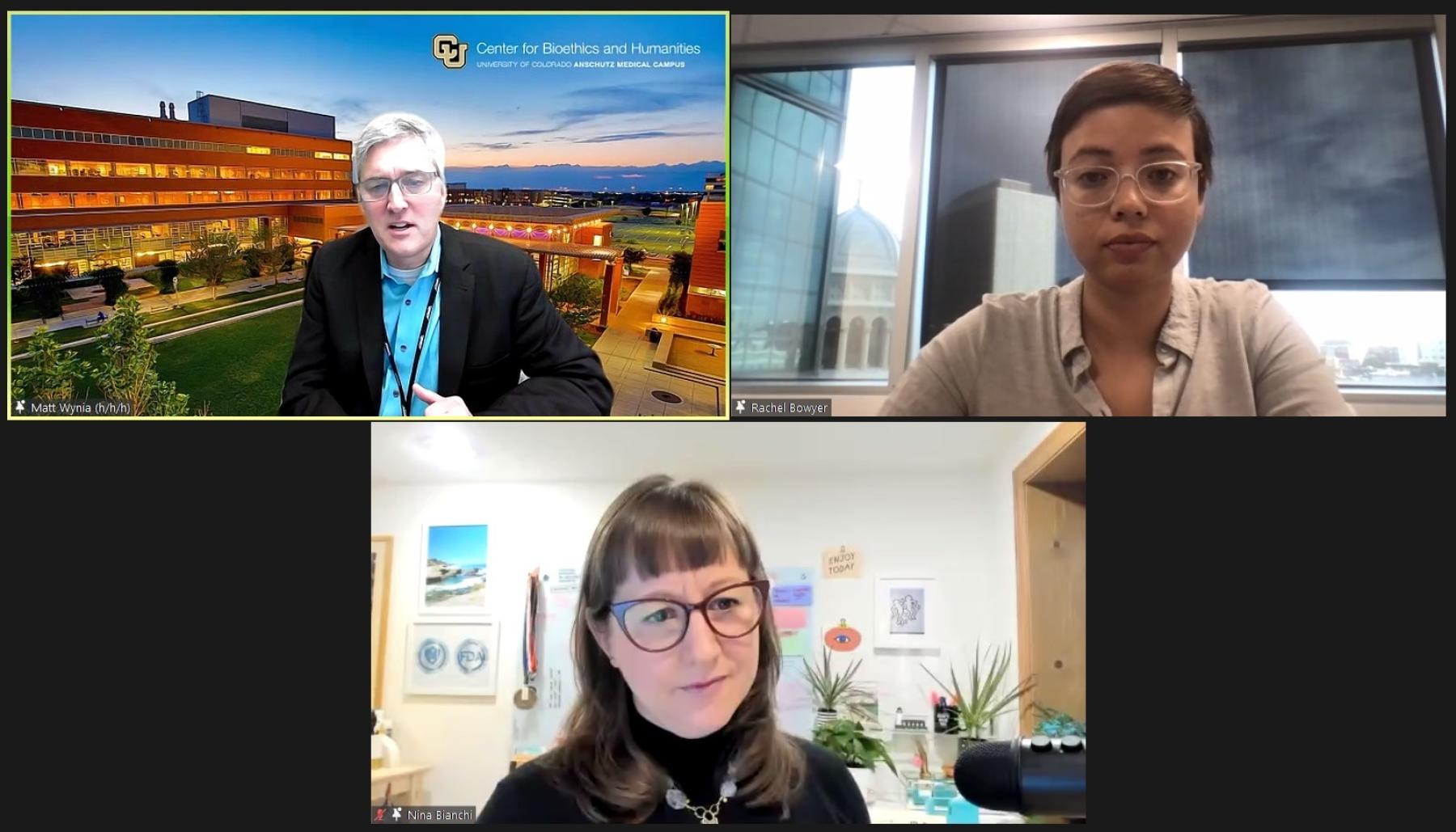 CHI Director Nina Bianchi, who previously worked on national AI efforts as part of the Biden Cancer Moonshot 1.0, laid out some of the key federal efforts underway to ensure trust and accountability in the AI space. Congress is considering major AI bills. They include the AI Bill of Rights, which seeks to establish and safeguard public rights in this new era; the Transparent Automated Governance (TAG) Act, which calls for agencies to provide disclosure and appeal opportunities when using AI; and the Create AI Act, which establishes the National Artificial Intelligence Research Resource (NAIRR) as a shared national infrastructure to advance AI research and improve access for underrepresented groups.
And Dr. Matt Wynia, Director of the Center for Bioethics and Humanities at the University of Colorado Anschutz Medical Campus, walked the team through some promising clinical use cases for AI and the very thorny ethical issues that accompany them. 
While he cited AI's ability to find key health information buried deep in a medical chart, leading to increased speed in making diagnoses, he also noted a report about a health care algorithm with baked-in biases that the authors estimated led to a reduction of the number of Black patients identified for extra care by more than half. Similarly, he noted the potential for insurers or health care systems to use algorithms to determine when to cut off care for a patient.
The prospect is frightening. But as both Dr. Wynia and audience members noted, the fault isn't with AI, but with systems and structures that already exist. Whether racial biases or health care funding structures, AI isn't creating these challenges. It simply has the power to amplify them — and their impacts — with infinite speed and magnitude.
Audience members offered other key insights. If we are going to insist that community help build and inform AI, then we need a diverse workforce pipeline to ensure that everyone from the coders to the programmers to the end users reflect and represent the communities that the AI system will affect.
The conversation ended way too soon, as is the case with most conversations that involve CHI's engaged community. But this was just the first of what will be an ongoing conversation among CHI and our partners as we navigate this new world together.
Our next opportunity will be December 1 at CHI's annual Hot Issues in Health conference. (Register soon — prices go up on October 16.) Keynote speaker Nita Farahany, a legal scholar, ethicist, and author, will delve into AI and neurotechnology, exploring the necessary regulations and shifts that must accompany this rapidly developing technology. She will then join a fireside chat to continue the conversation with local health leaders.
We hope you'll join us. Because if we learned one thing from our latest conversation, it's that the world and the technology around us will likely look very different even those short few months from now.