Racism, History, and COVID – And How Trust Affects Them All
June 5, 2020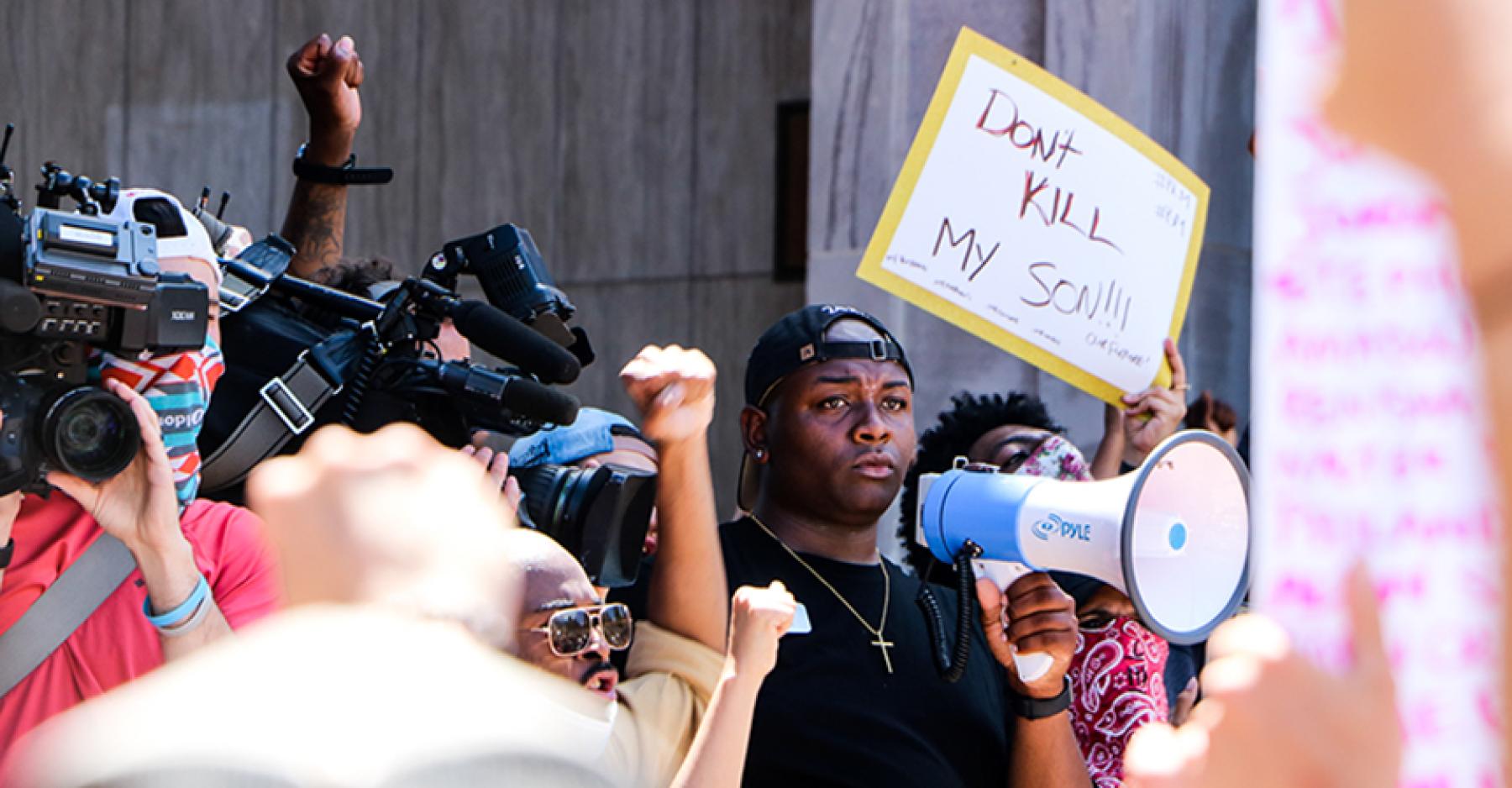 Photos by Alec Williams/CHI
Colorado is entering the fourth month of the coronavirus pandemic, and by now we all know the rules: Wash your hands, wear a mask, stay at home. But these and other guidelines all rely on trust between the public and authorities.
Trust that the data tell a true story. Trust that the recommendations will work. And trust that the tragedy of COVID-19 won't be used as a weapon against us.
In America, faith in our authorities is frayed. Confidence in the government remains near historic lows. The spread of misinformation on social media undermines public trust in science and health care experts. And while we generally have more faith in our providers than the health care system at large, nearly one in five feel doctors don't have the public's best interest at heart.
Now, we are witnessing what may be the most striking example of decaying public trust in a generation. Protests over the killing of George Floyd and police brutality have erupted throughout the nation and the world. In many cities, the local and federal response has deepened this fracture. The fracture is especially deep in black communities, which are also seeing disproportionate fatalities from COVID-19.
Both the protests and the pandemic are matters of life and death.
And their collision could have dire consequences.
Trust Matters
When it comes to controlling the spread of COVID-19, testing and contact tracing are some of the most effective public health tools. But both require government and public health authorities to earn the trust of their local communities.
Free drive-up testing is currently available at Denver's Pepsi Center, and officials are encouraging protesters to get swabbed. But people who get tested have to provide their full name, date of birth, and address. Despite promises from government officials, some activists, wary of the state's intentions, worry that this could be used to record citizens' activities.
Perhaps even more suspicion surrounds the idea of contact tracing following a positive test. Reporting who you have recently associated with requires trust that this information will not be used against you or your community.
History and the Erosion of Trust in Health
The breakdown in trust between many Americans and authorities, including the health care system, did not happen overnight. Sadly, our history shows a clear pattern of betrayal of our most vulnerable communities.
Perhaps the most infamous example in public health is the Tuskegee syphilis experiment. Over 40 years, researchers observed hundreds of low-income black men in Alabama to better understand the progression of untreated syphilis. Participants were told they were receiving free health care, yet none were provided with penicillin, which had been identified as an effective standard treatment during the course of the experiment. Many of these men and their families were left to die of a horrific, but now fully curable, illness.
Tuskegee is not ancient history — the experiment just ended in 1972 — but there are even more recent examples. Studies show that implicit racial bias among health care providers continues to influence health care quality. In the 2019 Colorado Health Access Survey, more than 20% of black (non-Hispanic/Latinx) Coloradans said they were sometimes or often treated unfairly by health care providers, versus 16% of white (non-Hispanic/Latinx) respondents.
These issues of trust also go beyond the public sphere. Public-private partnerships are often touted as new ways to help health care innovate, but one survey found just 43% of smartphone users trust tech companies to guard their private health data. (Apple and Google are currently developing an app to track users' risk of exposure.)
As one researcher noted, these and other institutional failures — including the police brutality being protested today — cause distrust that in turn "informs how many African Americans view the government's response to the coronavirus." He notes that this is one of the many reasons some are concerned about the testing of hydroxychloroquine on 3,000 residents of Detroit, a majority-black city.
What Comes Next
When the Denver Police Department held a virtual community meeting on Wednesday, the first question asked was: How do we rebuild community trust?
An important factor is messaging. Information about COVID-19 should be communicated in ways that are tailored to diverse populations. Public health agencies should recruit trusted messengers to share this information, such as community leaders and health workers with connections to the people they serve.
Health care, including testing, may feel safer and more accessible if it is brought into the communities where it is most needed. Mobile clinics and in-situ testing sites can help people access safe, culturally competent services.
Public health departments and other frontline organizations should be partnering with community leaders to build these bridges. Efforts such as the Health Equity Task Force, recently created in the Colorado Department of Public Health and the Environment, can help inform this outreach.
Linda Reiner, president and CEO of Caring for Colorado, has been working on community engagement and notes that at the heart of many of these approaches is one simple tenet: listening. Public health experts and authorities need to embrace humility and listen to the communities most affected by these issues. Equally important is building up systems in which people of color feel able to voice their concerns.
Neither COVID-19 nor the unrest surrounding the killing of George Floyd have created new disparities. Rather, they are highlighting issues that have been with us for a long time. Unfortunately, trust is more easily lost than won — but it's time to get to work.
---
Related Blogs and Research
---