The Opioid Epidemic Is Officially a National Public Health Emergency. What Does That Mean For Colorado?
October 25, 2017
President Donald Trump today declared opioid abuse a nationwide public health emergency and said his administration will take aggressive steps to address the epidemic's causes and effects.
"It is time to liberate our communities from this scourge of drug addiction," he said in a speech at the White House. "I am directing all executive agencies to use every appropriate emergency authority to fight the opioid crisis."
Trump's emergency declaration lasts for 90 days, although it can be renewed. Administration officials said that the declaration would allow them to target existing funds toward relief efforts and would give states more flexibility. The declaration didn't come with any additional funding for new or expanded programs.
Trump had been hinting at a major action involving substance use since at least August, when he told reporters that opioids are a national emergency.
The lack of additional funding drew criticism from Democrat leaders, who said more money is needed to combat the epidemic. They said Trump's efforts to repeal the Affordable Care Act and cut the budgets of the Centers for Disease Control and Prevention (CDC) and the National Institutes of Health (NIH) would have a negative impact on substance abuse prevention and treatment efforts
On Thursday afternoon, Colorado health officials told CHI that it is not clear how redirecting existing funds will affect ongoing efforts to address the crisis.
A Clear Need
While the practical impacts of Trump's order are still uncertain, there is a clear need for more work to curb opioid addictions in the Centennial State.
Drug poisoning deaths in Colorado have been steadily increasing in the past two decades, and much of the increase has been driven by the increase in opioid overdoses.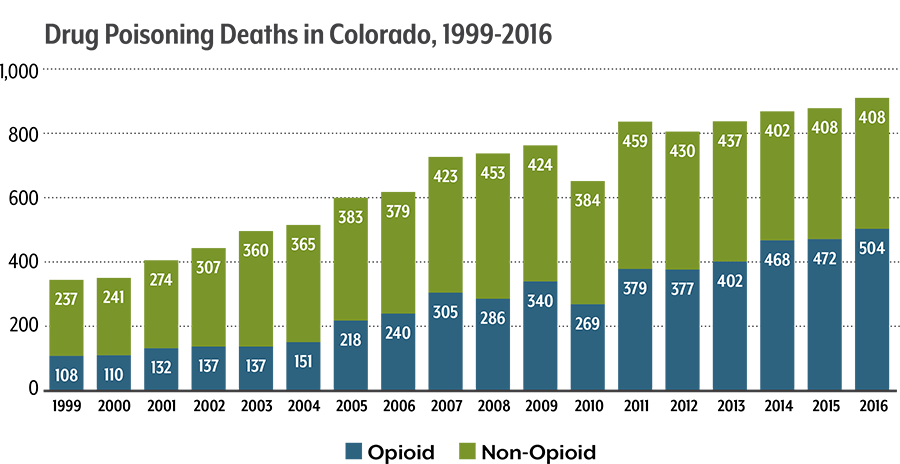 A record 912 Coloradans died due to a drug overdose in 2016, according to the Colorado Department of Public Health and Environment, and 504 of those deaths were due to opioids — either prescription drugs, heroin, or a combination of the two. Compare those numbers with 2000, when there were 350 drug overdose deaths, and just 110 of those were due to opioids.
Colorado's rate of drug addiction has historically been slightly higher than the national average. In 2013-14, 2.9 percent of Coloradans 12 or older were dependent on an illicit drug, compared with a national average of 2.6 percent, according to the National Survey on Drug Use and Health.
Colorado's lawmakers and public health community have been focused on the opioid epidemic for years. Here's a sampling of the work:
The Colorado Consortium for Prescription Drug Abuse Prevention was launched in 2013 to coordinate the state's response to the misuse of medications.
Colorado is receiving nearly $8 million a year for the next two years to expand access to treatment via the federal 21st Century Cures Act.
Colorado's General Assembly created a substance abuse research center to study prevention, treatment, and recovery support services.
A legislative  committee examined many issues related to opioids and other substances and is currently considering several legislative actions for the upcoming year.
Trump's speech today proposed several health-related approaches to stemming the crisis. They include putting more NIH resources into research on opioids and developing non-addictive pain remedies; launching an advertising campaign aimed at encouraging young people to avoid prescription painkillers; and allowing the Department of Labor to issue grants to workers displaced by the crisis. The White House laid out a set of actions in a press release.
It will be worth following in coming months to see how the new presidential attention impacts efforts to address the opioid epidemic, in Colorado and around the country.
Check out some of the Colorado Health Institute's resources on opioids:
Find CHI on Facebook and Twitter
Twitter
The Opioid Epidemic Is Officially a National Public Health Emergency. What Does That Mean For Colorado?