One of the most important health care decisions we make in our lifetimes is our last. We can choose to live out our final days at home or in a hospital. We can prioritize medical interventions that ease suffering rather than more aggressive forms of care.
It's our choice, and a very personal one. But too often, end-of-life medical wishes go unheeded because people don't make a plan.
This plan is called an advance directive. Advance directives convey health care preferences in case a patient is cognitively or physically unable to make decisions.
One out of every three Colorado adults age 65 and older lacks an advance directive, according to the 2017 Colorado Health Access Survey (CHAS). Younger adults fare worse: It's recommended that all adults, regardless of age, have an advance directive, but just over one-third of Coloradans age 18 and up say they have one, according to the CHAS.
The 2017 survey was the first time the CHAS asked about end-of-life planning. We are releasing a new report today to share what we learned from this new set of CHAS questions.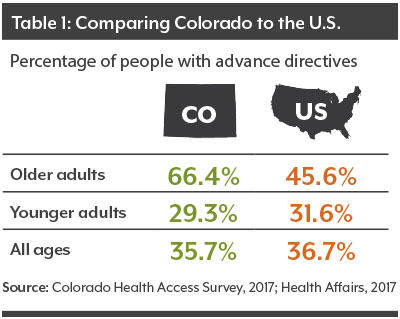 Among the findings: Older Coloradans are more likely to have an advance directive than older adults in national surveys.
High incomes in Colorado might partially explain the difference. Advocacy led by groups like the Colorado Advance Directives Consortium also helps.
Still, nearly a quarter million older adults in Colorado who should have a plan for end-of-life medical care do not have one.
The 2017 CHAS data also indicate that having an advance directive varies by age, income, and race and ethnicity. These differences suggest that outreach efforts could be targeted to individuals who may be less likely to engage in the advance care planning process.
If nothing else, remember this: Advance directives are important, but at the end of the day, they are just documents. These documents need to be put into action to be valuable.
Unfortunately, it's all too common for medical wishes to fail to translate into the type of care desired. In one instance, a man actually tattooed "do not resuscitate" onto his chest so there could be no confusion about his wishes. But, despite his efforts, there was confusion.
More frequently, advance directives are stashed away in a dusty file cabinet, making it difficult to quickly locate the document when it's needed. Or patients put pen to paper but never directly communicate with loved ones who will be present when these challenging decisions must be made.
That's why the full advance care planning process — not just the formal directive itself — is so important.
The new CHAS report goes into greater detail about the four types of advance directives that are accepted in Colorado and when to use each. As a recent Kaiser Health News article reports, understanding the differences among advance directives is not exactly easy or straightforward.
More and more, foundations, advocacy groups, and organizations are encouraging advance care planning. Let's see if by 2019, the CHAS data shows that more Coloradans have made this important decision about end-of-life care.
---
Find Liana Major on Twitter: @CHI_LianaM
---
Want more information about health and health policy in Colorado? Bookmark our blog, subscribe to our newsletter or find CHI on Facebook and Twitter
---
Related research and blogs
Twitter
Too often, end-of-life medical wishes go unheeded because people don't make a plan.
Twitter
New research from CHI finds many Coloradans don't have an end-of-life plan.