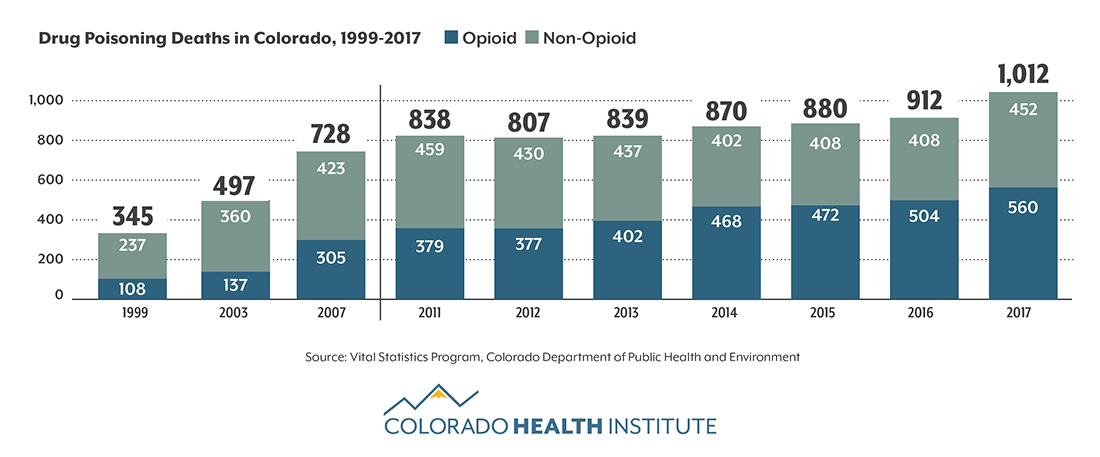 The final data are in: 1,012 Coloradans died of drug overdoses in 2017, a record-setting year that follows 912 deaths caused by drugs in 2016. 
Surprisingly, 2017 marked the first time Colorado has seen more deaths due to methamphetamine than heroin in the past decade. And the number of fentanyl-related fatalities jumped sharply, according to data released by the Colorado Department of Public Health and Environment Registries and Vital Statistics in mid-August.
CHI has been tracking the opioid epidemic since 2016 as it has increasingly gained the attention of policymakers and public health officials. As data nerds, many of us at CHI were eager to see the newest numbers in order to understand this public health crisis and provide an up-to-date analysis. We are also mindful that each number represents the death of a father or mother, a brother or sister, a cousin or friend.  
Our analysts created graphics showing trends in drug overdoses using the new data released this month. The most up-to-date versions are available for public use here. 
Prescription Opioid Deaths Continue to Increase, Bucking Expectations
CHI and other observers of trends in substance use predicted that heroin overdoses might increase in 2017 as deaths caused by prescription opioids (a category that includes fentanyl, methadone and other drugs obtained legally through a prescription or illegally) leveled off. Heroin is cheaper than pills and provides a stronger high. We expected these factors would lead to an increase in heroin overdoses.
However, heroin deaths did not increase from 2016 to 2017. But the numbers do show a spike in deaths due to prescription opioids.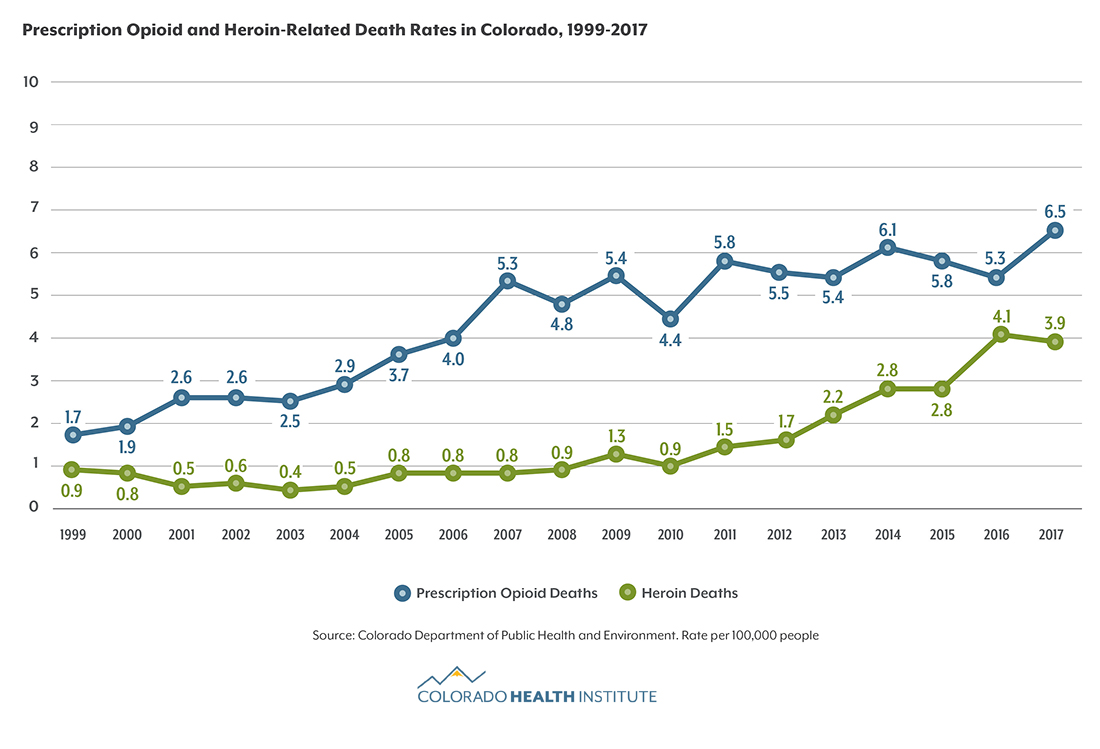 Fentanyl, a powerful synthetic opioid that is typically used to treat patients with severe pain but which may also be produced illicitly, contributed to 81 deaths in 2017, up from 49 in 2016. Only five fentanyl-related deaths were recorded in 2000. This count includes all deaths in which fentanyl was involved, either as the primary killer or one of a number of drugs involved.
While a growing number of overdose deaths involve both fentanyl and heroin (ten in 2017, up from zero in 2015), fentanyl is more often leading to overdose deaths on its own or being mixed with opioids other than heroin.
Besides opioid deaths, fatal methamphetamine overdoses spiked – increasing by 53 percent since 2016. This is a trend to keeping tracking in the years to come.  
We encourage you to use our resources to better understand the opioid epidemic. But we also encourage you to remember the 1,012 people these numbers represent and those who are mourning them.The loss of a loved one should not be overshadowed by the data.
To bring a face and story to the opioid epidemic, Colorado's Office of Behavioral Health launched the Lift the Label Campaign. It features Coloradans who share their stories of addiction to reduce the stigma attached to a drug problem and encourage others to get help if needed.
This issue will continue to receive attention nationally and in Colorado in the upcoming years. CHI will be tracking these efforts, including work by the Opioid and Other Substance Use Disorders Interim Study Committee and legislative options that may be proposed during the 2019 session.  
---
Find Jalyn Ingalls on Twitter: @CHI_JIngalls
---
Want more information about health and health policy in Colorado? Subscribe to our newsletter or find CHI on Facebook and Twitter
---
Related Blogs and Research
Twitter
Drug deaths due to heroin leveled off in 2017 as prescription opioid deaths become more common