Twitter
Introducing Ann Loeffler, CHI's newest director.
If you're reading this blog post, you probably know about CHI's Hot Issues in Health — a bunch of fun nerds sharing their amazing health-related insight and knowledge with Colorado legislators and health care thought leaders.
Though I have worked in health care in Colorado for nearly 20 years, I had never been able to attend because of my busy work-travel schedule. But last year, at the last minute, my schedule changed. Of course Hot Issues was sold out by the time I realized I could go, but I was able to attend as a guest of my longtime friend and CHIer Jeff Bontrager (we met nearly 20 years ago in grad school while studying to be epidemiologists).
That last-minute change led me to a surprising discovery: CHI and I had a lot in common.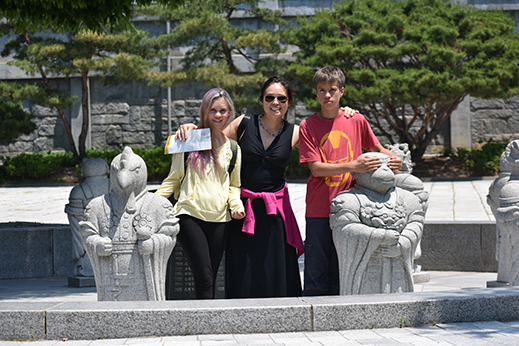 I worked on health care projects related to the safety net at JSI Research and Training Institute (JSI), a mission-driven consulting firm with an office in Colorado. But, since most of my projects were on a national level, I had no idea about the brain trust we had right here in Denver at CHI.
I couldn't stop thinking about the amazing presenters — their expertise coupled with intellectual humility and agility in presenting what were often complex concepts and data analyses. This group seemed to embody all the things I love about working to improve the health of communities.
Several months after Hot Issues, about six hours before my husband and I were taking our two young teens to visit family in South Korea, I got an email from Jeff. It was a job posting from CHI, and the position read like my dream job. However, the application deadline was before I returned from my trip. It was either do it now, or let it pass me by.
I finished packing, turned on my computer, and luckily my cover letter flowed easily. I reviewed my resume and my husband did an expert copyedit for me. I clicked the "Send" button and off it went – and off we went to South Korea.
I was excited to hear from CHI's CEO Michele Lueck in response to my application. I had met her several years prior at a party to celebrate staff work anniversaries (again, I was Jeff's guest). At the party, she shared a congratulatory message to her staff hitting the 10+ year mark. When she talked about them and about CHI, I recall that she spoke my very thoughts about what a purposeful life and job should be.                                                                                                    
And now I get to work with her and the rest of the CHIers I "discovered" nearly a year ago! I joined the team this October as a Director.
As CHI broadens the way it supports communities through our work consulting with health organizations and agencies, I will dig deep into Colorado while applying the perspective I gained at a national level. I also remain passionate about my work with health systems and the safety net, and as Colorado's safety net organizations navigate a new chapter in value-based care and payment, I look forward to a mutual evolution with more discoveries ahead.
---
This post is an introduction to CHI director Ann Loeffler. 
---
Want more information about health and health policy in Colorado? Subscribe to our newsletter or find CHI on Facebook and Twitter
---
Related