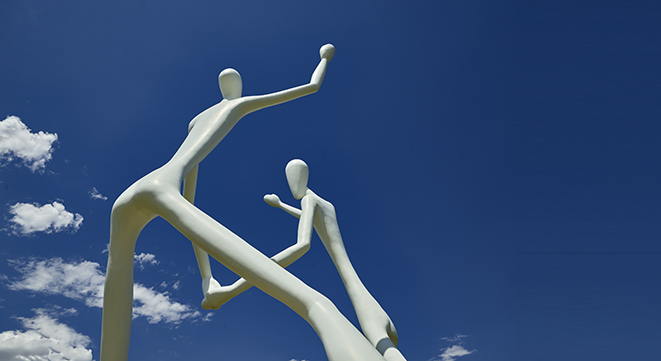 A moment of opportunity has arrived in Colorado.
COVID-19 is receding — for now. We're seeing fewer new cases, fewer hospitalizations, and fewer fatalities. Meanwhile, the virus is spreading in our neighboring states, especially Arizona.
We are without question reopening the state. This is occurring sector by sector and business by business. In counties where leaders think the state's pace of reopening is not fast enough, variances are common. In words now familiar to those of us in health policy circles, we are leaving "the Hammer" and entering into "the Dance."
These choices are not without consequence, and they should command our attention.
CHI's position as an evidence-based evaluator and neutral convener has allowed us the privilege of both observing and facilitating the state's COVID-19 response. Over the past few months, we have:
Provided early research and assessments to the Governor's Innovation Response Team.

Participated in regular meetings with the Metro Denver Partnership for Health (MDPH), a leadership group has grown to include Colorado's other local public health agencies.

Bridged communication between local and state agencies.

Created essential infrastructure and operational plans that ready the Denver metro area for community testing, surveillance, and containment. These plans have largely been adopted for statewide implementation.

Supported statewide contact tracing strategies in partnership with the Colorado Association of Local Public Health Officials and the Trailhead Institute.

Published insightful work on the intersection of policy and politics.

Demonstrated the disproportionate impact of COVID-19 on underserved and marginalized populations through a series of publications including our Social Distancing Index.
We are honored to do this work. We thank not only our funders who have made it possible — The Colorado Health Foundation, the Colorado Springs Health Foundation, and the Hemera Foundation — but also the broader community that has entrusted CHI to do this important work.
One advantage of our unparalleled view into Colorado's COVID-19 response is the chance to take stock of the opportunities ahead.
In short, how do we dance the Dance?
I submit that there are five opportunities to get things right as we reopen the state. Importantly, this reopening is not a "one-and-done" affair. We will be dancing — reopening and closing, reopening and closing — for some time to come. And our opportunity to get it right is right now.
1. Ensuring that Reopening is Guided by Sound Data and Occasional Gut Checks
Governors across the country must balance the need to contain the virus with the socioeconomic needs of reopening their states. Where those governors have set the fulcrum on this scale varies by state. Gov. Jared Polis has led an early yet cautious march toward reopening. And the results so far have been promising.
The posture of the governor, his team, and Colorado at large is not focused on if we should reopen but how. There is a need for data and information that we just do not have, like whether the risk of opening a rec center is greater than the risk of opening a movie theater. What is clear is that we cannot open everything at the same time.
In the absence of perfect data, we need to rely on the expertise and instinct of our epidemiologists, public health practitioners, and researchers. This is an uncomfortable place for many of them. Still, we should encourage their gut reactions to find a way forward.
2. Developing Regional Approaches and Cooperation    
Since our state's closing in mid-March, policy discussions have focused on the relationship between state and local agencies — public health and education, in particular. In the case of public health, the infusion of CARES Act funding crystalized this state-local tension. While the funds have been directed to the Colorado Department of Public Health and the Environment, there is debate about how the money should be shared with local agencies.  Who gets the money and what the funding will provide has been the focus of much discussion and debate.
The underlying dynamic between state and local governance has been around long before the relief funds arrived. Colorado prides itself on its respect for local control. Yet it is a problematic structure when confronting a disease that knows no boundaries.
Regional approaches to containing COVID-19 should top our list of priorities. Whether in the Denver metro area, on the Western Slope, or points in between, developing regional standards and shared guidelines will serve all of us better than fragmented county-by-county or district-by-district guidance. The MDPH is a model of regional partnership that should be financially supported and replicated in other parts of the state.
Similarly, there's ample opportunity to concretely understand how and where local agencies can rely on state infrastructure and vice versa. The time for abstraction is over.
3. Restoring Political Will
It is a common refrain that we have lost the political will to delay reopening the economy. Throughout the state, more people are turning a blind eye to social distancing and masking advice. As we have noted in this space before, wearing masks has become politicized.
We also seem to be losing the will to confront the risk of a second wave — an event that public health models warn is a real possibility. The models coming out of Dean Jonathan Samet's team at the Colorado School of Public Health are laudable and impressive. But their power in convincing Coloradans to stay at home or be safer at home has faded. Part of this is due to a common misunderstanding about the models themselves. Instead of providing a crystal ball, they evolve and change as our understanding deepens about how the disease winds its way through our population. We need to invest in the continued modelling work so that we have an established record of our predictions and analysis. But Colorado is no longer heeding the warnings as we did in March.
Yet as the Dance begins, the importance of restoring political will is essential. We fear that not enough attention is being paid to mitigation and scenario development about when the virus returns. The media and political leaders alert us to facility-based outbreaks at nursing homes or meat-packing plants, but there is less attention paid to stopping spread of the virus in the community.  Public health leaders express more concern about the latter.
We will best serve the state if we invest more in these scenarios and build the will across sectors and across the aisle to agree on the "what if" scenarios. Just like reopening is inevitable, so too are outbreaks.
4. Providing Strong Guidance and Thresholds for Mitigation
When is an outbreak an outbreak? How many kids needs to test positive in a classroom or school to send the class home? To send the entire school home? What about office buildings? Or the use of elevators? These issues may seem minor, but a successful reopening is entirely dependent on these details.
While restoring public will is important, we also need to build tactical and pragmatic advice for communities across the state. The current discussion is about when and what to reopen. But the Dance is equally dependent on knowing when to reclose. This is nearly absent from the current conversation.
5. Ensuring Social Justice in Our COVID-19 Response
Colorado's story of the pandemic, just like the nation as a whole, amplifies fundamental and structural issues of racial and economic inequities within our society. The disease arrived in Colorado by way of affluent jetsetters in our ski resort communities.  But within the first 90 days of the outbreak here in Colorado, the incidence of disease mirrored the socioeconomic disparities we see in other aspects of our lives. From income, to education, and location, COVID-19 is more prevalent where disadvantage is greatest.
Our COVID-19 response is an issue of social justice.
CHI's Social Distancing Index was an early predictor of this phenomenon. And our collective response as Coloradans merits criticism and support for a more equitable response.
Workgroups of the MDPH have turned their attention to the needs of vulnerable populations, including immigrant communities and others hardest hit by the pandemic. Our efforts to tailor information, materials, testing access, and isolation supports must be re-doubled for those most affected in our state. Our hope is that public health agencies will work in close partnership with trusted community partners to fortify our efforts — and that funding and resources will be robust for these efforts.
We have the opportunity to save thousands of lives and restore our economy. We will need to rely on expertise, cooperate at all levels of government, inspire political will, sweat the details, and work for justice.
And so, the Dance begins. Colorado, let's get it right.
---
Related Blogs and Research
---