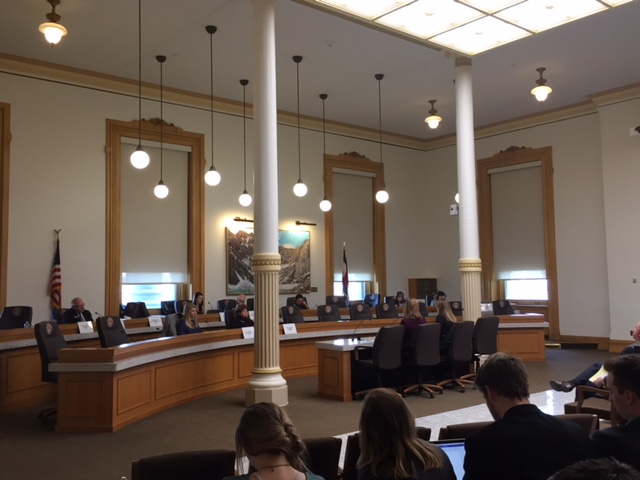 Twitter
The legislative session has come to an end. Did CHI's health policy predictions come true?
The 2018 legislative session has come to a close. As we make sense of the last-minute action, which continued in both chambers all the way until 11:59 p.m. on Day 120, we're thinking about how prescient (or completely wrong) we were with our predictions before Day One.
We're no fortune tellers, but we think we did OK. Let's take a look at five predictions from our January legislative forecast report, A Steep Climb to Common Ground:
1. "Legislators should have little trouble finding bipartisan cooperation for minor bills that tweak the way government runs. But headline-making proposals on topics such as transportation funding and health care tend to fall victim to partisan gridlock."
Outcome: Mostly true. We saw plenty of clean-up bills pass this session, but almost all of the big-ticket health items we were tracking, from supervised injection sites to reinsurance to hospital financial transparency, fell victim to partisan disagreements and never made it to the governor's desk. Legislators did, however, manage to send a big transportation funding measure to the governor yesterday morning, and they agreed on a PERA compromise — major accomplishments on the last day of the session.
2. "The substance use crisis may present the best opportunity for bipartisanship."
Outcome: Yep. Health policy still managed a few big wins, and they were concentrated in the package of substance use bills from a 2017 interim committee. While the proposal to allow a supervised injection site (Senate Bill 40) may have died, the other five bills passed — an incredible feat given this year's polarized politics. The biggest surprise was the success of House Bill 1136, which will add residential and inpatient substance use disorder treatment to the list of Medicaid benefits.
I was wrong in my prediction from our staff blog from December that only four of the six bills would make it through, which I thought at the time might be overly optimistic. (I was also totally wrong about the reinsurance bill passing.)
3. "Legislators could find an opportunity to finance their favorite programs thanks to the governor's budget intentions and the relatively sunny financial picture."
Outcome: The budget ended up even sunnier than expected. With more than $1 billion in new funds to work with, legislators passed a strong state budget with extra money for a handful of top priorities, including education and transportation.
We did miss the mark when we declared that 2017's change to the Hospital Provider Fee (through SB17-267) "means Colorado is not expected to exceed the [Taxpayer's Bill of Rights] cap for several years." The economy did so well this year that economists predicted the state government might exceed the revenue limit set by TABOR. So here we are — right back in TABOR refund conversations.
4. "Strengthening suicide prevention efforts is likely to draw bipartisan backing."
Outcome: A solid "sort of." SB 272 passed yesterday and will provide up to $400,00 annually for a crisis and suicide prevention training program, which is a big step forward. However, several other bills aiming at strengthening suicide prevention died this year, including HB 1177 and SB 114. (Read Jackie Zubrzycki's blog for more.)
5. "If agreements aren't reached [on federal funding for children's health coverage], state legislators may be tasked with approving emergency supplemental funding."
Outcome: They didn't have to rescue Child Health Plan Plus (CHP+), to the relief of most legislators. The federal government provided fewer distractions during this session than in 2017, and Congress helped by reinstating funding in the nick of time. The Trump administration did continue to whittle away at the Affordable Care Act over the past few months, and the debate over CHP+ funding may not be over — a new request from the president requests $7 billion in cuts.
We turn now to our annual wrap-up report, Legislation in Review. Look for it around June 1, along with CHI's complete bill tracking list, which is put together with help from many of my colleagues. I hope you've enjoyed their blogs on various subjects this session, from climate change bills to public health proposals. I'm so grateful for their hard work.
And look for additional publications this summer and fall on the governor's race and a preview of other issues. The election will be consequential for health policy in 2019 and beyond.
Thanks for following along with us this year, and happy morning-after Sine Die*!
*Last day of the session, in case you don't know Latin.
---
Want more information about health and health policy in Colorado? Subscribe to our newsletter or find CHI on Facebook and Twitter. 
---
Related Blogs
Related Research