Twitter
A debate on the House floor last week reminded CHI's Allie Morgan of the seriousness of the legislature's work
I'm nearing the end of my fourth legislative session with the Colorado Health Institute, and last week I did something new. I sat on the House floor during a bill debate.
It didn't seem like a big deal — just a way to watch policy from a slightly different angle. I've sat in many committee hearings in my role as Associate Director for Legislative Services, which involves coordinating our staff's legislative monitoring efforts and tracking all kinds of health bills. I often tune in to watch the House and Senate in action on my computer while I have my morning coffee.
So I'm familiar with the process and the cast of characters. But it was a powerful hearing, and a powerful reminder of how seriously our legislators take their work.
The Debate
The bill in question was House Bill 1436, "extreme risk protection orders" or the "red flag" bill. It proposes allowing law enforcement to temporarily take away guns from someone deemed a significant risk to themselves or others.
Opening remarks from sponsor Cole Wist (R-Centennial), coming shortly after 6 p.m., were a mix of passion and pragmatism. "I do not believe this is a gun confiscation bill. I do not believe this is a gun control bill," he said. "I believe it's a public safety bill." He and Alec Garnet (D-Denver), his bill co-sponsor, both stressed the need to make it safer for law enforcement.
However, Wist also apologized to his caucus for introducing such an important bill so late in the session and for not talking with them about it enough. Republican resistance to the idea was clear, and he pledged to work with each member to make progress that felt palatable. And so it began.
The Scene from the Floor
While it was remarkably quiet on the House floor for a second reading debate — Rep. Matt Gray (D-Broomfield), who was chairing the discussion, said he had never heard it quieter — I was surprised by how many hushed side conversations were happening during each speaker's remarks. When I watch the hearings remotely I can see people gathering or stopping by each other's desks, but I'd never realized how many exchanges were going on at a given time.
I watched legislators huddle together in the side aisle discussing remarks that a fellow legislator was making right then, like a play-by-play. At several points, I then saw the legislator who had been speaking sit down and talk with the others about their opinions.
The side conversations stopped when House Minority Leader Patrick Neville (R-Castle Rock) stepped to the microphone. He spoke emotionally about an experience he had as a captain in the U.S. Army, when he was ordered to take away guns from a female U.S. soldier who had been raped and was believed to be at risk of harming herself. Neville argued that having her weapons was the only thing that made the soldier feel any semblance of safety during a traumatic time. He therefore was in strong opposition to the bill.
During his remarks, the entire chamber — Democrats and Republicans — stood silently in respect. The respect was there even though many of them disagreed with his political position. When Neville returned to his seat, Gray stepped down briefly from the Speaker's podium to pat him on the arm. I witnessed many other small moments of bipartisan camaraderie, from the serious to the trivial, during my time on the floor.
There were moments of levity as well, even during such a serious debate. Once, when Gray stepped away from the podium again, Republican Rep. Kevin Van Winkle bounded to the front, grabbed the gavel and stood there until Gray took it back, to chuckles around the room.
The power of stories was on display, as was the power of punchy phrases. Proponents talked about slain deputy Zackari Parrish, for whom HB 1436 is named, and how it could have prevented his death. But the bill, according to several opponents, was a "gun grab" — a phrase they used over and over. Debate meandered between discussions of legislative process and constitutional law. Legislators stepped in and out of the office of the Chief Clerk to get popcorn or M&Ms. The clock ticked on.
Policy and Politics
After several hours of debate, the bill advanced on a voice vote. (I learned a long time ago that it doesn't matter how loud those in opposition yell "NO!" It moves to third reading, the recorded vote, if the majority of members seem to be favor.)
In addition to Wist, only one Republican, Dan Thurlow of Grand Junction, stated his support for the bill. It has since passed the House by a margin of 37-23 and is sure to face more emotional testimony and a tough road ahead when it advances to the Senate, as it seems to be a partisan wedge issue.
But I was struck by the focus and respect with which most legislators took in the House discussion — even at 9 p.m. (with hours left to go) and even for such a controversial bill that I know provokes heated reactions on both sides of the aisle.
We talk a lot about the challenges of a split legislature, where Republicans control the Senate and Democrats the House. Committee assignments can be testy and legislators in one chamber can quickly dispatch proposals those in the other chamber have been working on for months or even years while hardly batting an eye.
We watch the two State Affairs committees kill bills with abandon, especially late in the session. Frustration boils over on both sides.
But what gets lost is how much still manages to get done. We may not see a big bipartisan agreement on the scale of last year's Senate Bill 267, a compromise that made major budgetary changes to spare funding for hospitals, but we did see a strong state budget with pieces that made both parties happy. We regularly see more than half of introduced bills end up on the governor's desk. (See the tweets below from Rep. Gray, who regularly takes to social media to defend the productivity of our General Assembly.) And we often hear legislators exchange "It's an honor to serve with you" in their remarks on the floor.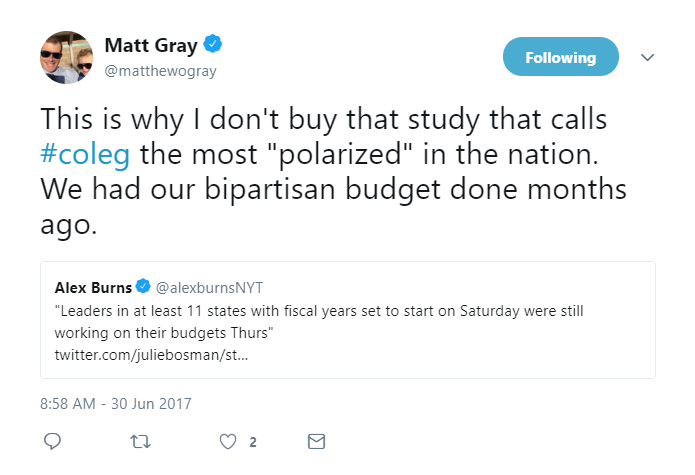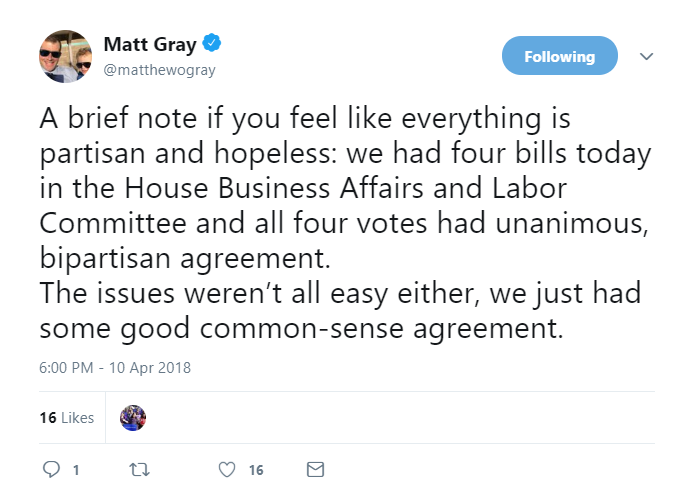 Politics, Twitter wars and low blows aside, I'd like to say to our state legislators, who work hard for their constituents late into the night and are generally trying to do the best they can: It's an honor to watch you work.
---
A big thanks to Robin Jones, Assistant Chief Clerk and friend of CHI, for the behind-the-scenes tour and the opportunity to experience debate from the floor.
---
Want more information about health and health policy in Colorado? Subscribe to our newsletter or find CHI on Facebook and Twitter. 
---
Related Blogs
Related Research