Twitter
34 days into the CO legislative session, more than 400 bills have been introduced. A Valentine's Week overview of legislation from CHI:
It's Valentine's week, and what better way to celebrate the importance of relationships, communication and compromise than with a look into Colorado's 2018 legislative session? 
Let's look at some early-session stats:
Days into session: 34
Days to go: 86
Bills introduced: 404
Health-related bills on CHI staff's watch list: 90+
Wild West flyers presented in committee hearings: 1 (that we're aware of)
We know it's not all sunshine and roses over at the Capitol, but Representative Hugh McKean did make a box to collect and mail his colleagues' valentines with a coveted postmark from his hometown, Loveland. (If you wanted your cards stamped by the Sweetheart City, we hope they're already in the mail.)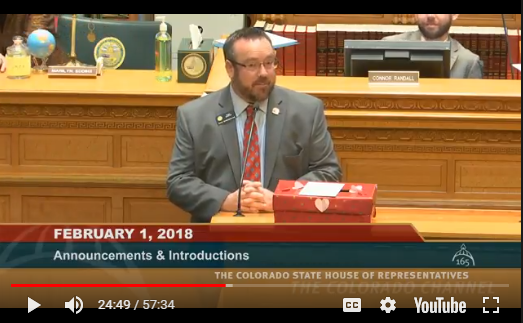 Bills To Watch
CHI tracks legislation and works to ensure our policymakers have the data and evidence they need to make informed decisions — but we never push for a certain outcome.
Some of the legislation we're keeping a close eye on this session:
And we know more health policy legislation is on its way. That includes a rumored third bill aimed at regulating freestanding EDs, bills to require more pricing transparency for pharmaceuticals and health care services and a proposal requesting a federal waiver for a state reinsurance program. CHI staff will be blogging on these topics throughout the spring. 
CHI at the Capitol
The CHI team has stayed busy with a variety of legislative events: We hosted our annual kick-off breakfast at the Capitol on January 18, spoke about CHI's nonpartisan resources before the House Health, Insurance and Environment Committee on January 23 and presented on behavioral health along with members of the Colorado Coalition for Parity on January 30. We've fielded data and information requests from legislators and staff. We've also presented on the opioid epidemic, a subject we anticipate hearing a lot about this session.
Just gave a tough presentation on opioids at an Aurora town hall. I'm inspired by how engaged the crowd is on this lovely Saturday. Thanks to @repjanetbuckner, @senrhondafields, @mjweissman, @nancytodd28 and Arapaho cmsr Nancy Jackson pic.twitter.com/HNizTVnygJ

— Joe Hanel (@CHI_joehanel) February 3, 2018
If you're a legislator reading this, please reach out if we can be of assistance to you.
There's a lot to watch, especially given how fast-paced our state's annual legislative session is. But we love what we do. We also love that you read these updates — so, health policy nerd, here's a Valentine's shout-out to you. (And remember to sign up for our newsletter to receive updates on individual bills and round-up posts like this one.)
---
Want more information about health and health policy in Colorado? Subscribe to our newsletter or find CHI on Facebook and Twitter. 
---
Related Blogs
Related Research