The Office of Behavioral Health (OBH) contracted with the Colorado Health Institute (CHI) to evaluate its funded co-responder programs throughout the state. This evaluation drew from findings from an interim report, previously distributed in June 2020. This evaluation finds that co-responder programs have continued to provide individuals experiencing a behavioral health crisis necessary interventions and referrals to needed services.
CHI used data submitted by the co-responder programs on individuals served by the co-responder team. Four programs collected and reported individual-level data from September 2019–September 2020, called pilot sites, and the rest of the programs (18) began reporting individual-level data in July 2020. CHI analyzed trends over time and answered key research questions about program reach, effectiveness in reducing formal actions and connecting to behavioral health services, and return of law enforcement to patrol.
The evaluation answered the following questions:
1) Did co-responder programs reach people with behavioral health needs in their communities?
Key Finding: Co-responder programs reached people in their communities who needed behavioral health services.
Across all sites, 3,473 people with probable behavioral health conditions were served by the co-responder program between July and September 2020.

High utilizers (i.e., individuals seen more than once by the program) represented about 25% of all calls.

Co-responders provided some form of service (e.g., behavioral health assessment, behavioral health referrals) to individuals on 93% of active calls.
Recommendations for Next Steps
Law enforcement departments do not always know whether a call has a behavioral health component until they respond on-scene, which creates challenges to understanding how many calls would have benefited from a co-responder team response. Future evaluation could include a data reporting mechanism or approach that objectively determines the total number of calls that could have benefited from a co-responder team.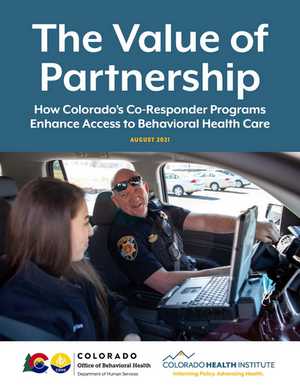 Read the report on the Colorado Office of Behavioral Health website.
2) Did co-responder programs help reduce law enforcement formal actions among community members with behavioral health needs?
Key Finding: Co-responder programs were associated with a reduction in the number of involuntary mental health holds and other formal actions among people with suspected behavioral health issues.
The percentage of responses that resulted in an involuntary 72-hour mental health hold among pilot sites trended down from 8.3% in September 2019 to 3.2% in September 2020.

Per officer self-report, co-responder calls resulted in 9.4% of individuals being diverted from the emergency department, with another 2.6% diverted from jail.
Recommendations for Next Steps
Formal diversions are reported based on law enforcement officers' assessment of whether a formal action would have been taken if the co-responder had not been on scene. But there is no way to know what would have actually happened had the co-responder not been there using the current method. Future evaluation activities could use a control group to evaluate actions taken in similar counties with and without co-responder teams to determine if co-responder teams increase the number of diversions from formal actions. This would also provide data to make evaluative statements about costs avoided through formal diversions.
3) Did co-responder programs connect those in need to behavioral health services?
Key Findings: Across all co-responder programs, nearly 30% of contacts (N=1,219) resulted in a new enrollment in behavioral health services as reported by co-responders. Over time, pilot sites were able to enroll a higher percentage of individuals in behavioral health services.
Different co-responder programs across the state had varying levels of success enrolling individuals in behavioral health services with one program enrolling less than 3.0% (N=184) and one program enrolling just over 60% (N=205) of contacts in behavioral health services.

A majority of co-responder responses were resolved on scene and did not require further medical, community, or law enforcement engagement.

Co-responders reported being able to transport people to community-based settings (e.g. community-based organization, walk-in crisis center, mobile crisis unit, or a community mental health center), or medical-based settings (e.g., emergency department, hospital inpatient, or withdrawal management services) to avoid unnecessary incarceration. About 6% of people were in community-based settings after the resolution of a call, 15.5% were in medical-based settings, and 1.5% were in jail, suggesting that co-responders were able to provide behavioral health services and reduce unnecessary incarceration.
Recommendations for Next Steps
Variation in behavioral health enrollment in services may be the result of the type of response model that each co-responder program implements, client needs, or missing enrollment data across sites. There is an opportunity to collect data from community behavioral health agencies or identify ways to validate behavioral health enrollment data provided by co-responder teams, such as confirming individual enrollment in services, whether the individual was previously enrolled in services, and what type of services the individual received. To answer this question, future evaluation activities should assess opportunities to link co-responder program data to community mental health center enrollment data, as well as private and self-pay data, to understand how many people were connected to behavioral health services, who remained in services, and what services they received after being contacted by a co-responder program.
Co-Responders Provide Many Services on Scene
Behavioral Health Assessment
Co-responders provide a behavioral health assessment to an individual on scene to determine the need for a 72-hour mental health hold, withdrawal-management services, or other behavioral health interventions.
Resource and/or Referral
Co-responders provide a resource or referral to behavioral health services or other community services to individuals while on scene.
De-Escalation Assistance
Co-responders help verbally calm or reduce the emotional intensity of a potentially harmful situation when they arrive on scene.
Support and/or Resources for Others
Co-responders may help others on scene in addition to or in lieu of assistance provided to the individual contacted.
No Assistance Provided
Co-responders work to provide the best level of care possible based on the situation. Sometimes, though, situations are unsafe, or the individual contacted declines assistance.
Co-Responders in Action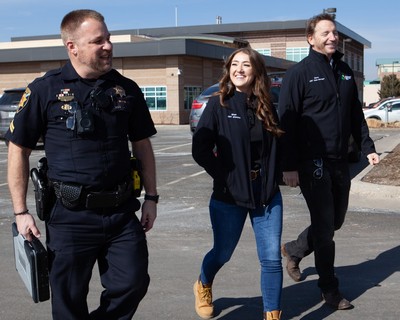 4) Did co-responder programs help facilitate the return of law enforcement to patrol activities?
Key Findings: Per officer self-report, the amount of time that law-enforcement spent on co-responder calls decreased over time and facilitated their return to patrol duties.
Between July and September, sites increased the frequency of law enforcement returning to patrol duties from 26.4% to 38.4%.

Overall, co-responders reduced unnecessary law enforcement involvement in one of every three calls, allowing officers to return to other duties.
Recommendations for Next Steps
Initial feedback from law enforcement officers involved in co-responder programs suggested that there were policy needs around working with mental health professionals on scene and establishing data sharing protocols that would support law enforcement officers in their work. Future evaluations could conduct key informant interviews to determine best practices for establishing policies and protocols for partnering law enforcement with mental health providers, and could translate those into recommendations for data sharing between law enforcement and mental health agencies. Other opportunities include reaching out to partners, including law enforcement and behavioral health providers, to assess what is considered important outcomes, and ensure that appropriate data is captured to measure outcomes of interest.
Read the full report: The Value of Partnership: How Colorado's Co-Responder Programs Enhance Access to Behavioral Health Care.