Ranking Counties for Health: CHI Explores the Data
March 14, 2018
This is the first in a series of blogs examining the 2018 County Health Rankings. Find the second, on teen pregnancies in Colorado, here. 
Douglas County once again slots in at Number One among Colorado counties for health, according to a new national ranking of counties.
The 2018 County Health Rankings, released today by the Robert Wood Johnson Foundation and the University of Wisconsin Population Health Institute, provide an annual snapshot of health in counties around the country. It ranks counties using 35 data indicators that are divided into two categories: health outcomes, such as premature death and newborns born with low birth weights, and health factors, such as tobacco use, violent crime and severe housing problems.
Douglas County ranked first in both outcomes and factors in this year's ranking. Other counties ranked highly in both categories include urban Boulder, Broomfield, Elbert, Jefferson and Larimer and rural Eagle, Pitkin, Routt and Summit counties.
In the coming days, CHI will examine trends and insights from the rankings in a series of blogs and issue briefs. The series will delve into the new data to uncover insights, opportunities and trends to support Colorado policymakers and communities working to improve health locally and statewide.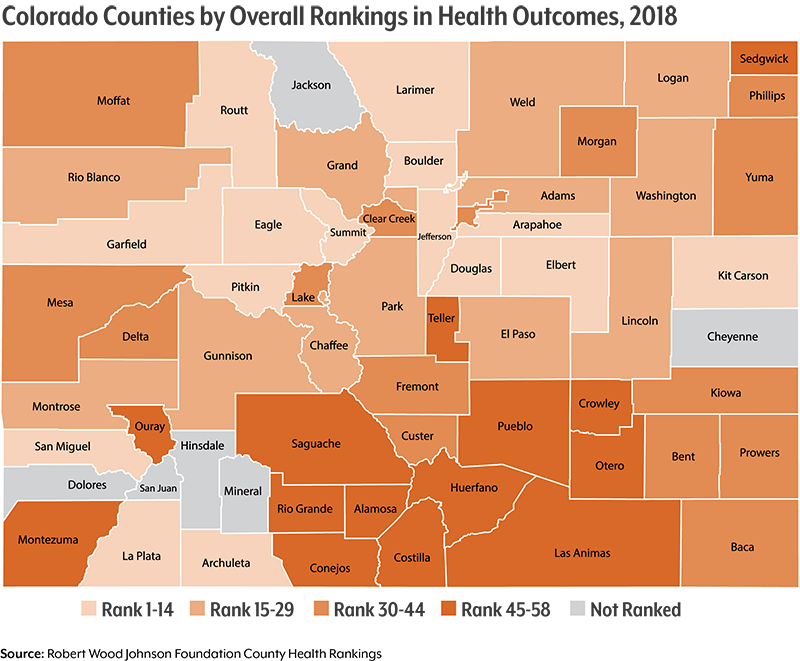 Ranking Counties
Douglas County's high score comes as no surprise: On CHI's 2017 Colorado Health Access Survey, the suburban county also had some of the highest rates of reported good health in the state. The county also had the state's highest rate of people covered by health insurance.
But a closer look into the rankings uncovers different opportunities for improvement, both at the county and the state.
Counties have different levels of need. For instance, Colorado has a high school graduation rate of 77 percent – slightly lower than the national rate of 83 percent. But graduation rates range in counties from 40 percent in Sedgwick County to 98 percent in Pitkin County.
Coloradans have, on average, 3.6 days each month when they experience poor mental health – close to the national average of 3.8 days. But counties range from 2.9 days in Elbert County to 4.4 days in Costilla County.
Larimer County ranks 54th for its unhealthy physical environment, influenced by poor air quality and drinking water, while ranking 12th for health factors overall because of strong scores on clinical care measures and in other categories.
Alamosa County sits near the middle of the pack on health factors, with a ranking of 38, but is 25th on clinical care measures and has been trending in the right direction on preventable hospital admissions and diabetes monitoring. 
The report includes a lens on health disparities and health equity, including a look at how different racial and ethnic groups are faring and some of the factors that influence those differences.
The report finds that Hispanics have 3.7 poor mental health days a month – similar to the 3.6 days of poor mental health per month reported by whites. However, 26 percent of Hispanics report fair or poor health, a rate greater than all racial/ethnic groups except American Indian / Alaskan Native Coloradans. Asians/Pacific Islanders report the fewest number of poor physical health days, 1.4 on average. And Black and Native Coloradans have the largest rate of years of potential life lost due to premature death.
The County Health Rankings also provides a menu of evidence-based policies and programs that improve and promote health, such as investing in early childhood education and ensuring that everyone has adequate health care coverage, along with examples from communities that are taking action.
Looking Closer: Colorado County Health
CHI analysts Eli Boone, Jalyn Ingalls, Liana Major and I are teaming up with CHI's communications experts on a series of four blog posts based on information in the rankings. Upcoming topics include premature death, child poverty and teen birth rates.  
We'll also be releasing more in-depth analyses on violence, the social determinants of health and more.
We want to know what you think about the county health rankings! Share your thoughts and feedback, and how your community is working to improve health, through social media using the hashtag #healthrankings (for national discussion) or #cohealthrankings (for Colorado and CHI posts).
---
Find Sara Schmitt on Twitter: @CHI_SaraS
---
Want more information about health and health policy in Colorado? Subscribe to our newsletter or find CHI on Facebook and Twitter
---
Related Research:
Twitter
Douglas County is number one for health in a new ranking of Colorado counties
Twitter
CHI launches a series of blogs exploring the 2018 County Health Rankings