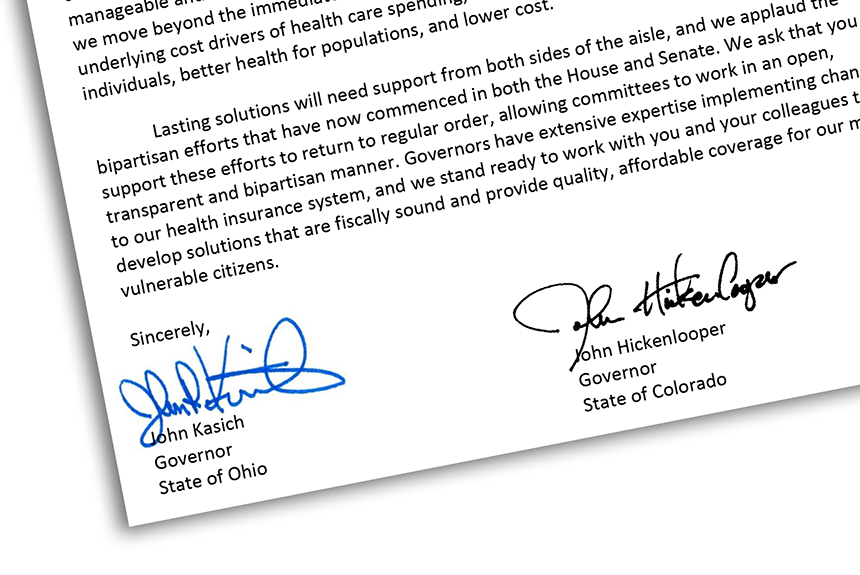 The Affordable Care Act stabilization plan offered this morning by our Democratic governor, John Hickenlooper, and Ohio's Republican governor, John Kasich, falls squarely into the "keep and fix" camp.
Will it win over enough of the "repeal and replace" crowd?
There's a lot to like in the bipartisan plan offered by Kasich and Hickenlooper, or "Kasichlooper" if you spend any time on Twitter. Six other governors — four Democrats, one Republican and one independent — have signed on.
The blueprint earns its bipartisan cred by keeping parts of the Affordable Care Act favored by Democrats, such as continuing federal cost-sharing payments through 2019 and maintaining the individual mandate, while adding some free market-influenced ideas that appeal to Republicans, such as tax breaks for insurers to encourage competition in underserved counties.
It focuses narrowly on stabilizing the individual insurance market, staying away from the proposed changes in Medicaid funding that so sharply divided the parties during the dramatic House and Senate debates over the past months. See our policy analysis for more details of the plan.
Democrats and centrist Republicans, especially, may find themselves able to broadly support the plan. Conservative Republicans will be less enamored. For many, they can't abide the individual mandate in any form, and it could make this proposal a nonstarter. The Kasichlooper drafters clearly anticipated this objection, offering to keep the individual mandate "for now."
As a thought experiment, consider how this will play close to home. Hickenlooper will try to convince Colorado's two senators. Democrat Michael Bennet, a consistent ACA supporter, will most likely support many of the Kasichlooper ideas. Republican Cory Gardner? We're anticipating a much tougher sell.
It's notable that Hickenlooper and Kasich weren't able to lure as many governors as they had hoped to join their plan. And while it is surely bipartisan, it has a definite Democratic tilt.
Still, the timing could be good for a bipartisan plan. It arrives as Obamacare's popularity is at an all-time high, with a new poll showing favorable views from 52 percent of the public, up nine percentage points from November, according to the Kaiser Family Foundation. And many members of the House and Senate no doubt would like to avoid a repeat of the recent partisan health care battles that opened so many wounds.
The Kasichlooper plan could appeal to many of them. While it may be unusual because of its bipartisanship and its origin at the state level, it is conventional in keeping most of the ACA and offering pragmatic fixes to stabilize the market.
So, we're left with this question. Just how serious are members of Congress about moving forward with health care reform? If they are indeed serious, this plan could offer a way forward.
No matter what happens, though, this is a bold attempt that reignites the debate, presents pragmatic (if sometimes untested) ideas and offers a much-needed vision of bipartisanship in a divided time.
Twitter
Governors' plan challenges Congress on fixing health markets. A new CHI blog.