The U.S. Senate has released a new bill to repeal the Affordable Care Act (ACA).
The Colorado Health Institute has a team of a dozen analysts working to determine how the Better Care Reconciliation Act might affect Coloradans. The team has answered some of the biggest questions about the proposed Senate bill. Click on the Q&A document below.
And more analysis is on the way. Meanwhile, click here to read the bill.
Please join us Wednesday, June 27 at 11 a.m. for a webinar on our analysis of the bill. Register here. (This is a repeat session added to meet demand when the June 26 webinar was overbooked.)
Several features of the Republican bill include:
Cuts to Medicaid eligibility and changes in how the program is funded.
Cuts to tax credits for private coverage.
Helping insurance companies through high-risk pools or subsidies for reinsurance.
Repeal of taxes levied by the ACA.
CHI is producing a series of reports, graphics and presentations to track the bill as it progresses and changes through the House and Senate.
---
Research on the Senate Bill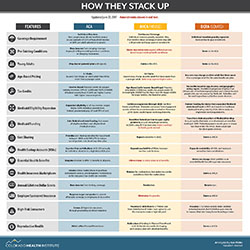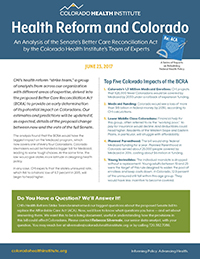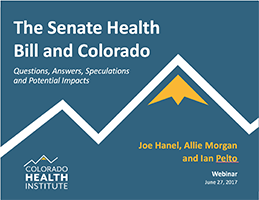 ---
Research on the ACA and the House Bill
Several features of the House Bill, the American Health Care Act, are present in the Senate's Better Care Reconciliation Act.