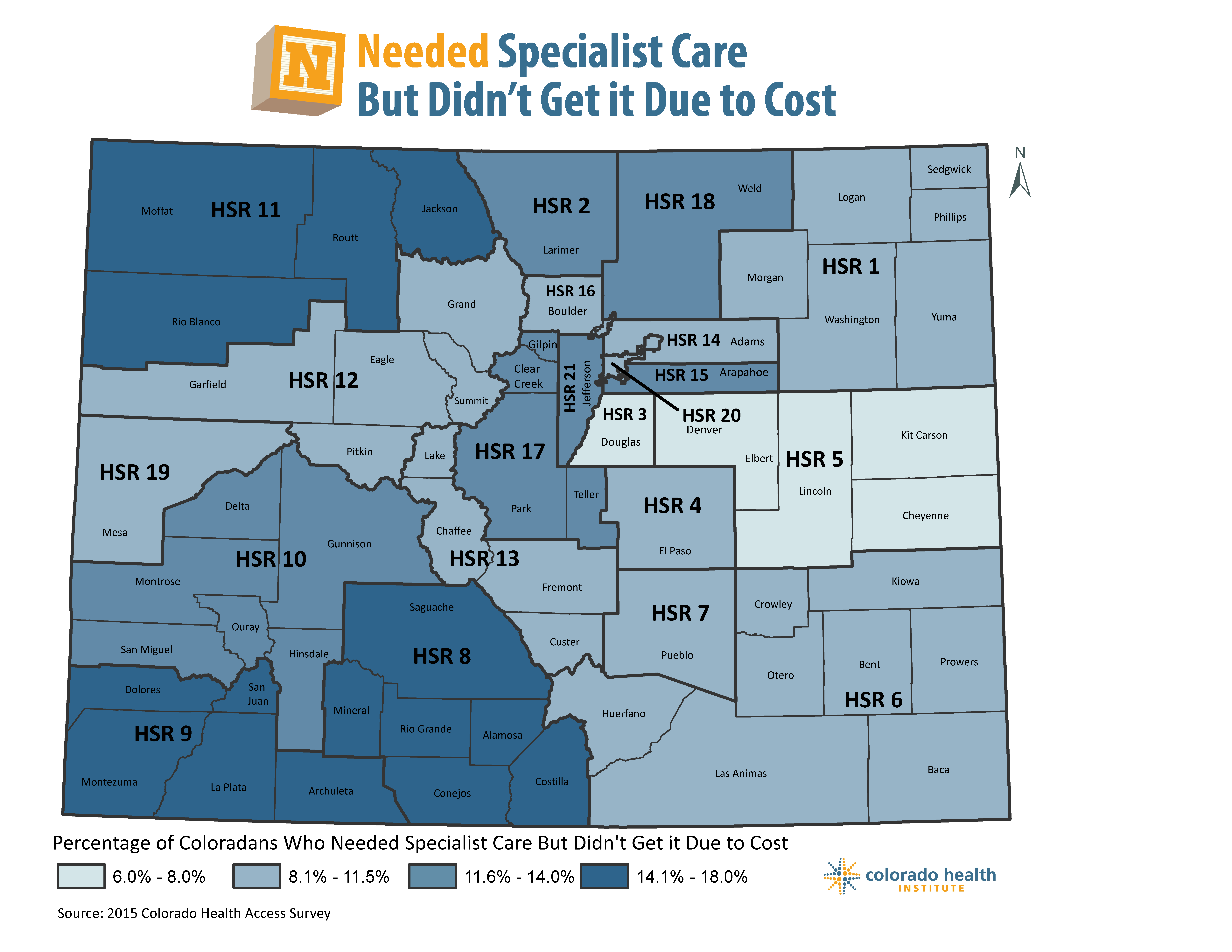 The ACA was intended to make health care, including specialty care, more affordable. But the 2015 Colorado Health Access Survey (CHAS) revealed that even after the ACA helped half a million Coloradans get health insurance, the proportion of patients that passed up needed specialty care because it cost too much dropped by very little.
In 2013, 11.9 percent of Coloradans reported forgoing needed specialty care because it was too expensive. That percentage stood at 11.0 percent in 2015.
The areas where the fewest residents skipped needed specialty care due to cost were Douglas County and its eastern neighbors in Health Statistics Region (HSR) 5, which includes Elbert, Kit Carson, Lincoln and Cheyenne counties
Three areas struggled the most to afford specialty care: the northwest corner (HSR 11), the southwest corner (HSR 9) and the San Luis Valley (HSR 8). These regions are home to many residents with the lowest incomes and a high proportion of residents are on Medicaid. They also have some of the state's highest uninsured rates, further barring residents from affordable specialty care.
Notably, these three areas are rural. Rural areas face an additional barrier to affordable specialty care, because they frequently have a hard time recruiting and retaining specialists. The few specialists who practice in rural regions can charge more for their services.
And while less than eight percent of Douglas County residents are insured by Medicaid, more than a third of residents in the San Luis Valley are Medicaid clients — the highest proportion in the state. Although Medicaid enrollees face minimal cost sharing, one unexpected specialty care bill for an uncovered service can deter future use. It can also be difficult to find providers accepting the public insurance, particularly in these rural areas.
In the wake of ACA implementation, local and state initiatives aim to resolve obstinate issues like barriers to affordable specialty care. For example, the Mile High Health Alliance recently partnered with CHI to develop an implementation plan for a specialty care referral network pilot project to increase access to needed specialty care by underserved Denver residents.
The CHAS data in this map just scratch the surface of CHI's workforce and specialty care resources. Make sure to check out the 2015 CHAS Analysis for additional data on this important topic.