---
2016 Conference
The 2016 Hot Issues in Health Care conference focused on the future of the Affordable Care Act and health reform under a Trump Administration. 
The conference featured keynote speeches by Sarah Kliff, senior editor of Vox.com; Dr. Patricia Gabow, former CEO of Denver Health, and currently a national leader in health delivery innovation; and Colorado Lt. Governor Donna Lynne.
Former legislators Norma Anderson and Paul Weissmann joined Represantitive Joann Ginal and Senator Larry Crowder for a panel discussion about past and present health and health care policy issues.
---
2015 Conference
Keynote Speaker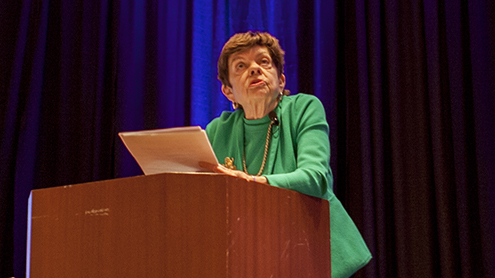 Dr. Alice Rivlin
Senior Fellow in Economic Studies at the Brookings Institution
Dr. Rivlin founded the Congressional Budget Office,  which provides nonpartisan budgetary and  economic information to support the federal budget  process, in 1975. She has also served as Vice Chair  of the Federal Reserve Board and Director of the  White House Office of Management and Budget.
She is a recipient of a MacArthur Foundation  "genius grant," among other awards. A frequent contributor to research, discussion and congressional testimony around health insurance in the U.S., Dr. Rivlin brought a valuable perspective to our discussion. We were honored to have her.