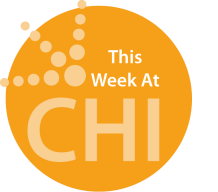 Welcome to our first installment of "This Week at CHI," a new weekly roundup of what the Colorado Health Institute is working on and where you can find staffers around the state – and the nation. We hope that it helps provide a window into a dynamic health policy world and keeps you updated on the latest issues.
First up, excitement is building for Sara Schmitt's presentation next Monday at AcademyHealth's National Health Policy Conference in Washington, D.C.  It is the premier national health policy conference, bringing together hundreds of health policy leaders from across the nation to discuss critical health care issues and policy priorities.
Sara, our Director of Community Health, will join colleagues from across the nation to discuss early findings from health reform implementation. The panel discussion is set to be moderated by Robert St. Peter, CEO of the Kansas Health Institute. Sara will present work we have done in conjunction with a field study of the Affordable Care Act in 29 states. The research is co-sponsored by the Rockefeller Institute of the State University of New York and the Fels Institute of Government of the University of Pennsylvania.
Watch for updates from the conference on Twitter (@COHealthInst) and our website (Coloradohealthinstitute.org).
Meanwhile, our legislative activities are in full swing. The first presentation of our series of health policy lunch & learns for lawmakers and their staffs is scheduled for Wednesday. "Health Coverage in Colorado: The Top Five Questions Your Constituents Are Asking About the Affordable Care Act" will be presented by Michele Lueck, president and CEO, and Jeff Bontrager, Director of Research on Coverage and Access.
The second health care lunch & learn is scheduled for February 12. Amy Downs, Senior Director of Policy and Research, will focus on market-based options to target rising health care costs. New this year, input from lawmakers on the session's most pressing health care issues will help the Colorado Health Institute choose the third topic to be presented on February 26.
Last week, Amy and Tasia Sinn, Senior Analyst, appeared before the Joint Health Committees to let them know about the data and information we have available to assist lawmakers in making informed and evidence-based decisions.
Also this week:  
Jeff will share results from the Consumer Assessment of Healthcare Providers and Systems (CAHPS) survey, administered to enrollees in the Medicaid Accountable Care Collaborative. The survey on how patients in the new program experience health care was overseen by CHI and the Colorado Department of Health Care Policy and Financing (HCPF) with funding provided by The Colorado Health Foundation and HCPF.
Work on The Colorado Health Foundation's 2013 Colorado Health Report Card is underway, led by Sara and analyst Natalie Triedman, as the launch date draws nearer. This year's Report Card will include downloadable data workbooks.
Sara and Natalie are preparing a two-page report using data from the Colorado Health Access Survey (CHAS) for National Children's Dental Health Month – observed each February.
Follow-up work is underway after last week's successful learning lab meeting of the Safety Net Advisory Committee (SNAC). More than 40 attendees discussed new regional data from the Accountable Care Collaborative and results from the CAHPS survey.
Check out our website for the weekly insight written by research assistant Tamara Keeney based on 2013 Colorado Health Access Survey data. This week, she highlighted data showing that black Coloradans lag in coverage and health outcomes.
In addition, Tim Dunbar, Director of Finance and Administration, is going through many applications for a senior analyst opening.
For more CHI happenings, make sure to follow us on Twitter and like us on Facebook.