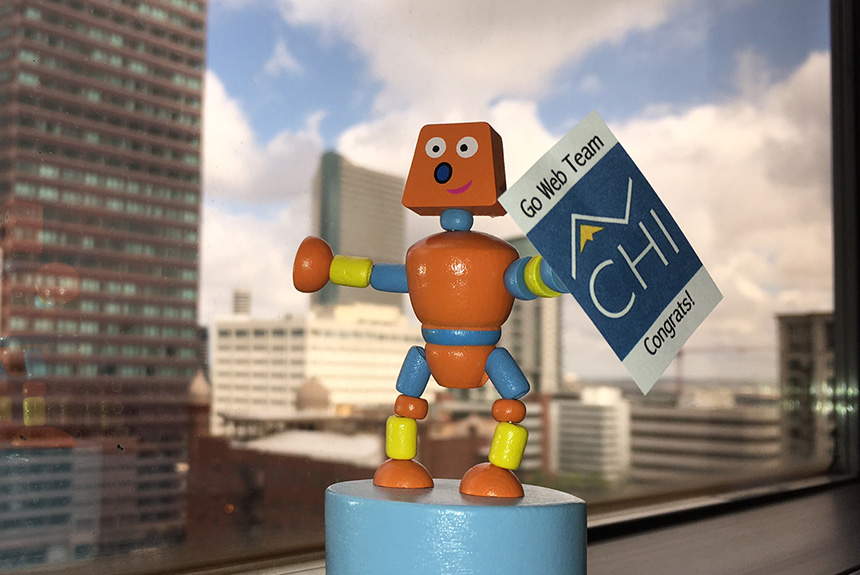 Scenes from a website redesign:
Team CHI setting up remotely in the back room of Fluid, our neighborhood coffee shop here in Uptown, learning the ins and outs of the Drupal content management system. (That's the extent of my website geek talk.) A river of caffeine fueled this project. Plus some pretty good pizza.
Watching Leo Kacenjar, our whip smart website developer from Open Media Foundation, show us how to create a "scrolly-telling" report, a major upgrade that means our viewers no longer have to read those old-school PDF versions. Leo is entertaining.
Telling each other stories from the last redesign five years ago. That's about a hundred in web years.
We are so proud to launch CHI's updated and refreshed website today. We wanted it to be clean, crisp, impactful and easy to use. We think it is.
Our laser focus every day at CHI is doing the research, conducting the analysis and gathering the data and knowledge to support sound health policy and a healthier state. We wanted our website to be a showcase for this important work. We think it is.
We're a small but mighty group of about 20 people. We take a great deal of pride in producing a steady stream of research and publishing it when it's most needed by Colorado's policymakers and health leaders. So please return to our site often for the latest on health policy, because it's not like anything is happening in health policy, right?
We are thrilled to have the flexibility to be even more creative in how we communicate our work. Watch for more infographics and interactive maps and data dashboards and things we probably don't even know about yet.
So, please take a minute or five or 10, and explore our site. Here's a good place to start. Let us know what you think.
Meantime, I'd like to introduce you to the Best. Communications. Team. Ever.
Joe Hanel: Joe, our manager of public policy outreach, is a man of many talents. And at CHI, he often has to use them all at the same time. A longtime reporter at the Colorado capitol, Joe contributes valuable insight into the legislative process. He is a lovely writer and a talented designer. And he's turned into an outstanding policy analyst in his spare time. Joe agreed to lead our website, both during the redesign process and now that it's online. Turns out he's a detail-oriented project manager on top of all those other things. You should have seen some of his spreadsheets.
Brian Clark: Brian, our manager of creative services, never fails to amaze. He is the driving force behind CHI's distinctive visual look. It's no accident that the word "creative" is in his job title. Creativity happens like magic when Brian's involved. Brian designed CHI's new logo, selected our new type font and updated our color palette. He jumped in with page design on the new site and helped us achieve our simple but elegant new look. And, to top it off, his talented wife Sally took our staff portraits. Read this discussion with Brian about CHI's new logo.
Tamara Keeney: Tamara, a policy analyst, moonlights as our website data guru and all-around web updater and rock star. She jumped in to make sure that the data section on the new website is filled with useful health data that is easy to find and easy to use. Even though she has a full-time CHI job as a policy analyst, Tamara never fails to find time to be a key member of the communications team. One example: She taught herself coding to keep our last website updated. We are proud that she has been accepted into the LBJ School of Public Affairs at the University of Texas at Austin. But we will miss her.
Maggie Bailey: This is a bittersweet day when it comes to Maggie, a research analyst and an important member of our team. It's the launch of the new website she has worked so hard to create, but it's also her second-to-last day at CHI. Maggie is soon off to a new adventure teaching math in Thailand. We tapped into her math and computer expertise a lot during this project. Maggie quietly gets things done, often figuring out how to do it when no one else can. Good luck, Maggie!
Chrissy Esposito: Chrissy, our data visualization and policy analyst, couldn't have joined CHI at a more opportune time. She came to us as an intern last summer after earning her master's degree in public health at Colorado State University. She arrived with great GIS mapping skills and has literally taught herself how to create data dashboards using Tableau Software. There was a lot of YouTube viewing going on in Chrissy's office. She may be the most determined person I have ever met. Chrissy will be Joe's No. 2 on the website going forward.
Ian Pelto: Ian was a Public Interest Fellow from Colorado College when this project started. By the time it ended, he had been promoted to a research analyst. That was great news for the communications team. He jumped in to take charge of our social media postings, particularly on Twitter. But his contribution has gone far beyond that. Ian is responsible for a great deal of the research that we posted on our new site, translating it from the old format into the new format. He always had great ideas and he made the site better, all while working on many other projects.
Finally, we had constant and ongoing support and encouragement from our CEO, Michele Lueck. And the rest of our CHI colleagues have been our biggest cheerleaders.
But the greatest reward for us will be using the website to share our work. Health policy has never been more important, and we hope our new site provides the platform to analyze the crucial questions we are facing today.