No, you're not mistaken. Something really does look different.
You have discovered the Colorado Health Institute's new website. It's been nearly a year in the making, developed in partnership with Open Media Foundation in Denver. 
This is more than a cosmetic makeover. We heard frequently that our data and analysis have been too hard to find, so we tried to solve that problem by making our new site simpler and easier to search.
The new site also gets out the word about CHI's services — both our free Community Benefit Services and our fee-based Expert Consulting Services.
And it works well on mobile phones. The screen resizes automatically, so no more zooming and swiping to read the page.
Here's a brief guided tour of the new site. Questions or comments? Please let us know at info@coloradohealthinstitute.org. (We really do read those emails!)
---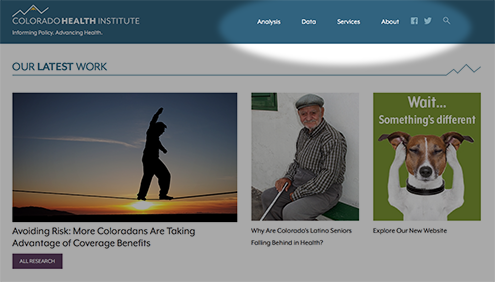 A Simplified Menu
Explore our four easy-to-follow options:
Analysis: This is the place to find our renowned reports.

Find our blog, Analysis With Altitude, in a submenu under Analysis.

Data: Here is the place to find raw data to support your own analysis and planning.

  Check out our new County Health Profiles map in the submenu under data.

Services: Learn how CHI can help your organization tackle difficult health policy problems.
About Us: Here's where to find everything about CHI, from our experts, board and funders to careers at CHI and how to contact us.
Below, we look at each section in a bit more detail.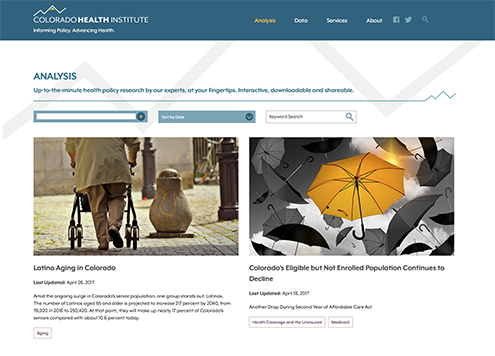 A Showcase for Analysis
Here you will find the dozens of reports that CHI produces every year.
By default, you'll see the newest reports first. To browse different topics, try out our new filtering and search tools (highlighted at right). You can look through two dozen broad topics, from Access to Care to Substance Use. Or enter a search term of your choice.
Click on a report, and you'll see that our newest reports will be presented in full on the web page. Previously, readers had to download PDF files to read the reports. We're also using more interactive maps and graphics. (Don't worry, PDF fans. Downloadable versions of every report are still available. Just click on the report icon or scroll all the way down the page.)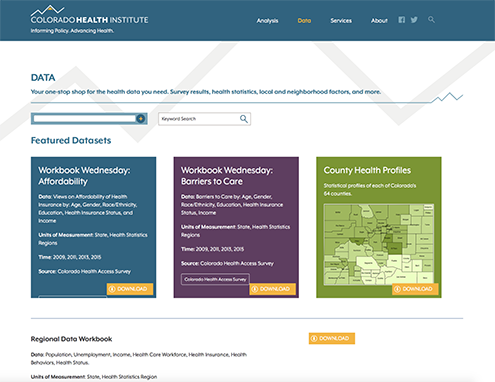 Your Data, Easily Accessible
We know that many Colorado health experts turn to CHI for raw data to help them complete needs assessments, grant applications and other important tasks.
We designed a new Data section with the goal of making it as easy as possible to find the numbers you need. Just click on a dataset to download the spreadsheet.
Here you'll find statewide and regional data from CHI's Colorado Health Access Survey, as well as the Colorado Health Report Card and selected data from state government agencies and the U.S. Census Bureau.
Click on the green box in the upper right to see an interactive county map. And don't miss our County Data Workbooks, with 75 health-related data points for every Colorado county.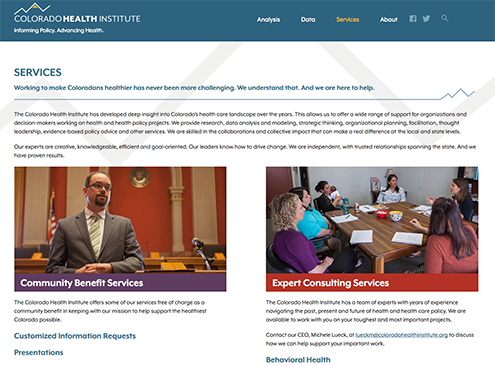 How CHI Can Help You
CHI has always made our in-house experts available to help partners on specific projects, both on a contract basis and free of charge though our community benefit mission. We just didn't draw attention to this part of our mission on our old website.
This site features a brand new section that details our consulting work and lists the 17 categories of services we offer.
You can also use this page to find our staff experts in each of these areas.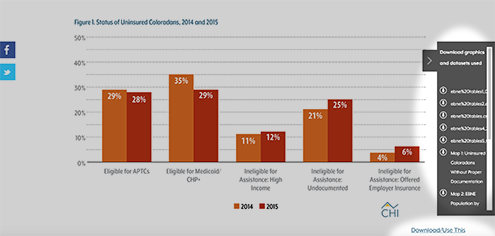 Like it? Use it!
It's easier than ever to use CHI's graphics in your reports and presentations. Look under our graphics and tables for the Download/Use This link. It opens a new page with a high-resolution graphic, which you can save to your computer like any other file.
You also can use the gray popup box on the right side of the screen to find graphics and data used in each report, as well as a PDF version of the full report. Both download methods are highlighted in the picture to the right.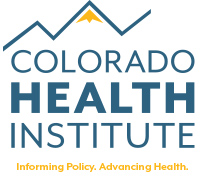 A New Look, an Established Reputation
Finally, CHI has updated its wardrobe with fresh colors and a more modern look.
The new logo by Brian Clark, our manager of creative services, calls attention to our Colorado setting at the top of the continent, CHI's passion for data and analysis and our emphasis on improving health for all.
Brian also expanded our color palette, drawing inspiration from Colorado's own colors as they change throughout the seasons.
All of us at CHI want to serve as Colorado's most trusted name in health policy evaluation and analysis. Thank you for taking the time to look at our new website, and please let us know how we can partner with you to advance health for all of Colorado.