Michele Lueck, our CEO, was a panelist last week during a conference at the University of Pennsylvania looking at early results of a national study tracking the implementation of the Affordable Care Act.
She was joined during "Obamacare: What's True? What's False? What's Next" by a number of speakers, including Dr. Alice Rivlin and Dr. Elaine Kamarck of the Brookings Institution, Dr. Stuart Butler of The Heritage Foundation, Joe Klein of Time magazine and E.J. Dionne Jr. of The Washington Post.
CHI is one of the field research organizations across the nation helping to document and analyze the implementation of the Affordable Care Act. The project, led by Dr. Richard Nathan, is a collaboration of the Rockefeller Institute of Government at SUNY-Albany, the Fels Institute of Government at the University of Pennsylvania, and Brookings. The first round of studies focusing on the western states, including the Colorado chapter written by CHI, are posted here.
Michele was a member of a morning panel titled "Making the ACA Work: The View from the States." Fellow panelists included Donna A. Friedsam, health policy programs director at the University of Wisconsin Population Health Institute, Dr. Michael Morrisey, professor at the University of Alabama at Birmingham School of Public Health, and Dr. Micah Weinberg, senior policy advisor of the Bay Area Council.
Sara Schmitt, Director of Community Health Policy, and Deborah Goeken, Senior Director of Operations and Communications, attended the conference as well. This photo shows Michele and Sara with Dr. Rivlin.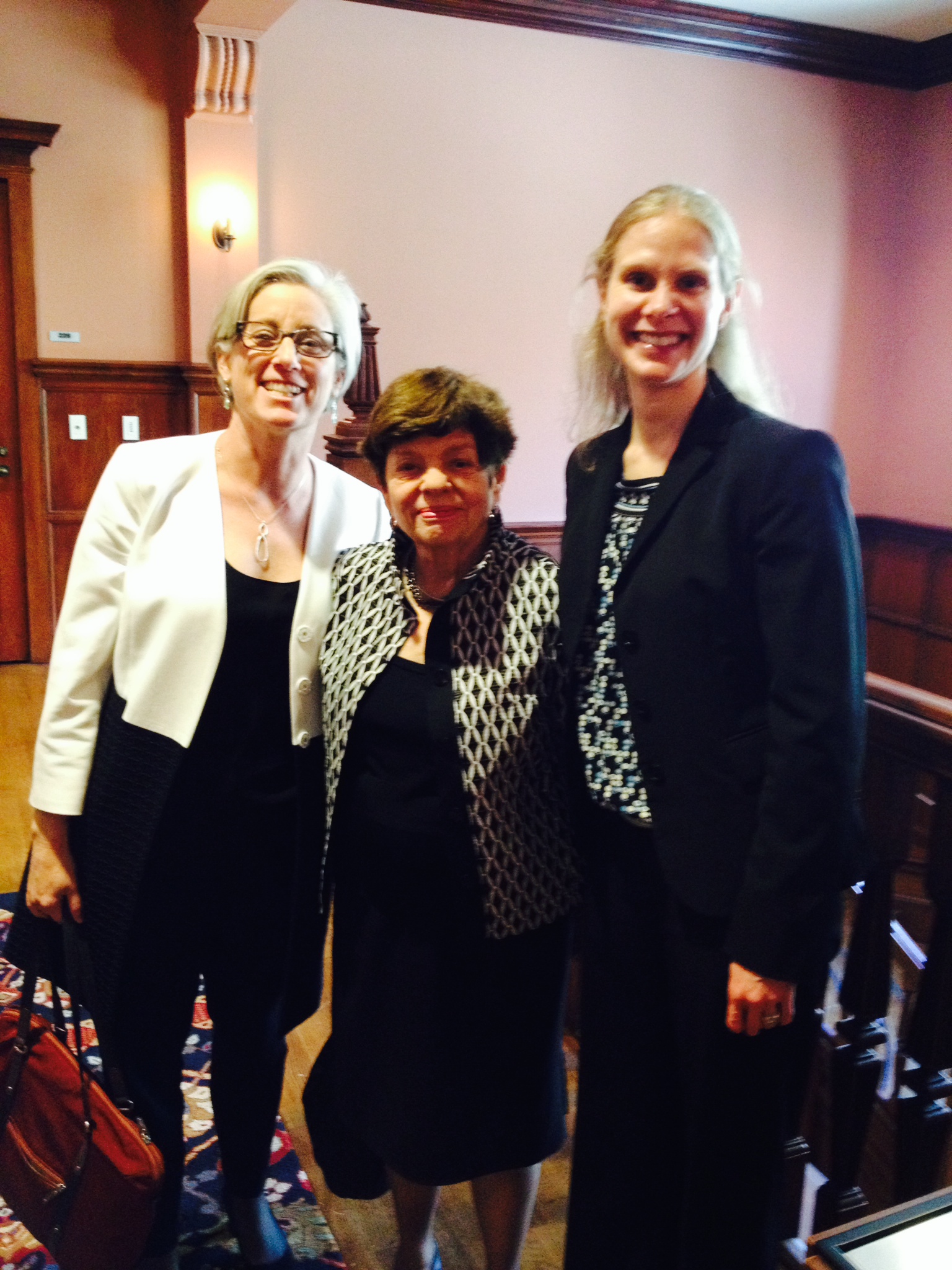 Looking ahead, we're hard at work analyzing data from the 2013 Colorado Health Access Survey (CHAS) for our series of briefs and longer reports to be released throughout the year. Last week, we published a report titled "Analyzing Lower Rates of Health Insurance among Colorado's Hispanic Adults: Factors Associated with the Disparity." The study quantified the factors associated with a 14.5-point gap in health insurance coverage between Hispanic and non-Hispanic adults. The results? Citizenship status is the largest measurable factor associated with the coverage gap in Colorado. Read the brief here.
Later this week, we will release a new CHAS Survey Snapshot written by Jeff Bontrager, Director of Research on Coverage and Access. The brief analyzes the burden of medical bills on Coloradans – including who is most likely to be effected, where they live and how the burden affects them. Until then, read the first two Survey Snapshots of the year on children's oral health and the challenge of churn.
We also plan to publish an "eligibility atlas" later this week. The report will include a number of maps showing which Coloradans are eligible for but not enrolled in Medicaid or the Child Health Plan Plus (CHP+), as well as those who qualify for tax credits on insurance purchased through the state marketplace, Connect for Health Colorado. The population will be described in terms of geography and such demographic characteristics as education and employment.