Colorado will continue the higher Medicaid reimbursement rates for primary care doctors included in the Affordable Care Act, making it one of six states to do so. (1)
As part of the ACA, the federal government issued a two-year increase in reimbursement levels for some primary care services, an incentive for more doctors to treat Medicaid enrollees. States received more than $11 billion in 2013 and 2014 to cover the cost of matching Medicaid reimbursements to Medicare reimbursements, which are higher, in order to achieve parity between the public insurance programs.
Before the temporary increase, Colorado doctors treating Medicaid patients were paid about 71 cents for every $1 they would have received for providing the same services to Medicare enrollees.
The ACA reimbursement subsidies are set to expire at the end of the year, and it's unlikely they will be extended. (2) States electing to extend the reimbursement parity must earmark the funds to support those levels or revert to 2012 levels. Colorado and five other states have decided to fund the higher rates (see Map 1).
Colorado's legislature approved using $18.4 million in general fund money that became available when the federal government increased its share of Colorado's Medicaid costs from 50 percent to 51 percent. The legislature specified that the rate parity would continue through fiscal year 2015-16.
Colorado faces challenges in caring for the increasing number of Medicaid enrollees. Enrollment has spiked in 2014, reaching nearly 1.1 million people. A Colorado Health Institute study shows that Colorado enrollees may have difficulty finding a clinician who accepts their insurance (see Chart 1).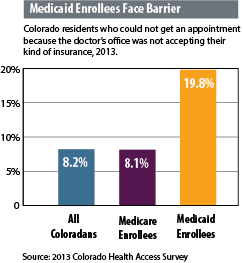 The higher pay for doctors accepting Medicaid is one step in ensuring access to care. The big question: Will continuing the higher Medicaid reimbursements help ensure an adequate supply of doctors to care for the program's enrollees in Colorado?
So far, few studies have measured the impact of higher rates on doctors' willingness to accept Medicaid. A 2012 study found that doctors in states with higher Medicaid reimbursement rates were more willing to accept new Medicaid patients, although the relationship was modest. For every increase of 10 percentage points in the payment ratio – for example, increasing reimbursement from 71 cents to 81 cents for Medicaid compared to $1 for Medicare – a state could expect to see a four percentage point increase in doctors accepting Medicaid enrollees.
---
(1) Two additional states, Alaska and North Dakota, had increased Medicaid reimbursement rates independently before the ACA provision took effect.
(2) A bill (the Ensuring Access to Primary Care for Women and Children Act, S.2694) that would extend the Medicaid reimbursement raise through 2016 has been introduced in the Senate, but it faces extremely long odds to pass.