The leaves are changing, and so is the way some patients are paying for hospital care in Colorado.
The number of Medicaid enrollees visiting hospitals is going up, while the number of charity care and self-paying patients is going down in Colorado and the other 16 states that have expanded eligibility for Medicaid, according to studies by the Colorado Hospital Association and the U.S. Department of Health and Human Services.
Hospitals in states that have not expanded Medicaid eligibility aren't experiencing this pattern, the studies found.
In Colorado, the number of emergency department (ED) visits by Medicaid enrollees increased 38 percent from the first quarter of 2013 to the first quarter of 2014. Medicaid visits continued to increase in the second quarter of 2014, albeit at a slower rate than in the first quarter. The influx of Medicaid enrollees from the expansion explains this surge.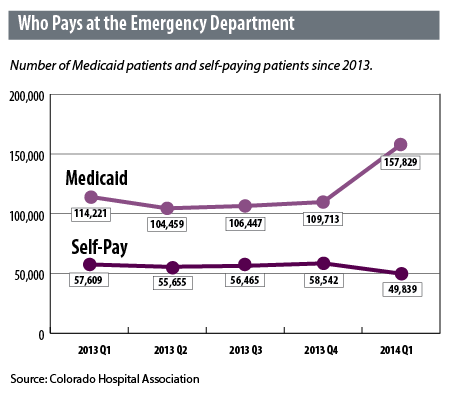 A study tracking the first 18 months of the Oregon Medicaid expansion also found a 40 percent rise in ED visits by Medicaid enrollees. It is possible that Colorado and Oregon experienced a quick upturn in ED visits because of pent-up demand that will subside over time. But Medicaid enrollees tended to use the emergency department more frequently than people with commercial insurance even before expansion. In 2013, 36.3 percent of Medicaid enrollees used the emergency department at least once in the past year compared with 16.6 percent of people with commercial insurance.
The decrease in hospital visits by self-payers and charity care patients may reflect the expected drop in the number of uninsured Coloradans and a probable decline in uncompensated care for hospitals. The Department of Health and Human Services estimates that uncompensated care costs will drop 16 percent in 2014, totaling $5.7 billion.
Uncompensated care is the combination of bad debt, when people do not pay for services billed, and charity care, when hospitals furnish services at discounted rates. These expenditures are incurred when uninsured or underinsured people visit the hospital. The potential decline in uncompensated care is important because federal reimbursements to cover this care, also known as Disproportionate Share Hospital (DSH) financing, is being scaled back. The federal government reasons that as hospitals have less uncompensated care, they do not need the same level of federal financial support from DSH financing.
Many policy experts say high rates of uncompensated care result in cost-shifting and more expensive premiums. Under this theory, hospitals absorb the costs of uncompensated care and in turn charge insurance companies more for services, which in turns pushes health insurance premiums higher.
However, some leading health care economists, including Uwe Reinhardt of Princeton and Austin Frakt of Boston University, question the validity of the cost-shift theory because it implies that hospitals "leave money on the table" during negotiations with health plans, only asking for higher rates when uncompensated care heads higher.
The Colorado Health Institute will continue to watch and evaluate the impact that reductions in uncompensated care have on commercial insurance payments for hospital services.