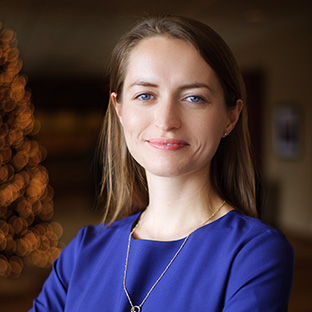 Favorite Quote
"If you don't like something, change it. If you can't change it, change your attitude."
Maya Angelou
Alex Caldwell
Director
Alex Caldwell joined the Colorado Health Institute in August 2016 as a policy analyst. Now a Director, she specializes in program development and analysis on emerging health policy issues both in Colorado and nationally. Her work ranges from managing CHI's research on new models of health care in Colorado to leading Safety Net Advisory Committee (SNAC) Labs, an ongoing series of learning labs focusing on issues impacting the state's safety net.
Previously, Alex worked on designing and implementing performance measurement frameworks at the Global Fund to Fight AIDS, Tuberculosis & Malaria, based in Geneva, Switzerland.  At the Global Fund, Alex worked with technical groups to design indicators and data systems measuring the impact of the Fund's $4 billion annual disbursements to programs around the world.  She also helped the Global Fund's management executive team and board develop strategic priorities.
Prior to her time abroad, Alex worked on data and evaluation issues in education and health.  She taught ninth grade science with Teach for America at New Orleans Charter Science & Math High School, and coordinated prostate cancer drug trials at the Tulane University Cancer Center.  In San Francisco, Alex supported strategic operations and data systems for Beyond 12, a national non-profit organization aiming to increase the number of first generation and low-income students graduating from college.
Alex earned her master's degree from the Columbia University Mailman School of Public Health.  She focused her graduate work on comparative effectiveness and outcomes research in health policy.  Alex holds a Bachelor of Science degree in biology from Dickinson College.  She is a Maryland native.