The Summer Olympics will kick off Friday in Rio de Janeiro, Brazil, and it's a historic time for the Games.  This is the first time the Summer Olympic Games will be hosted in a South American city.  Of the more than 10,500 athletes competing, three of them will be competing for South Sudan for the first time, and eight will fly the Summer Olympics' first Kosovo flag.
Another historic element to this year's Games is the presence of the spreading Zika virus.  Hopeful spectators and athletes are reconsidering their travel plans as a result of the outbreak.  In the case of athletes, that becomes a question of whether to compete in Rio at all.
Coloradans aren't immune to the concern of Zika, with nineteen cases confirmed in the state.  All of the Colorado cases were most likely contracted while travelling to a Zika-affected country, such as Brazil.
What do we know about Zika to date?
The Zika virus is spread largely by infected mosquitoes biting people.  It is now also understood to be sexually transmitted by both men and women.
Zika, when contracted during pregnancy, can cause birth defects.  Researchers are exploring the possible relationship between Zika and Microcephaly, a birth defect where the baby's head is much smaller than expected.  Pregnant women are being advised to delay travel to any Zika-affected area given these concerns
Only one of five people who contract Zika will have symptoms.  As a result, most people who become infected won't know, meaning infection rates are most likely many times higher than have been reported. Generally, symptoms are minor, such as fever, rash, joint pain and red eyes
Colorado's 19 cases represent a small portion of the 1,825 people in the continental U.S. and Hawaii who have been diagnosed with Zika as of August 3, according to the Centers for Disease Control and Prevention (CDC).  Florida has been hit especially hard, with nearly 20 percent of the diagnosed cases.
At least 479 pregnant women have been diagnosed with Zika.  Fifteen babies in the U.S. have been born with Zika-related birth defects, and six pregnancies have been lost to miscarriage or abortion due to Zika.
While it's true that most people who contract Zika won't experience any symptoms, there remains a worry about neurological complications.  Anyone infected with Zika can develop Guillain-Barré Syndrome, causing temporary paralysis.  And of course, infected pregnant women put their fetuses at risk for microcephaly.
For the first time, the Zika virus is being contracted from mosquitoes within the continental U.S.  These 15[i] "homegrown" cases captured as of August 3 have all been identified within a single Miami neighborhood.  In a historic decision, American public health officials are advising pregnant women to avoid travel to that neighborhood.  This is the first time in its history that the CDC has issued a recommendation against travel within the continental U.S.
Olympians are declining invitations to the Games, including Boulder cyclist Tejay van Garderen, and the CDC is recommending against travel within the continental U.S.  What does this mean for Colorado? 
A fully-blown outbreak is unlikely here since the disease is spread by a non-native mosquito, the tropical- and subtropical-native Aedes aegypti.  While federal health officials anticipate additional clusters of Zika cases in the U.S., it's unlikely it will mirror the extensive epidemic that Brazil has experienced.
Regardless, Colorado continues to prepare.  The CDC awarded $253,357 to the Colorado Department of Public Health and Environment's Office of Emergency Preparedness and Response on July 1. This funding, spanning from July 1, 2016 to June 30, 2017, will focus on sharing information related to Zika, as well as the creation of a community outreach campaign to strengthen community recovery and resilience.  Given the low likelihood of a Zika outbreak in the state, Colorado is targeting the grant's preparedness activities towards people traveling to Zika-affected areas. 
Currently, there is no treatment or vaccine for the Zika virus.  As a result, the best treatment is prevention.  People should avoid mosquito bites by wearing clothes that cover their arms and legs, and by using mosquito repellent. 
In addition, the CDC is now recommending that all pregnant women in the U.S. be assessed for possible Zika exposure during every prenatal visit.  Local Colorado care providers are offering blood tests to pregnant women who have traveled to countries affected by Zika.  Blood tests results take two to three weeks. 
Pregnant women are advised not go to the Olympics in order to avoid risks to their fetus.  With the new Florida cases, women and men who have traveled to Wynwood since June 15 are being advised to wait at least eight weeks before trying to get pregnant.
The Zika virus can remain in the body long after infection, even without symptoms.  Consequently, condom use is recommended for people who intend to have sex with a partner who has lived in or traveled to a Zika-affected area.
The CDC has also outlined specific measures for preventing ongoing transmission after travelers return from Rio.  Any travelers are recommended to prevent mosquito bites three weeks after leaving Brazil even if they are asymptomatic.  Men who travel to the Olympics should consider using condoms or abstaining from sex for eight weeks even if they do not get symptoms of Zika.
Whether cheering on the Olympians from Rio or from the Rockies, Coloradans can protect themselves and others from Zika.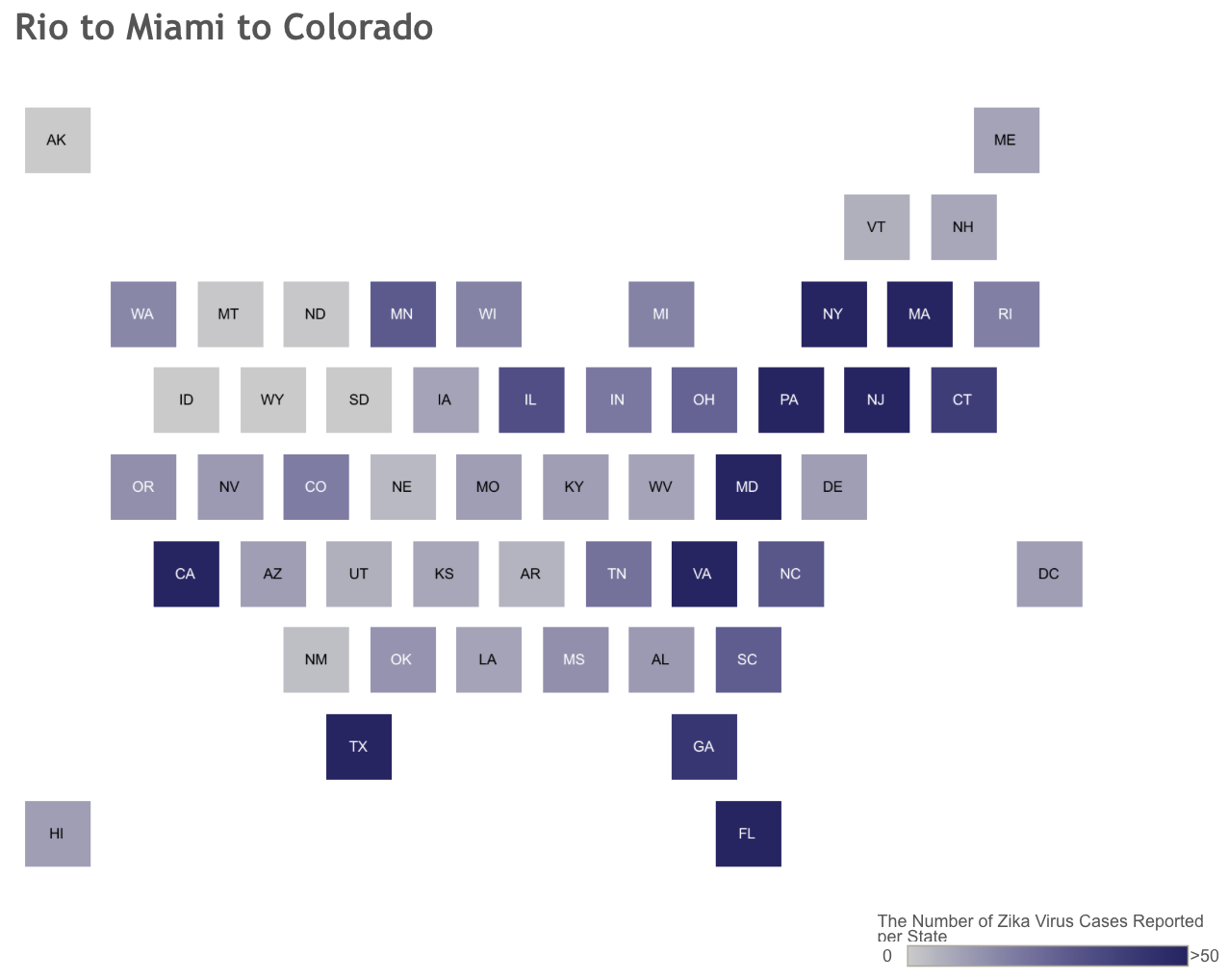 Zika Virus is on the move.  Even though the Zika virus is carried via a tropics-dwelling mosquito, infections are being reported across the nation.  Almost all cases have been travel-related, with only a small portion of cases being "homegrown".
Note that that these reported case figures are likely to represent only a small portion of actual infections.  Only one in five people infected by Zika actually experience symptoms.  As a result, most people carrying the virus will go undetected.
---
[i] 6 of these cases are laboratory-confirmed at time of writing.