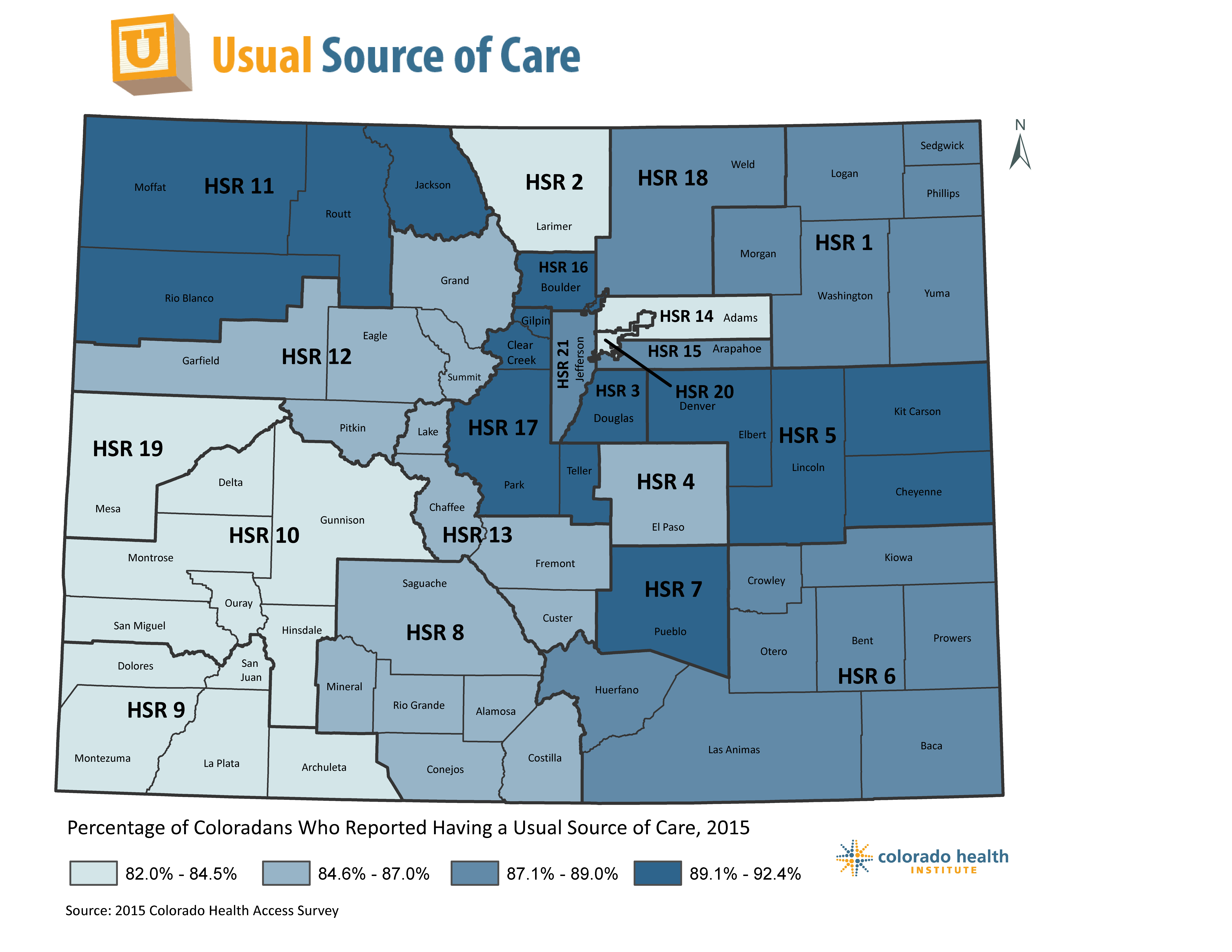 When I moved to Denver last month, everything felt foreign to me. I had to use a GPS to find my new house, and didn't know what Five Points was until someone told me I lived there.
The most challenging part was leaving people and resources that I had become accustomed to, including my health care network.  Now I have to find a new doctor, a new dentist and have my records transferred from my old providers.  
I am an EMT and am familiar with the Colorado Springs hospitals, so it felt strange not knowing where I would go if I got sick in Denver.
But for many Coloradans, this is an ongoing challenge. Thirteen percent of Coloradans say they do not have a usual source of care, according to the 2015 Colorado Health Access Survey. This is down from 17 percent in 2013, most likely reflecting the increased number of Coloradans with health insurance.
Having a usual source of care — a doctor that you regularly visit — has been shown to improve the quality of health care. Your doctor becomes familiar with you and your health care needs, is able to focus on preventive care, and coordinate any follow-up appointments with specialists.
For instance, managing diabetes is tricky and requires multiple check-ups. Identifying changes or patterns in your heath can be very difficult if you do not have a doctor that you usually see.
On the Western Slope, in health statistic regions (HSRs) 9, 10, and 19, which stretches from Mesa County down to the Four Corners, more than 15 percent of residents report that they do not have a usual source of care. One possible reason is that this region has seen a big spike in Medicaid enrollment, climbing by 49,000 members from 2013 to 2015. Some of these new enrollees may be having difficulty finding a provider in their rural area that accepts their insurance.
It's not uncommon for insurance to play into this conversation on usual source of care. Across Colorado, commercially insured residents are more likely than many other insurance types to report having a usual source of care at nearly 90 percent. For Medicaid enrollees, that rate drops six percentage points to 84 percent. The group least likely to have a usual source of care is the uninsured, with just over half reporting a usual source of care.
The metro Denver area has many providers compared with more rural regions of the state. Even so, one of five residents of Denver and Adams counties reports they don't have a usual source of care. Why would so many residents of these urban counties lack a usual source of care if there are so many options?
With Denver's population growing by almost 13,000 between 2015 and 2016, new residents may not have found a primary care doctor yet. However, with some of the highest rates of uninsured and underinsured residents, it may simply be that that they cannot afford to regularly see a doctor. This trend may also be a reflection of the coverage landscape in Denver, which has an uninsured rate above the state average and also skews high when it comes to Medicaid.
On the other end of the spectrum, 92 percent of Douglas County residents (HSR 3) said they have a place they usually go for health care. Douglas County is one of the most affluent counties in the state and has fewer residents who are uninsured.
 Many factors can play into why a Coloradan might not have a usual source of care. But the CHAS data show that this is an important health policy issue to address as the state moves from getting more people covered with health insurance to making sure that they understand how to access a usual source of care.
A number of efforts across Colorado are working to improve access to usual sources of care, including telehealth clinics in rural and underserved areas and medical homes that aim to coordinate patient needs.
Read CHI's 2015 report, Colorado Medical Homes Creating Healthy Connections, published in collaboration with the Colorado Health Foundation, and CHI's 2014 brief Health Care for a High-Tech World: The Potential for Telehealth in Colorado for more information on these important topics.