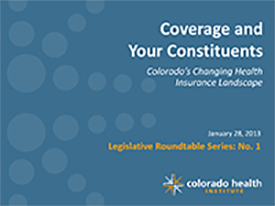 Each legislative session, CHI hosts four Health Policy Roundtables for legislators. This presentation was given by CHI's president/CEO Michele Lueck at the Capitol on January 28, 2013.
Colorado will see sweeping changes beginning in late 2013 in how people obtain health insurance because of the Affordable Care Act (ACA). Change inevitably represents opportunity – and anxiety. This presentation provides an overview of the anticipated changes as well as details about questions facing small businesses, individuals, seniors and others.
A sampling of the questions answered in this presentation:
I can't afford health insurance. Will I be able to in 2014?
What's happening to my Medicare?
I employ a handful of people. Am I going to have to buy them health insurance?
Can I switch all my workers to part-time and avoid the whole mess?
Accompanying Handout